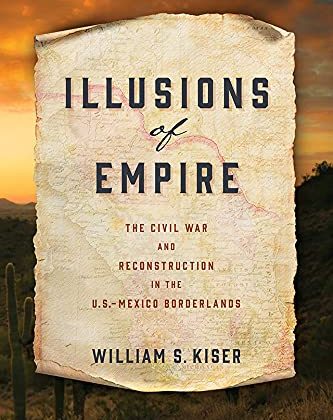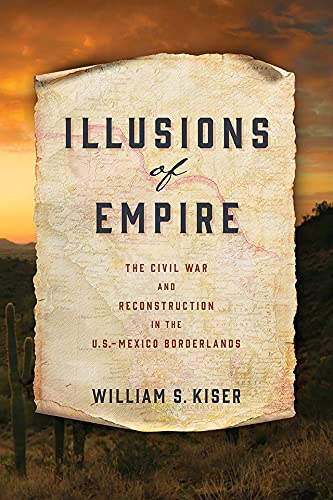 William Kiser is Associate Professor of History at Texas A&M University. This interview is based on his new book, Illusions of Empire: The Civil War and Reconstruction in the U.S.-Mexico Borderlands (University of Pennsylvania Press, 2021).
JF: What led you to ​write Illusions of Empire?
WK: In my previous books, I explored topics related to the Civil War era in the American Southwest, including the Apache Wars and slavery in the form of debt peonage and Indian captivity. As I researched those books, I continuously noticed fascinating and bizarre events occurring in northern Mexico during the Civil War. This sparked my interest in a deeper exploration of what Union and Confederate operatives were trying to accomplish in their clandestine wartime activities below the border. The more I researched the topic, the more I realized that irregular diplomatic approaches to Mexico were being applied along the entire border, from California to Texas, and I also discovered that this was a very important and previously underappreciated story in the context of Civil War strategy and foreign affairs. The broader purpose of the book is not just to examine Civil War diplomacy and intrigue in the U.S.-Mexico Borderlands, but to speak more broadly to the ways in which contested borderlands settings invite complicated and violent contestations for power and control.
JF: In 2 sentences, what is the argument of Illusion of Empire?
WK: Illusions of Empire argues that longstanding political divisions between Mexican centralists and federalists seeped across the border to influence Union and Confederate strategy in the Civil War as well as Greater Reconstruction initiatives during and after that war. Northern and Southern strategies related to Mexico had profound implications for the course of American empire and demonstrate the interconnectedness of antebellum foreign policy, wartime diplomacy, and postwar Reconstruction across the entire U.S.-Mexico borderlands.
JF: Why do we need to read Illusions of Empire?
WK: This book offers a new way of thinking about Civil War diplomacy and nation-building efforts, and places events in the U.S.-Mexico borderlands in a central role within that larger conflict. Focusing on diplomatic activities and alliances, the book explores the ways in which the Far Southwest was an important theater of operations for the North and the South alike. Additionally, this book offers readers important context and perspective for understanding the complicated history of the U.S.-Mexico border and why the region has always been difficult to monitor and control for both the Mexican and the U.S. governments. The events chronicled in this book, and the analysis of those events within the context of contested borderlands environments, offers readers a focused way of thinking about modern difficulties surrounding U.S. policy as it relates to the international border with Mexico.
JF: Why and when did you become an American historian?
WK: My interest in U.S. history–and in particular the nineteenth century Southwest–originated as I grew up in southern New Mexico and became familiar with historic sites and events in that region. I majored in history as a college undergraduate and began researching and writing my first two books, Turmoil on the Rio Grande (Texas A&M, 2011) and Dragoons in Apacheland (Oklahoma, 2013) during my spare time between classes. By the time I finished college and began graduate school at Arizona State University, I knew I wanted to become a college history professor specializing in the U.S.-Mexico Borderlands, and that I wanted to continue writing books that explored the region's history in the broader contexts of U.S. and North American history.
JF: What is your next project?
WK: My next book project is a sweeping investigation of Indian scalp bounties across three centuries of North American history, beginning with English, Dutch, and French colonists in the seventeenth century and extending through scalping massacres perpetrated in California, Texas, and Mexico during the nineteenth century. It will specifically focus on the ways in which colonial and state governments contracted with civilian operatives to commit acts of genocide, incentivizing the murder and mutilation of indigenous men, women, and children by paying large sums for their scalps and allowing the perpetrators to keep valuable plunder taken during attacks on tribal villages and camps.
JF: Thanks, William!