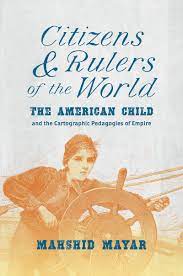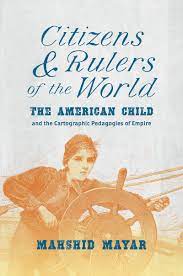 Mahshid Mayar is Assistant Professor of North American Literature and Culture at Bielefeld University. This interview is based on her new book, Citizens and Rulers of the World: The American Child and the Cartographic Pedagogies of Empire (University of North Carolina Press, 2022).
JF: What led you to write Citizens and Rulers of the World?
MM: I had long been fascinated by the idea of empire as a historically "impossible label" to apply to the study of the US, especially in the specific ways the United States transitioned into a spatially intriguing global player over the course of the 19th and 20th centuries. This long-standing fascination of mine met historical childhood studies and history of geography when my curiosity piqued concerning how empires, longitudinal projects of expansion and colonization as they are, sustain themselves along the axis of time (generations of children growing up in but also despite them) and through space (generating maps and spatial imaginaries of the world in which they expand, displacing others and changing geopolitical orders). The result was a book project that thinks about the empire while sitting with the child as she moves about maps or draws new ones.
JF: In 2 sentences, what is the argument of Citizens and Rulers of the World?
MM: Conceived thus at the intersection of such cross-disciplinary curiosities, the book's underlying argument is that the expanding US empire has produced a massive wealth of cartographic scripts that were meant to record and ensure its durability as a world power. While centering the analytical focus on the reading, letter-writing, puzzle-making, and playing child, the book further argues that children's curious, subversive ways of mapping of the world not only added to but also complicated these mainly adult-bred scripts in intriguing, even if poorly recorded, ways.
JF: Why do we need to read Citizens and Rulers of the World?
MM: Placing childhood studies, archival studies, US history, and cultural geography in conversation with one another, Citizens and Rulers of the World documents a wide range of established and improvised spatial practices and competing geopolitical imaginaries of the world that American adults and (mainly white, middle and upper-middle class) children (growing up in the final couple decades of the 19th century) co-constructed. And in doing so, the book asks urgent questions about the shifting notions of at-home-ness and othering, childhood and racialization, vulnerability and marginality, political education, and power that are still relevant today: the degree to which children obsessed over who they were as young citizens of a young empire; reflected on their views of the world; imagined the United States in its expanse; and navigated these complexly tangled spaces at the dawn of the "American Century."
JF: Why and when did you become an American historian?
MM: I became a historian of the US when, as an American Studies student with a degree in English literature, I learned about the Spanish-American War. I remember my immediate attraction to the scholarly discussions on whether the United States was / ever had an empire and the many hours I spent at the library reading on about the subject. Since then, the coming together of the rather abstract idea of empire (and imperial grandeur) and the tangible archival records of colonial violence (and necropolitics) have been with me in my work as a cultural historian and a literary critic.
JF: What is your next project?
MM: With an eye on the scripts of empire and in the same interdisciplinary mode in which I have always worked, I am currently writing a book that investigates war and violence and the documentary records thereof in 21st-century documental poetry. In this project, I treat a specific sub-genre of documental poetry, known as poetry of erasure, as subversive scripts of empire, aiming at writing a book that delivers as much cultural history of the US as it does literary criticism.
While studying poetry of erasure (with redaction and textual illegibility as its main formal features) I also write about recording absence and hearing/visualizing silence; as an example, I currently co-edit an essay collection on silence and its derivatives, that is in production with Palgrave Macmillan.
JF: Thanks, Mahshid!