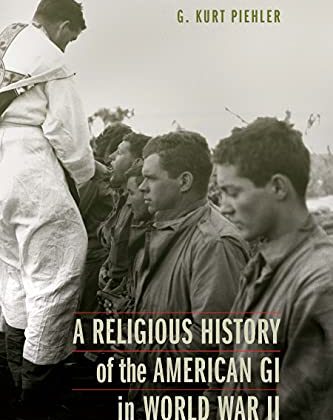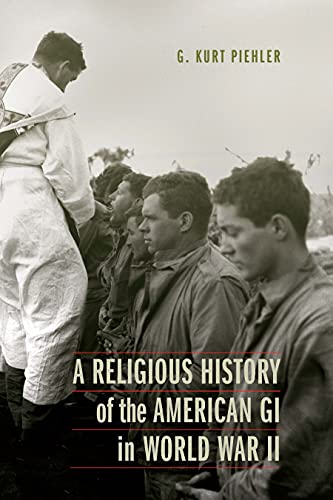 G. Kurt Piehler is Associate Professor of History and Director of the Institute on World War II and the Human Experience at Florida State University. This interview is based on his new book, A Religious History of the American GI in World War II (University of Nebraska Press, 2021).
JF: What led you to write A Religious History of the American GI in World War II?
KP: The genesis of this project started as result of reading some files in the FDR Library related to religion. Among FDR's correspondence with religious leaders and organizations were drafts and final versions of annual presidential Rosh Hashanah greetings from 1933 through 1944. In many ways these greetings represented something politicians do all the time in seeking to win favor with different constituencies. On another level they struck me as remarkably poignant that American Jews assumed the president of the United States would offer High Holiday wishes when considering the fate of German Jewry in these years. In going through FDR's correspondence and speeches, I became intrigued by the degree to which he embraced and promoted the ideals of religious pluralism especially in his statements and speeches for the National Council of Christian and Jews. In focusing on the religious life of the American GI, I wanted to see if these ideals were translated into public policy.
Initially, I planned a wider project covering the New Deal and World War II, but a colleague wisely encouraged me to focus on GIs. My book explains why many Jewish and Roman Catholic GIs in World War II had such favorable experience in the armed forces. When I interviewed veterans of World War II as founding director of the Rutgers Oral History Archives (ROHA) many described the sectarianism that existed during the interwar years, but also recounted the religious pluralism they encountered in the armed forces.
JF: In 2 sentences, what is the argument of A Religious History of the American GI in World War II?
KP: Religious values, rituals, and prayer played a pivotal role in motivating and sustaining American GIs, especially when in harm's way. To promote the free exercise of religion within the armed forces President Franklin D. Roosevelt and the armed forces devoted unprecedented resources to expanding the chaplaincy, building chapels, and even providing sacred scriptures printed at government expense.
JF: Why do we need to read A Religious History of the American GI in World War II?
KP: There were atheists in foxholes in World War II and there 's a significant number of GIs who were not particularly pious, but for many who served in the armed forces religion remained central to their identity as reflected by P (Protestant) C (Roman Catholic) and H (Jewish) inscribed on their dog tags. Most scholars who study the social history of the American GI see them as motivated by comradeship and stress; they did not fight to advance the goals of the Atlantic Charter or other ideals. Comradeship was important to sustain those in battle, but even more important to the army, social scientists discovered, was prayer. The sermons, correspondence, and other writings of chaplains often explain to GIs why they needed to fight and stressed the ideological reasons for meeting the Axis threat. When surveyed by army social scientists about the nature of Nazism, the majority of GIs in 1942 agreed with FDR's assessment that Hitler sought to destroy all religion if he won. Not only did most GIs agree with the statement, that if Hitler took over America it would be bad for Jews, but a slim majority thought we should have entered the war even without the Japanese attack on Pearl Harbor in order to protect religious minorities in Europe.
My book not only will interest those seeking to better understand the American GI, but it also raises important questions about government establishment of religion. Even though I embrace the Rooseveltian vision of religious pluralism, implementing it remained problematic. For example, both branches of the armed forces mandated that women could not serve as chaplains even if they were recognized by their denomination as ministers. Religious pluralism under some commanders devolved into ecumicalism that sought to minimize important differences. Roman Catholic chaplains often bristled when Protestant commanders and chaplains wanted to include their men in interfaith Christmas or Easter services. And on the question of race, the armed services were found wanting. The U.S. Navy only appointed two African American chaplains during the war despite the fact the U.S. Army commissioned several hundred. But racial sentiments prevaded how Black chaplains in army were assigned and mandated that non-white chaplains could not service white troops.
JF: Why and when did you become a historian?
KP: Since fifth grade elementary school I knew I wanted to be a historian and persisted even though the 1980s was an especially bleak time to attend graduate school. The question might be why do I continue to work as historian and it partly stems from the discipline's broad scope. While the slogan of the American Historical Association is a bit of a cliche—history is everything—it is true. Over the course of my career I have been able to tackle a range of big questions such as how does American society remember war, what are the legacies of war for those who fought in them, and what role does religion play in the lives of GIs. Also, I have been very fortunate to have taught some exceptional undergraduates over the course of my career and engage them in a number of research projects.
JF: What is your next project?
KP: I am considering two projects. One directly comes out of my current book. Scott Bennett of Georgian Court University and I are exploring collaborating on a book on conscientious objectors who served as combat medics in the army and medical corpsmen in the navy. The challenge for this book is limited sources. In contrast to experiences of conscientious objectors who performed alternative service, there is no discrete collection focusing on those in the armed forces.
The other is a book examining the Roosevelt family at war from 1939-1945. How did the war impact the personal lives of Franklin and Eleanor and their children? We do know that security around FDR and the White House dramatically increased after the Japanese attack on Pearl Harbor. But what else changed? Did they adhere to food rationing like other Americans? In my research for my current book, I learned that all four of the Roosevelt's sons served in the armed forces and his daughter served as FDR's aide in Yalta. The war-time service of FDR and Eleanor's children has not been fully told and I looking forward to reading their letters and other personal documents at Roosevelt Library in Hyde Park, New York.
JF: Thanks, Kurt!