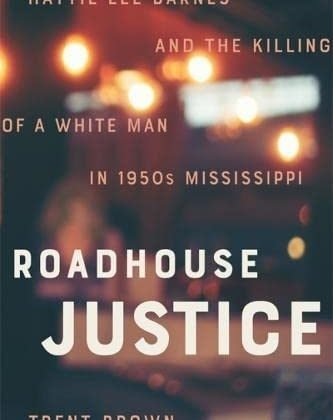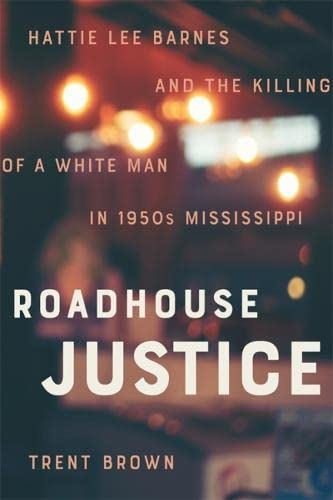 Trent Brown is Professor of American Studies at Missouri University of Science and Technology. This interview is based on his new book, Roadhouse Justice: Hattie Lee Barnes and the Killing of a White Man in 1950s Mississippi (LSU Press, 2022).
JF: What led you to write Roadhouse Justice?
TB: Roadhouse Justice grew directly from my last book, Murder in McComb (2020, LSU Press). In 1971, Joe Pigott, a district attorney in Pike County, Mississippi, prosecuted a police officer for the murder of a twelve-year-old girl. Late in his career, Pigott gave an interview in which he expressed regret for not winning a conviction in that case. He also spoke with satisfaction of his work twenty years earlier on behalf of Hattie Lee Barnes. I knew then that I wanted to know more about that story.
JF: In 2 sentences, what is the argument of Roadhouse Justice?
TB: In 1951, Hattie Lee Barnes, a young Black Mississippi woman, killed a white man from a prominent family; she stood trial for murder and was acquitted. Her story shows the unpredictable nature of Jim Crow justice, a system in which connections and power—both formal and informal—mattered a great deal.
JF: Why do we need to read Roadhouse Justice?
TB: No matter how one defines the civil rights movement in Mississippi, the Hattie Lee Barnes case is literally a story about civil rights—one that demonstrates at a local and personal level how law and other kinds of power worked.
Barnes was a strong woman. Before her own murder trial, she survived an assassination attempt. She testified at the trials of the two men who tried to kill her. She also survived months of legal and extra-legal interrogation and detention. But without the work of a diligent attorney and reporter, she might have come to a grim end. In the Deep South in that era, people were sent to prison or the electric chair for less than Barnes did.
What I have tried to do here is to suggest that the Barnes saga says as much about injustice as it does about justice. Yes, Barnes was acquitted. She eventually did leave Mississippi as a free woman. But it was a very close thing. In a just system, Barnes would not have needed the intervention of men such as that attorney, Joe Pigott, and that reporter, Charles Gordon. The Mississippi legal system was chancy and capricious. Barnes no doubt valued the advocacy of those men, but she, like other Black Mississippians, obviously would have preferred a social order built upon fairer lines.
JF: Why and when did you become an American historian?
TB: By the time I was a junior in college, I knew that I wanted to teach and write. I was fortunate to have some excellent professors who were extraordinarily generous and encouraging. It was a pleasure to dedicate Roadhouse Justice to one of them, Dr. Joan W. Hall.
Roadhouse Justice is my sixth book. I have written almost exclusively about Mississippi. I suppose that I have tried for a long time to understand the place where I grew up. However, I think that also I see in these stories connections with broader issues that have engaged and will continue to engage historians. Americans are periodically reminded, as we have been in recent years, that issues of race and racism are not matters on which the books have been closed, but instead are living, vital concerns. In these southern stories, I have also been interested in the ways that gender, sexuality, and social class shape and complicate our understandings of race.
JF: What is your next project?
TB: My next book, tentatively titled The Death of Jean Gillies: Murder and Power at Ole Miss, examines the 1986 killing of a student in the university town of Oxford, Mississippi. Gillies was raped, tortured, and brutally slain by a fellow student. A Lafayette County, Mississippi jury convicted her killer less than a year after the crime. I show the efforts of that man and his family, people of wealth and influence, to shape the course of justice. In the end, he was paroled, and now lives on his family's substantial Kentucky estate. But the book is not only about the privileges of wealth. It also reconstructs the life of Jean Gillies, and details the murder's impact on her family, who fought for years through multiple parole hearings to try to keep the killer in prison.
JF: Thanks, Trent!