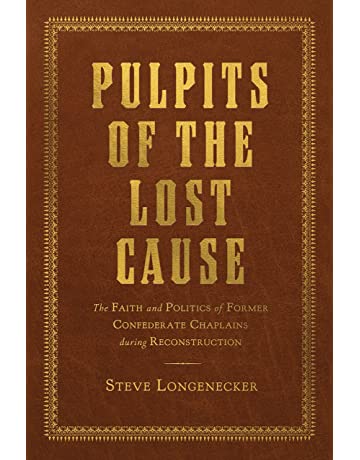 Stephen Longenecker is Professor of History, Emeritus at Bridgewater College. This interview is based on his new book, Pulpits of the Lost Cause: The Faith and Politics of Former Confederate Chaplains during Reconstruction (University of Alabama Press, 2023).
JF: What led you to write Pulpits of the Lost Cause?
SL: I got interested in former Confederate chaplains when I read Moses Drury Hoge's 1875 dedicatory speech for the Stonewall Jackson statue in Richmond, Virginia. Hoge was a former chaplain, an influential Presbyterian preacher, and a strong Calvinist, and he basically said that Jackson was pure. How could an intelligent and devoted minister—a Calvinist, no less–leave the impression that Jackson, or any sin-soaked human, might be pure? Most of the preachers in my life have been honest, sensible, and rational, and it occurred to me that there must be something more to Hoge, and other chaplains, than this embarrassing moment. Indeed, there is.
JF: In 2 sentences, what is the argument of Pulpits of the Lost Cause?
SL: Former chaplains, like the entire white South, were sometimes homogenous, sometimes heterogenous. They were sometimes similar (white supremacy), sometimes mostly similar but with interesting exceptions (theology), other times very diverse (Lost Cause), and always interesting.
JF: Why do we need to read Pulpits of the Lost Cause?
SL: The book has appeal on a variety of levels. It is the first detailed analysis of former chaplains. The book has a new take on the Lost Cause, which it portrays as a broad, umbrella movement—a house with many rooms—with a variety of uses in Southern society. For those less interested in nuance about the Lost Cause, the book has thoughts about human behavior, especially compartmentalization. When wearing their Lost Cause hats, most former chaplains articulated backward-looking conservatism, but in the pulpit, some anticipated the future and embraced liberalism. Most of us are similar compartmentalizers. Finally, former chaplains were full of interesting quirks, idiosyncrasies, and surprises. Liberalism from several grey-clad former chaplains was a big surprise. One former chaplain had a fashionable parish just blocks from the White House, and another hobnobbed with an ex-U.S. president. One was a temperance man who died an alcoholic. One became the victim of one of the first heresy trials; among his accusers was his mentor, another former chaplain. In brief, former chaplains led interesting lives.
JF: Why and when did you become an American historian?
SL: History became my career choice in the fourth grade. Previously, I had declared my intent to become a lawyer—I watched Perry Mason—but my father didn't like lawyers. I was only nine and I didn't know why he frowned on this profession, but history teacher came next. This was clearly my calling, and it's been a perfect fit. I became a professional historian in 1975 when I took my first teaching job in Richwood, WV, deep in Appalachia.
JF: What is your next project?
SL: Cold Civil War: Religion, Race, and Gender in the Shenandoah Valley during Early Reconstruction (tentative title). Valley society remained highly volatile and unstable after Lee's surrender. Appomattox had ended the fighting, but little else changed and all of the textbook preconditions for civil war remained. In fact, the Valley endured a cold civil war.
JF: Thanks, Stephen!