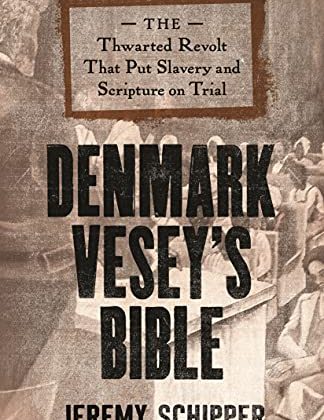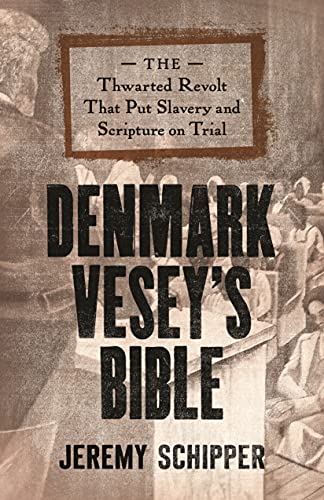 Jeremy Schipper is Professor of Religion at Temple University. This interview is based on his new book, Denmark Vesey's Bible: The Thwarted Revolt That Put Slavery and Scripture on Trial (Princeton University Press, 2022).
JF: What led you to write Denmark Vesey's Bible?
JS: This book began while I was working with my colleague Nyasha Junior on a book titled Black Samson: The Untold Story of an American Icon for Oxford University Press. While researching that book, we wondered whether there were comparisons between the biblical character Samson and Denmark Vesey, a formerly enslaved man convicted of and executed for planning a massive but thwarted revolt against enslavers in Charleston in 1822.
Although we found little evidence that Vesey's contemporaries connected him to Samson, the court documents and other primary sources from the 1820s show that Vesey and his opponents appealed to many other biblical texts to either justify or condemn the plot and to valorize or villainize Vesey. For example, several witnesses claimed that Vesey quoted Exodus 21:16 from King James Version: "And he that stealeth a man, and selleth him, or if he be found in his hand, he shall surely be put to death." When sentencing Vesey to death, the magistrate remarked, "In addition to treason, you have committed the grossest impiety, in attempting to pervert the sacred words of God into a sanction for crimes of the blackest hue." Over the next several months, proslavery lawyers and clergy in Charleston would write letters, print newspaper editorials and pamphlets, preach sermons, and publish trial transcripts that included biblical defenses of slavery.
JF: In 2 sentences, what is the argument of Denmark Vesey's Bible?
JS: This book is about how various parties used the Bible to interpret Denmark Vesey's plot and define his legacy in the immediate aftermath of his trial and execution. It shows how the legitimacy of Vesey's plot quickly became a matter of serious and detailed biblical interpretation.
JF: Why do we need to read Denmark Vesey's Bible?
JS: Although Demark Vesey is not well known today, the legacy of his life and death extend well into the early twenty-first century. The church in which Denmark Vesey served as a leader and offered interpretations of the Bible was the forerunner of the historic Emanuel African Methodist Episcopal Church in Charleston. In 2015, a white supremacist murdered nine people in the Church after a Bible study. In 2021, vandals severely damaged a Vesey monument installed in a park in Charleston in 2014. They created a deep crack that cuts across the name "Denmark Vesey" that is inscribed in large letters near the top of the pedestal as if the vandals sought to chisel the name out of the public memory. In part, a nuanced understanding of Vesey's story remains important because, in 2022 at the 200th anniversary of his death, efforts to remember him continue to meet resistance.
JF: Why and when did you become an America historian?
JS: My training and research is in biblical studies rather than American history, but one of my main academic interests focuses on how people have used biblical texts throughout U.S. history. My first book on this subject was the aforementioned Black Samson in 2020 and I've also published related articles in various academic journals.
JF: What is your next project?
JS: Currently, I'm working on journal articles on biblical interpretation in responses to fugitive slave acts and on anti-slavery interpretations of the story of Noah and his sons, which proslavery exegetes often understood as justifying enslavement.
JF: Thanks, Jeremy!