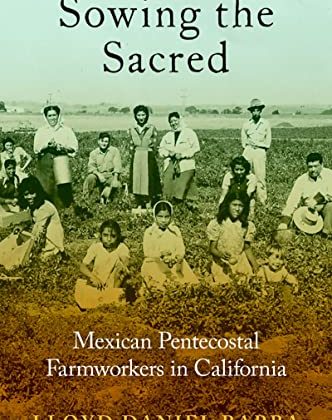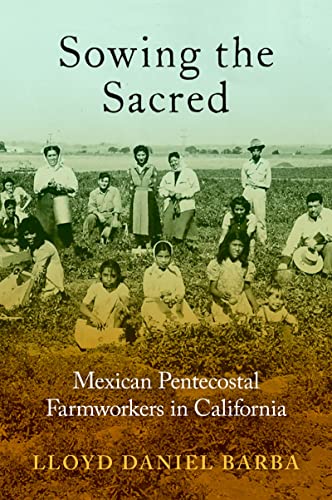 Lloyd Barba is Assistant Professor of Religion at Amherst College. This interview is based on his new book, Sowing the Sacred: Mexican Pentecostal Farmworkers in California (Oxford University Press, 2022).
JF: What led you to write Sowing the Sacred?
LB: Having grown up in and around Stockton, I had many questions to ask about place, race, religion, and silences in the archives. And in graduate school my preparation to undertake the kind of work required to write Sowing the Sacred finally met its first real opportunity. During the summers of 2013 and 2014 I helped lead a team to process and catalog two enormous collections at Fuller Theological Seminary: the Manuel J. Gaxiola Collection and the Papers of Manuel Vizcarra. We ended up with 211 boxes total. The massive undertaking made clear to me the viability of what would become Sowing the Sacred. By this point, I already had a dissertation prospectus approved to compare the histories of Mexican and Dust Bowl/Okie Pentecostal farmworkers in California. But after coming across the materials in the archives and getting connected with people to conduct oral histories, I had a feeling that a new project would come of the major task. I happily finished the dissertation as a comparative project but after graduating I quickly turned to flesh out the Mexican Pentecostal farmworker story in greater depth.
JF: In 2 sentences, what is the argument of Sowing the Sacred?
LB: The simultaneous processes of the marginalization of Pentecostals and the racialization of Mexicans as farmworkers in the context of industrial farming provided op­positional forces that ultimately strengthened Mexican Pentecostals' resolve to assert their agency in ways that we might not expect. In short, at a time when we might have least expect it, Mexican Pentecostals carved out a robust and vibrant existence in the social no-man's land of California's industrial-agriculture.
JF: Why do we need to read Sowing the Sacred?
LB: For three reasons and I'll keep each one brief:
First, folks who have looked at photographs of migration into California will be familiar with several types. On the one hand, there are photos such as Dorothea Lange's iconic Migrant Mother. It's the up-close Madonna-like figure, forlornly looking away from the camera, that gripped so many Americans at the time. Then, there are photographs of faceless, nameless so-called "stoop laborers." Not all the workers were Mexican. In most cases, these sorts of photos taken by government agencies (e.g., the Farm Security Administration) captured Mexicans at work. I couldn't help but to wonder, what would Lange have captured had she turned her camera a few degrees to the right or the left. After all, at the pea picking camp in Nipomo (where she took the famous photo) Mexican farmworkers filled the fields. I also wondered what story is told if we look at the photographs that farmworkers took of themselves. My interviewees and archival investigations answered this in large part, providing fascinating accounts about travelling through California as migrant workers on a mission to evangelize their fellow sojourners.
Second, its interdisciplinary breadth across multiple fields of American history offers plenty to a wide range or readers. There's something in it for everyone. The introduction reads an intersection for the fields of California history, borderlands history, race in the American West, Chicano history, Pentecostal history, material religion and culture, and other fields of inquiry.
Third, and most importantly, at its core, Sowing the Sacred is a critical, historical undertaking that humanizes an otherwise denigrated population. In the book I examine Mexican farmworkers from 1916 to 1966, that is, before the reforms brought about by the United Farm Workers. This is a time when industrial-agriculture was rife with exploitation.
JF: Why and when did you become an American historian?
LB: At the University of the Pacific, in my hometown of Stockton, California, I was fortunate to enjoy a broad selection of courses from Chinese history, Mexican history, history of warfare, to more modern U.S. history. I know full well that I contracted something like archive fever in my historiography course when I realized how a vast world of information was waiting to be studied. I assisted the archivists at Pacific and interned at a local museum and I knew that conducting research in local archives was the direction I wanted to take. The late Caroline Cox, my advisor at Pacific from day 1, also delivered riveting lectures and made American history come alive in the class. In fall 2010, I matriculated into the American Culture program at the University of the Michigan and there my research ideas came together more concretely under the direction of historians Daniel Ramirez, Phil Deloria, Ed Blum and sociologist Silvia Pedraza. In order to best answer the questions I had in mind, I needed to employ a mix of American religious history, Latinx studies, borderlands history, historical sociology, and material religion.
JF: What is your next project?
LB: I have several projects in the works including forthcoming edited collections and articles on Pentecostalism and Latinx religious history. But the next monograph project will be a history of the U.S. Sanctuary Movement from the perspective of religious history. I've published a few articles on the topic and have taught an entire course on it, but given the vast amount of misinformation and disinformation about what sanctuary is and who it protects under what conditions, it's time to take a close look at the topic.
JF: Thanks, Lloyd!