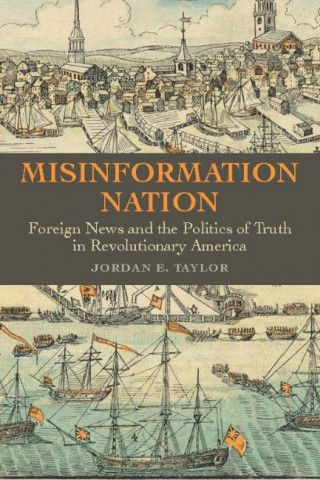 Jordan E. Taylor is a writer and editor who has published in the Journal of the Early Republic, Early American Studies, and more. This interview is based on his new book, Misinformation Nation: Foreign News and the Politics of Truth in Revolutionary America (Johns Hopkins University Press, 2022).
JF: What led you to write Misinformation Nation?
JT: When I was an undergraduate student, I wrote a senior thesis on how early American pamphlet writers tried to frame the French Revolution, as it unfolded, within their broader historical imaginations. Reading those pamphlets, I was struck by how many of them in the early 1790s dismissed accounts of atrocities and irreligion in France as being lies produced by the "corrupted channels" of British propagandists. When I got to graduate school at Indiana University, I started to pull on that thread a bit more and before I knew it, I had a dissertation about how people in revolutionary America gathered information about the Age of Revolutions. The book is based on that dissertation, but as the world became more interested in disinformation, "fake news," and the media of our present, the book shifted to focus more on how misperceptions of the events abroad drove the political mobilization of the American Revolution.
JF: In 2 sentences, what is the argument of Misinformation Nation?
JT: The chaotic nature of early modern newsgathering made it impossible for North Americans to avoid false reports about global events. Their misunderstanding of the world provided a foundation for the politics of the American Revolution.
JF: Why do we need to read Misinformation Nation?
JT: Popular conversations about the politics of the American Revolution in the U.S. are quite shallow. Ask most people what the revolution was about, and you're likely to get a one-word answer: "independence," maybe, or "liberty." Moreover, today historians of the American Revolution aren't as interested in its politics. They focus instead on important topics like its imperial dimensions, the experience of marginalized groups, and the post-revolutionary settlement. This shift has been incredibly productive, but as scholars abandon questions about the political origins of the revolution, they have left these questions to "Founders Chic" historians like Joseph Ellis as well as older consensus historians like Gordon Wood and Bernard Bailyn. There are some important exceptions of course. My book invites readers to move beyond accounts of the American Revolution that center around ideologies, and instead think of the revolution as being a product of confusion and miscommunication.
JF: Why and when did you become an American historian?
JT: I was a history major in college from day one and went straight from there to graduate school. I'm one of those folks who was enchanted into the study of history by the works of writers like David McCullough and Joseph Ellis, which I now feel a bit queasy about. Ultimately, I became an American historian because I think that understanding the foundations of U.S. history is the best way for us to understand our present. I wish that more people agreed! Less than two years ago, I left academia and the historical profession because of narrowing job opportunities and poor working conditions. I occasionally teach as an adjunct, but I'm now primarily an editor working in peer review management.
JF: What is your next project?
JT: My main project these days is raising my daughter, who was born about ten weeks before my book. I don't expect to have much time to work on a new book for a while. But I have two projects I'm collecting material for: a history of the U.S. Founders' relationship to "fake news," and a social history of inequality and slavery in the birth of the American newspaper.
JF: Thanks, Jordan! And happy fatherhood!