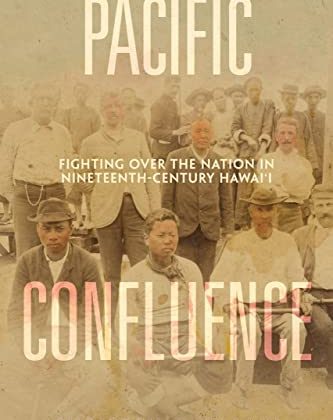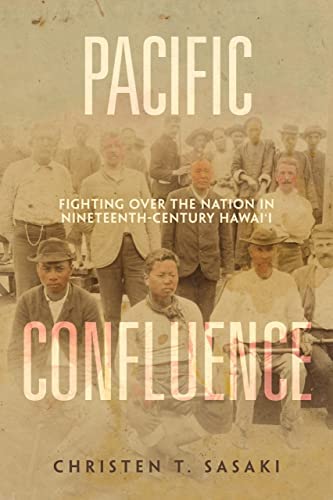 Christen T. Sasaki is Assistant Professor of Ethnic Studies at the University of California, San Diego. This interview is based on her new book, Pacific Confluence: Fighting over the Nation in Nineteenth-Century Hawai'i (University of California Press, 2022).
JF: What led you to write Pacific Confluence?
CS: As someone who was born and raised in Honolulu, but is not native to Hawai'i, I live within the tensions of being a settler in the only place I know as home. Through the scholarship of Kanaka Maoli (Hawaiian) scholars like Haunani Kay Trask, I learned about the history and ramifications of occupation, as well as the ongoing movement against it. But I didn't see this information represented in "mainstream" US history texts. Instead, the annexation of Hawai'i was always framed as a logical next step in US expansion – it was described as something that was to be expected, something that made the most sense and benefitted all island residents – Native Hawaiians and Asians alike. I began to question this assumption and started researching into years following the illegal overthrow. What I found through my own research and the work of Kanaka Maoli scholars demonstrated that in many ways, US annexation was not understood by most to be the most logical next step. In fact, when told from a Hawai'i-centered point of view, it proved to be just one of many options.
JF: In 2 sentences, what is the argument of Pacific Confluence?
CS: The 1898 annexation of Hawaiʻi to the US is often framed as an inevitable step in American expansion—but it was never a forgone conclusion. This exploration of the meeting and mixing of ideas that occurred between Kānaka Maoli (Native Hawaiians), and Japanese, Euro-American, and Portuguese settlers in the years between the illegal overthrow and US annexation (1893-1898) demonstrates the power of imagining otherwise, in terms that refuse to normalize colonial dispossession and racial domination.
JF: Why do we need to read Pacific Confluence?
CS: I'd like to think that this book encourages people to consider their role and responsibility in relation to Hawai'i's continued occupation by the United States – to understand that there is a reason why Hawai'i is made so readily available to US citizens who want to go on vacation. There is power in imagining otherwise, of thinking beyond what is, to the possibilities of what could be. Pacific Confluence challenges us to picture a world beyond the settler-based nation state and occupied Hawai'i. It shows us that alternative understandings of relationship to place have been around for centuries and are just as vital in the present as they were in past.
JF: Why and when did you become an American historian?
CS: I honestly wasn't planning on becoming a historian. I went to UCLA for my MA in Asian American Studies. One of my first seminars in the program was a history course. It was there that I learned that history wasn't about memorizing facts and dates, but about asking questions of the past. I also realized that I could explore the histories of peoples and communities not usually represented in US history classes – and share them with others. So I guess it was that seminar that turned me into a historian!
JF: What is your next project?
CS: My next project interrogates the ongoing relationship between militarism and material culture within US empire through the sartorial politics of aloha wear. It works within the tensions of "militourism," a term coined by the late scholar Teresia Teaiwa, to refer to the processes by which the confluence of the military and tourism industries render each other invisible. This topic has been on my mind for years. Recent images of "boogaloo boys/bois" wearing the aloha shirt alongside military grade weaponry at second amendment rallies really struck me. While most people think it an odd combination, I think it makes a lot of sense – and this book explains why. It's a study that considers how aloha wear was and is used to both support and challenge the continuing processes of militarization and settler colonialism across US occupied spaces in the Pacific.
JF: Thanks, Christen!