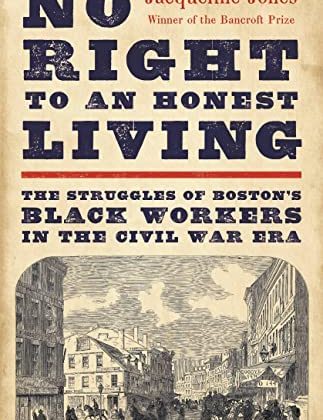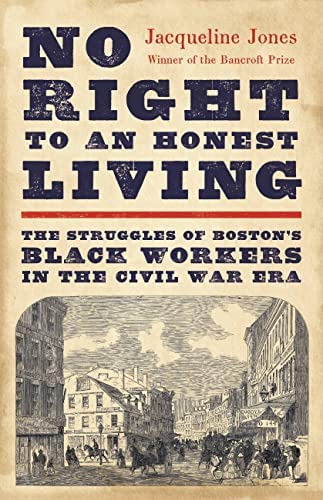 Jacqueline Jones is Ellen C. Temple Professor of Women's History Emerita at the University of Texas at Austin. This interview is based on her new book, No Right to an Honest Living: The Struggles of Boston's Black Workers in the Civil War Era (Basic Books, 2023).
JF: What led you to write No Right to an Honest Living?
JJ: I had a written a book on Civil-War era Savannah (Saving Savannah: The City and the Civil War [Knopf, 2008]), and I was struck by the links between that city and Boston before, during, and after the war. In addition, I was curious to learn whether the Civil War had an impact on Boston Black workers' livelihoods. I found that despite the loss of 750,000 lives during the war, and despite various economic upheavals in the nineteenth-century—the Industrial Revolution, the emergence of the retail and clerical sectors—the social division of labor that relegated Black men and women to menial, ill-paid work remained intact throughout this period. Although a great deal of excellent work has been done recently on Black Northerners' fight for civil rights, those studies generally give short shrift to the social and political dynamics of the workplace.
JF: In 2 sentences, what is the argument of No Right to an Honest Living?
JJ: I argue first, that potential white allies showed a studied indifference to the plight of Boston's Black workers during this period; these whites included abolitionists, Republicans, members of the clergy, Boston city officials, war veterans, and the laboring classes. Second, I explore the resourcefulness and resilience of Black men and women who struggled to make a living—for example, by creating jobs for themselves, or by toiling in what I call an "underground commons."
JF: Why do we need to read No Right to an Honest Living?
JJ: The fact that most Blacks lacked a pathway to upward job mobility—and they could not expect their children to do much better—had cascading effects on the welfare of families and the community in general. Without steady employment, most Black Bostonians remained at the mercy of white landlords, unable to accumulate the assets that would allow them to buy their own homes. This study acknowledges Boston's hard-won reputation as a hub of militant antebellum abolitionism while at the same time highlighting the lack of economic justice accorded Black residents of the city.
JF: Why and when did you become an American historian?
JJ: I became an historian in the 1960s, when questions of social justice seemed paramount.
JF: What is your next project?
JJ: I have several in mind!
JF: Thanks, Jacqueline!