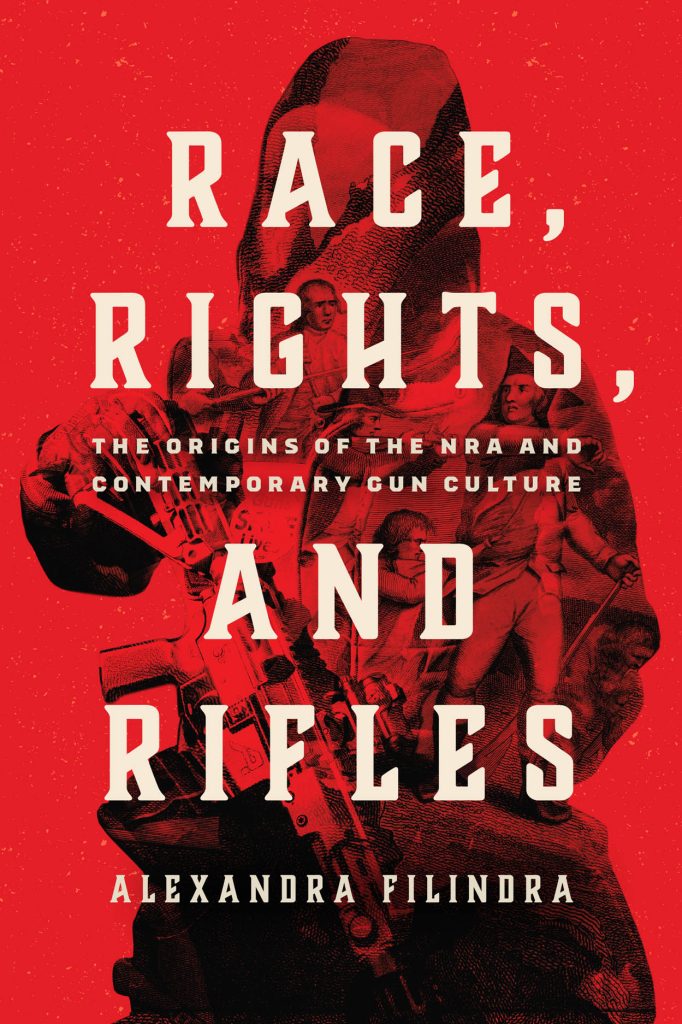 Alexandra Filindra is Associate Professor of Political Science and Psychology at the University of Illinois, Chicago. This interview is based on her new book, Race, Rights, and Rifles: The Origins of the NRA and Contemporary Gun Culture (University of Chicago Press, 2023).
JF: What led you to write Race, Rights, and Rifles?
AF: As a political scientist, I am drawn to puzzles. My research on contemporary public opinion about firearms suggested that for many people guns are a symbol of good citizenship, not simply a tool for self-defense. My data also suggested that negative outgroup attitudes played an important role in how White Americans related to guns. Historians of race have documented both the exclusion of African Americans from gun ownership and how armed violence was used against marginalized populations. On the other hand, historians who focused on the origins of America's gun laws suggested that provisions such as the second amendment have their intellectual origins in the martial republican tradition that goes back to ancient Greece and was very popular during the Revolution and the early Republic. However, this research rarely if ever mentions race. This book is my attempt to reconcile these disparate literatures about guns and provide a new read of gun culture that draws on military history, intellectual history, the history of race in America, and political science.
JF: In 2 sentences, what is the argument of Race, Rights, and Rifles?
AF: Scholars have associated gun culture with liberal individualism, but this is inconsistent with participants' emphasis on political duty and obligation, the dominance of White men in this space, and the centrality of negative racial and gender priors. I claim that the gun culture's understanding of who is a good American is founded in a potent mix of two ideological streams that have been central to American political development since the country's founding: martial republicanism, the belief that political virtue is nurtured through one's willingness to defend the country at arms, and what Rogers Smith calls "ascriptive hierarchies," ideologies that justify the exclusion of people from membership based on race, gender, religion, and other "biological" or hard to change traits.
JF: Why do we need to read Race, Rights, and Rifles?
AF: The book provides an original account of the origins of America's gun culture through the history of the state militia—what we know today as the National Guards. The National Rifle Association (NRA), today's most influential proponent of this worldview was the product of the 19th century National Guard. Long after institutions such as the U.S. military abandoned this conception of American identity under pressure from the progressive movements of the 20th century, the National Rifle Association (NRA) continued to nurture ascriptive martial citizenship ideals and through its advocacy and partisan political engagement brought them into the 21st century.
JF: Why and when did you become an Am​erican historian?
AF: I am trained as a political scientist, but in our field too, we do historical and archival research. In the process of developing this project, I gained great respect for good narrative history and I hope that my attempt to follow in the path of great narrative historians like Edmund Morgan, Michael Katz, Nell Irving Painter, and Heather Cox Richardson, will satisfy readers.
JF: What is your next project?
AF: My next project is a study of harassment threats and violence against the country's elected officials and staff. I seek to document the causes that drive citizens to behave in this way against their elected officials and also what effects these experiences have on elected officials'and staff's personal and professional lives, if they affect the way they interact with citizens and the issues for which they advocate. In essence, it is a book about how threats and violence affect the quality of American democracy by compromising democratic representation.
JF: Thanks, Alexandra!