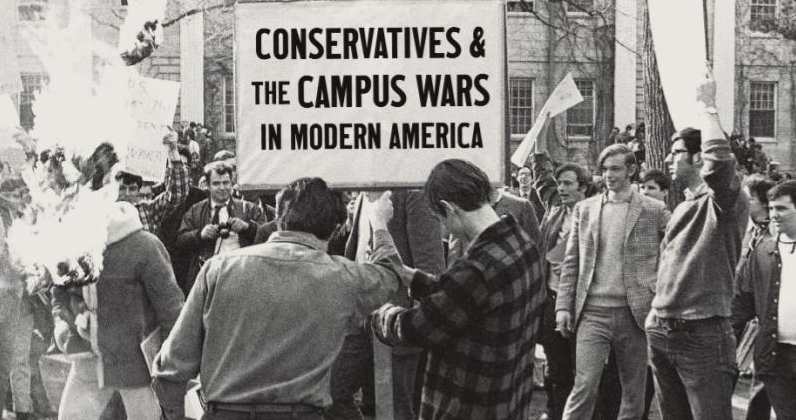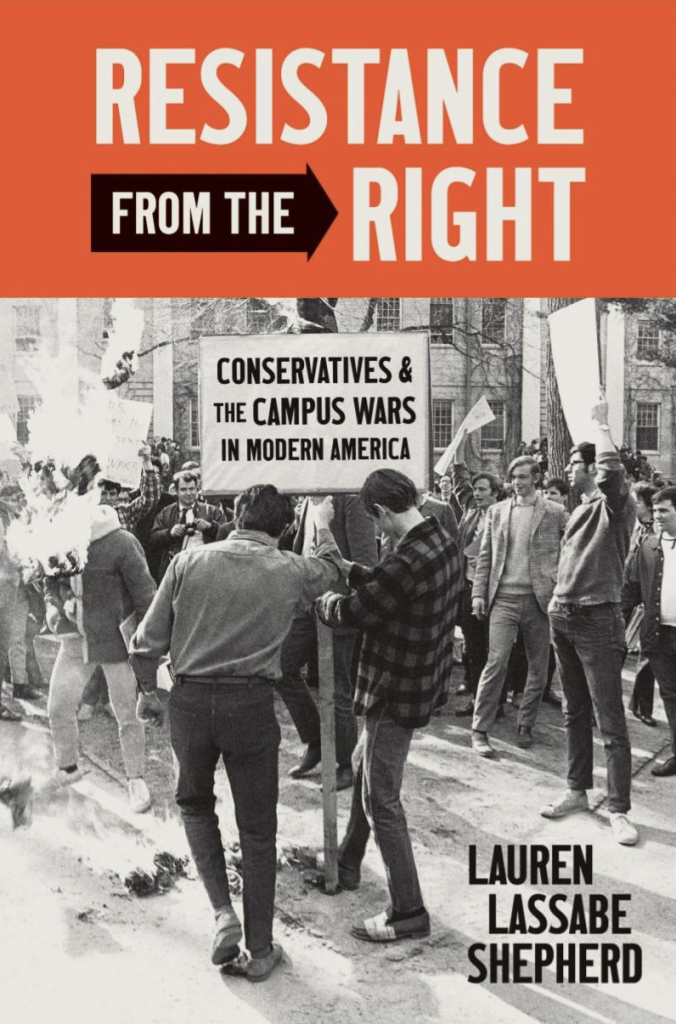 Lauren Lassabe Shepherd is an instructor at the University of New Orleans and an IUPUI-SUSIH Community Scholar. This interview is based on her new book, Resistance from the Right: Conservatives and the Campus Wars in Modern America (University of North Carolina Press, 2023).
JF: What led you to write Resistance from the Right?
LS: The version of the book that exists now was first my dissertation. The research actually first began with a simple question, which I tried to answer in a paper assigned in my History of Higher Education course. It was the fall of 2016—the height of the presidential campaign season—and also around the time of our class discussion about various forms of student activism in the 1960s.
I knew that then-candidate Donald Trump had been at Fordham and then at Penn around 1968, so my question was, what was he doing during the national campus upheaval? The answer was that he was playing squash and dodging the draft like so many others of his economic class (Trump received four separate student deferments before being medically disqualified for bone spurs). While the answer to my research question was unremarkable, it nonetheless led me to a new question.
There has been robust literature regarding the massive white resistance to K12 school integration in the wake of the 1954 Brown v. Board decision. But in the late 1960s—nearly 15 years later—students who participated in the Black Campus Movement were demanding not only representative curricula in the way of Black Studies programs, but a more meaningful integration of students and faculty. So my next question was, where was the massive resistance in higher ed?
The answer to that question opened the floodgates to the world of postwar conservatism on the campus that I had never heard about and that had been woefully under researched in the history of education (though postwar conservatism has been well researched in the field of political history). Thus, the paper became my dissertation, and the dissertation is now Resistance from the Right.
JF: In 2 sentences, what is the argument of Resistance from the Right?
LS: Conservative student activism in the postwar era reached a fever pitch during the late Vietnam War years (1967-1970) as students on the Right learned to organize around resisting the antiwar and Black Power movements on campus. Conservative student activism during these three critical years not only shaped precedent, policies, and laws affecting higher education, but instilled in the students lifelong organizing techniques that they would use throughout their lives as activists, politicians, lawyers and judges, writers, and influencers of the modern conservative movement and today's Republican Party.
JF: Why do we need to read Resistance from the Right?
LS: Perhaps the most important takeaway of the book is that weaves two separate histories—the history of higher education and the history of conservatism—into a single narrative that situates the current states of the academy and the GOP in context. The book explains the Right's literary techniques, the way conservatism organizes under false pretense of representing majorities, conservatives' insistence on what we today call 'owning the libs,' the Far Right's tendencies toward grift and dishonest fundraising, and how sixty years of conservative (and neoliberal) policies have drawn higher education into many of the multiple crises it finds itself in today.
JF: Why and when did you become an American historian?
LS: I guess I've had a lifelong curiosity about the past. As a kid I can remember long chats with my late grandmother about her life growing up in South Louisiana and later moving to Mississippi. She didn't learn English until she was old enough to start school, and even then she and everyone in her small town spoke in a broken Cajun dialect outside of formal institutions like school and work. I loved asking her questions about her life and hearing her stories. We were very close, and even at a young age I sensed that her childhood in the 1930s and '40s had been so different than my own in the '90s, and I guess I just had an affinity for and interest in those differences.
Before earning my PhD, I was using my undergraduate and master's history degrees as a middle and high school history teacher. I guess some would say being a teacher didn't qualify me as a historian, and that the dissertation (or perhaps my master's thesis or some other original research contribution) was the marker of my being a true, or professional, historian. I try not to get caught up in drawing lines like that. To me, my grandmother with her less-than-high-school education was our family historian.
JF: What is your next project?
LS: I am currently underway on research for a second book which will pick up where Resistance from the Right left off. It will be a social and political history of the academy from the '60s to the present. I've also started a Substack called All Things Higher Ed where I'll be posting some of my findings and working through my thoughts and interpretations. If readers are interested, the subscription is free, and I'd love to interact with them there.
JF: Thanks, Lauren!