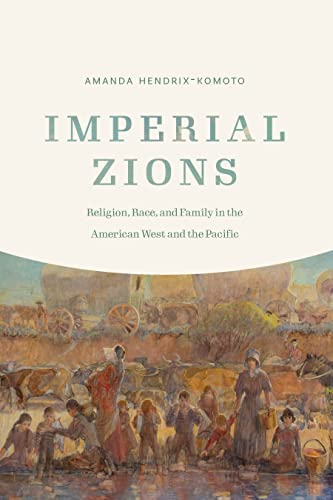 Amanda Hendrix-Komoto is Assistant Professor of History at Montana State University. This interview is based on her new book, Imperial Zions: Religion, Race, and Family in the American West and the Pacific (University of Nebraska Press, 2022).
JF: What led you to write Imperial Zions?
AH: There are really two answers—one academic and one personal—to this question.
During graduate school, I attended a panel at the Mormon History Association focused on reexamining polygamy. I asked one of the panelists how Latter-day Saints had reacted to Native American polygamy when they traveled west. No one had an answer. Imperial Zions grew out of this question. I wanted to understand how the Saints' practice of polygamy had shaped their missionary work and relationships with indigenous peoples. Finding the answer required me to examine archives in Utah, Great Britain, Tahiti, and Hawai'i in order to follow Latter-day Saints missionaries and the Latter-day Saint community as it moved through imperial spaces.
2. This is also a personal project for me. I am originally from Southeastern Idaho and spent much of my childhood moving between Blackfoot and Pocatello. This movement meant that I frequently traversed the Fort Hall Indian Reservation. The research was in part a way to understand myself and my connection to place. Although I am not a Latter-day Saint, my genealogy includes some of the earliest members of the Church. Aidah Clements, who Family Search identifies as my fifth great-grandmother, joined the Church of Jesus Christ of Latter-day Saints in 1832. As a result, many of the people I discuss in my dissertation are my relatives. This book is partially to understand my place within the American West and the role that my family has played in its history.

I emphasize in the book that this is just one story that can be told about the material I discuss, and I really believe that. Our families, our pasts, and our presents color the stories we tell, and as a result, every history is partial.
JF: In 2 sentences, what is the argument of Imperial Zions?
AH: Imperial Zions makes two related arguments:
1. The Latter-day Saint belief in an embodied God and the Book of Mormon's emphasis on the promised restoration of Native people to their status as Israelites meant that early Saints were invested in converting and "civilizing" Native Americans and Polynesians from the Church's earliest days.
2. Although most Native people rejected this gospel, there were communities who accepted it as the word of God and created Native Mormonisms that centered their own experiences and needs.
JF: Why do we need to read Imperial Zions?
AH: There has been a lot of excellent work on the history of Church of Jesus Christ of Latter-day Saints in recent years. A lot of it, however, has not been incorporated into the wider historiography. Imperial Zions is part of a large movement about Latter-day Saint historians to place their research into conversation with American religion and imperialism. Doing so reveals new things about American history and religion. It demonstrates how groups marshalled missionary success among Native people to defend their own marginalized sexual practices. It suggests how the meanings of Latter-day Saint missionary work changed as they moved between imperial spaces. Finally, it attempts to reconstruct the meanings of Mormonism for Native Saints in the nineteenth and early twentieth centuries. This last thread places it into conversation with other fantastic scholars – Greg Dowd, Jennifer Graber, Angela Tarango, and Vincente Diaz – who have examined the meanings of Christianity for Native people.
JF: Why and when did you become an American historian?
AH: When I applied to graduate school, I didn't intend to be an American historian. I am from a small town in Southeastern Idaho that is best known for a large foam and plywood potato that sits in front of an old train depot turned museum. Nothing about my hometown seemed particularly interesting. I devoured British novels – A Little Princess, The Secret Garden, and Atonement – because they seemed important. It was only in graduate school when I realized the same questions that I had about British history could be used to illuminate my hometown that I became an American historian. For me, the shift was about coming to realize that the place I was from mattered and had its own story.
JF: What is your next project?
AH: I am currently on two projects (many things seem to come in pairs for me):
1. When I was finishing my first book, I signed a contract to write a biography of Ina Coolbrith for the University of Illinois' Introductions to Mormon Thought series. Coolbrith is a fascinating figure. She was born in 1841 to Joseph Smith's brother Don Carlos Smith. After the death of her husband and two of her brothers-in-law, Ina's mother took her children to Los Angeles. Ina then became a prominent literary figure and early conservationist. She was a friend of Mark Twain, mentored Jack London during her time as a librarian, and asked John Muir to be a pallbearer at her mother's funeral. She hid her relationship to the Church of Jesus Christ of Latter-day Saints because she feared that people would hound her if they knew.
Ina has been almost completely forgotten today, but her life allows us to understand how the Smith children made sense of their parents' faith.. All of them were deeply traumatized by their experiences. In the biography, I also explore Ina's complete rejection of domesticity and marriage and her relationship to nature. Often, Ina used nature to explore her own mortality and her longing for the past. At other times, her nature writing is erotic and expresses the deep sensuality of being touched by plants. I'm interested in how her nature writing shapes Muir's conservationism in the early twentieth century.
2. I have also started a project on race in Southeastern Idaho. Most people think of Idaho as a white space, which misses the state's large Latinx population and the presence of Indigenous Nations within its borders. The town of Caldwell, Idaho is 36% Latinx. This community has been politically active. My grandfather Luis Aguilar, for example, sued the Pocatello police for excessive force after they used tear gas while arresting him for fighting in a bar. He was in the hospital for several days. A few years later, he became active in his local chapter of the Idaho Migrant Council. Although many scholars have written about Latinx political activism, few have focused on the lives of Mexican American workers in states like Idaho and Wyoming.
Much of their activism in these states focused on securing adequate childcare and quality schools for their children. In 1981, the Idaho Migrant Council sued the state's Board of Education for failing to provide bilingual education. My hope is that focusing on the experiences of Mexican Americans in Idaho will allow me to understand how race functions outside of the states that have been the focus of these kinds of studies in the past. How did racial tensions in Idaho differ from those in California? Did the ascendancy of the Church of Jesus Christ of Latter-day Saints in the state alter the experience of migrant workers?
The project also brings up questions about the rise of conservative politics in the Intermountain West. As Mexican Americans agitated for Civil Rights, white people living in Idaho responded with signs comparing Mexican Americans to dogs and by withdrawing their children from school.
JF: Thanks, Amanda!