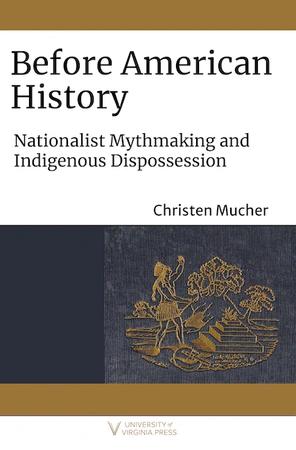 Christen Mucher is Associate Professor of American Studies at Smith College. This interview is based on her new book, Before American History: Nationalist Mythmaking and Indigenous Dispossession (University of Virginia Press, 2022).
JF: What led you to write Before American History?
CM: While writing my dissertation I found many materials were going around in circles—while the scholarship was deep, it was not broad, and it was hard to find work on my interests that was published after the nineteenth-century: I took that as a sign that I still had a lot of work to do. After a year researching at the Library of Congress, American Antiquarian Society, and the Newberry Library I knew that I needed to write about those (antiquated!) sources themselves, and their affect on current-day understanding of the past, especially Indigenous pasts. Although the book is significantly different than the dissertation—it is essentially a history book while my dissertation was not—it still asks how the past is imagined and what are the consequences of those imaginings.
JF: In 2 sentences, what is the argument of Before American History?
CM: The United States and Mexico are nations built on shared stories, assumptions, and materials about the past that exclude Indigenous peoples. The new national histories that scholars in both countries created out of Indigenous knowledge and material culture continue to shape the popular understanding of the national past and who/where Indigenous people on the continent are.
JF: Why do we need to read Before American History?
CM: I'd like to think that this book helps sensitize readers to the context of time and place for the most quotidian markers of the past, and helps us cultivate the practice of asking: whose land is this? Roadside signs, for example, will sometimes reference what was happening in an area of the current US "at the time of the American Revolution" without noting that the area was not part of the US at the time. "America," too, is usually meant to refer to an imaginary, retroactively continental United States without considering Mexico or Indigenous nations as also part of the continent. Moreover, in the US there tends to be a limited understanding of the links between the US and Mexico (or New Spain) before 1848, particularly ones that are not strictly territorial.
JF: Why and when did you become an American historian?
CM: I think I became an American historian when I was in college, but I didn't know it. I was an English major and wrote a thesis about hysteria in a literary sense, but probably it should have been a "history of science" project, if I had known what that was. In graduate school I attended an English program strong in historicism and cultural studies, and I spent a lot of time learning about the history of race in the Atlantic world—this was how I started bringing together my previous interests in science with issues of "expansionism" and Indigenous genocide as questions of history and historiography. But, truly, I became a historian by writing draft after draft (after draft) of this book.
JF: What is your next project?
CM: I'm currently writing about US agricultural policy in the nineteenth century and the contemporary biological sciences curriculum as understood through settler colonialism. I've been spending a lot of time researching my institution's herbaria and thinking more broadly about resourcing and collecting as colonial activities. I also really like to think about what the land in the eastern US looked like before the last glacial retreat, and how to narrate an ancient history according to those changes in land and water. I find thinking about time from the perspective of mountains, for example, fascinating. This is not to get away from writing about people but instead trying to use it as a way to break out of—as best I can—colonial conventions of historical time, conventions that I explored in depth in Before American History.
JF: Thanks, Christen!