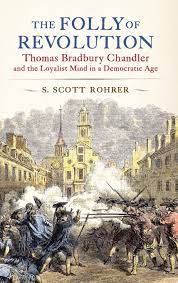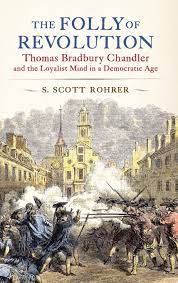 S. Scott Rohrer is a historian of early America. This interview is based on his new book, The Folly of Revolution: Thomas Bradbury Chandler and the Loyalist Mind in a Democratic Age (Penn State University Press, 2022).
JF: What led you to write The Folly of Revolution?
SR: This biography of a leading loyalist named Thomas Bradbury Chandler is part of my ongoing efforts to understand religion's impact on the American Revolution. My previous book, Jacob Green's Revolution, was a biography of a radical Presbyterian minister who fervently backed the war for independence; that book, which was published in 2014, offered up Chandler, an Anglican minister, as a foil to Green, telling Chandler's story in vignettes between chapters.
Chandler, of course, deserves more. He was an important pamphleteer who wrote influential, and reviled, tracts opposing the Revolution. Chandler was a brilliant scholar and able leader in the northern branch of the Church of England in America. Yet no one has published a full biography of this fascinating intellectual from Elizabeth, New Jersey.
I also wanted to understand why Chandler so vehemently opposed independence. How did he develop his ideas? What influenced his writings? The primary sources were spotty—one reason no one has tackled a biography of Chandler. His family burned his papers when he fled to London in 1775, and little is known about his daily life. But I did have one great source to work with: a catalog of Chandler's library of 1,500 works. By tracking down the full titles and analyzing the things he studied, I learned what animated this bibliophile and lover of monarchy and government: the Glorious Revolution and the debates over governmental authority and democracy that took place in England in the post-Civil War period. Chandler's story tells us much about loyalist thought and what animated loyalists' rejection of revolution. Hence the title of this book.
JF: In two sentences, what is the argument of The Folly of Revolution?
SR: A key theme of this book is that many colonists in the 1770s were far more "conservative" than students of history realize: Across the political spectrum, leading Americans—merchants, planters, lawyers, and clergymen—wrestled with the question of how to preserve order and the deference owed to the elite in a democratizing world. Among the elite, a deep fear arose as "ordinary" people began demanding political power, with many Americans—including James Madison and Alexander Hamilton—asking how social and political order could survive when subjects had the right to challenge authority. The leading voice for these fears was Thomas Bradbury Chandler.
JF: Why do we need to read The Folly of Revolution?
SR: Historians continue to do great work on the American Revolution, but there is much to learn about those large number of Americans who opposed independence and wanted to remain in the British empire. Loyalism was diffuse and diverse; Chandler is certainly not "representative" of a typical loyalist, because there was no such thing as a typical loyalist. The king's supporters came from all economic backgrounds, Protestant denominations, and ethnicities.
Chandler's story will take readers into a little understood world in which the colonists revered monarchy and the British constitution. This book goes a long way in explaining why.
JF: Why and when did you become an American historian?
SR: I've loved history for as long as I can remember. My mother certainly deserves much credit: She loved Williamsburg and colonial architecture, and passed this love along to me. From a young age, I was fascinated by the way people lived in the 18th century, and this sparked my interest in early American social history. My fascination with religious history came later: Finding myself bored as a newspaper copy editor in North Carolina in the 1990s, I ventured to Old Salem, the restored Moravian town, and asked if they needed research help. They did, and I became hooked on 18th-century religious sects: how their spiritual beliefs influenced their economies, communal arrangements, and architecture. I decided to get a PhD in U.S. history; my dissertation and first book were on the Moravians' North Carolina agricultural settlements. So that initial foray into Moravian history led to subsequent research on religion's impact on American society and the Revolution.
JF: What is your next project?
SR: My next book is tentatively titled The King's Faithful Subjects: Loyalism and Religion in the American Revolution. It obviously will be building on my Chandler research. I want to fully understand the ways that religion influenced loyalism. The traditional view is that religion had little impact in determining the views of those who rejected independence. I disagree, although I certainly agree that religion's impact was complex and nuanced. This book will look at the ways religious beliefs, congregational ties, kinship networks, and ethnicity among Methodists, Baptists, Anglicans, and others influenced large groups of loyalists on the Eastern Shore, in Georgia, in Newport, RI, and elsewhere. It will also look at the importance of religious history and centuries-long rivalries among Puritans, Anglicans, and others in spurring some Americans to reject Presbyterian and Whig arguments for revolution.
JF: Thanks, Scott!