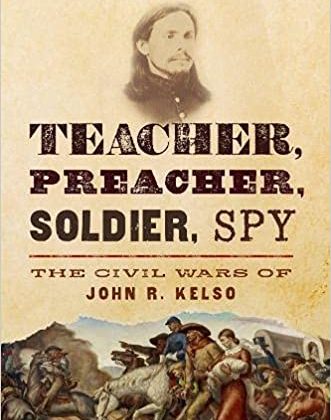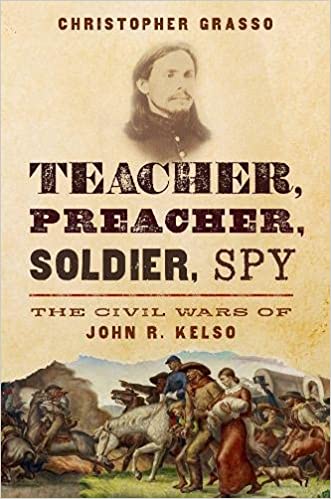 Christopher Grasso is Professor of History at the College of William & Mary. This interview is based on his new book, Teacher, Preacher, Soldier, Spy: The Civil Wars of John R. Kelso (Oxford University Press, 2021).
JF: What led you to write Teacher, Preacher, Soldier, Spy: The Civil Wars of John R. Kelso?
CG: While doing research for my previous book, Skepticism and American Faith: From the Revolution to the Civil War (Oxford University Press, 2018), I came across the manuscript "Works of John R. Kelso," a folio volume that the Huntington Library had recently purchased at a book auction. It contained a fascinating collection of poems, lectures, speeches, and a partial autobiography (covering Kelso's life and Civil War adventures to January 1863) that, at that point, historians hadn't seen. After I started working on the Kelso book, I was contacted by Kelso descendants who had the "lost" second half of his autobiography (another 150,000 words) and hundreds of pages of other unpublished writings. It was an astonishing archive.
JF: In 2 sentences, what is the argument of Teacher, Preacher, Soldier, Spy?
CG: TPSS offers an extraordinarily rich account not just of nineteenth-century American war, politics, religion, and philosophy but of marriage, sex, parenthood, and personal triumphs and tragedies. John R. Kelso was a schoolteacher and Methodist preacher who earned fame as a Union cavalry officer hunting Confederate guerrillas; in Congress, he was one of the first to call for Andrew Johnson's impeachment, and afterward he became a freethinking lecturer, a Spiritualist, and, in his final years, an anarchist.
JF: Why do we need to read Teacher, Preacher, Soldier, Spy?
CG: TPSS presents a multi-dimensional view of the Civil War's bloody engagements on America's ravaged borderlands: Kelso served as an infantry private, a cavalry officer, a spy, and a guerrilla hunter, in which he fought alongside thousands of other men, or hundreds, or dozens, or in small squads of counter-insurgents, or faced the enemy alone in hand-to-hand combat. Intertwining local and national political cultures during the Reconstruction era and Gilded Age, the book also shows how a wartime hero became disillusioned with the American experiment.
JF: Why and when did you become an American historian?
CG: I initially went to college at Southern Connecticut State University in 1979 to be a gym teacher. How I went from that to being a history professor at William & Mary (and, in 2022, at Brown) is a long story but the short version is: excellent mentors at Southern and then in graduate school at Yale.
JF: What is your next project?
CG: I have two: a big religious history survey, "Religion as Power: North America from Clovis to the Klan," and a short book for the classroom, "Antebellum American Delusions: Investigating Religion, Slavery, Mesmerism, Health Fads, and Hauntings."
JF: Thanks, Christopher!