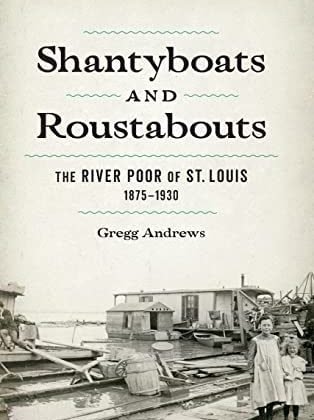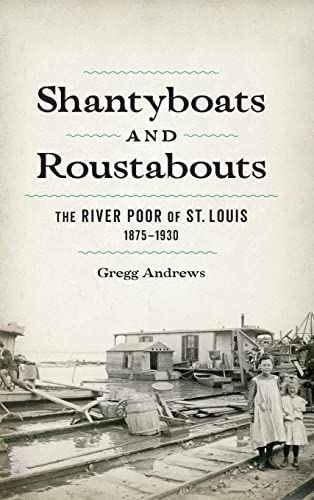 Gregory A. Andrews is Distinguished Professor Emeritus of History at Texas State University. This interview is based on his new book, Shantyboats and Roustabouts: The River Poor of St. Louis, 1875–1930 (LSU Press, 2022.)
JF: What led you to write Shantyboats and Roustabouts?
GA: The book represents a continuation of my scholarship on poor and working-class Americans with a special emphasis on the lives and struggles of those who lived and labored in waterfront settlements of the Mississippi River Basin. The Mississippi has been an important cultural force in shaping my scholarship and music alike. Three generations of my grandmother's family lived on shantyboats at the turn of the twentieth century in Mark Twain's boyhood home of Hannibal, Missouri. They were among those driven off the southside levee in January 1901 by Burlington Northern railroad agents and vigilantes who used axes and steel bars to destroy the houseboats of any who did not leave. Fifty years later and three miles downriver, I grew up in a tiny house without indoor plumbing in a section of the village of Ilasco on the perimeter of a cement manufacturing plant. The river bottoms section, dubbed "Monkey Run," was home to thirty or thirty-five families of fishermen and mill workers like my father. As a life-shaping influence, the river was my childhood playground in the 1950s and 1960s. When I retired from Texas State University in 2009 and moved back to the Hannibal area for several years, it rekindled my interest in the world of my shantyboat ancestors. After publishing My Daddy's Blues: A Childhood Memoir from the Land of Huck & Jim in 2019, I set out to frame my ancestral river heritage in a broader cultural context. To do so, I chose to study the St. Louis waterfront as a window into the world of the river poor from St. Paul to New Orleans,1875 to 1930. St. Louis, the largest city on the Mississippi at the time, attracted sizeable interracial shantyboat settlements, and its Black entertainment district near the levee was a major headquarters for roustabouts who worked the steamboat packets between terminal ports. The literary figure of the Black roustabout was the most enduring cultural symbol of the levee, but I wanted to flesh out in more detail the wages, working conditions, and bargaining tactics of roustabouts, as well as their life in the entertainment district and role in shaping popular music. As a labor historian who had written earlier on dockworkers in Galveston, I decided to integrate roustabouts into the study.
JF: In 2 sentences, what is the argument of Shantyboats and Roustabouts?
GA: My book argues that roustabouts and shantyboat migrants, although often despised, feared, and ridiculed as dregs of the Mississippi Basin at the time, shaped the cultural history of St. Louis as it transformed from a steamboat town to an industrial city. By giving dignity to the struggles and legacies of people heretofore obscured by classist and sentimentalized racist caricatures, it shows that roustabouts fought back on the gangplanks, in the courts, and joined river strikes to resist brutal exploitation of their labor, and it shows that shantyboat communities sought legal remedies and threatened to use force if necessary to defend their homes, preserve their minimalist way of life on the waterways, and resist police evictions.
JF: Why do we need to read Shantyboats and Roustabouts?
GA: In the past five years, there has been a resurgence of popular books on shantyboats and life on the 19th and early 20th century waterways, ranging from bestselling novelist Lisa Wingate's Before We Were Yours (2017) to writer Macon Fry's They Called Us River Rats: The Last Batture Settlement of New Orleans (2021) to travel writer/adventurer Rinker Buck's Life on the Mississippi: An Epic American Adventure (2022). My book provides the most deeply researched historical context yet for understanding shantyboat people and roustabouts. Stripped of the caricatures perpetuated in dime novels, songs, minstrel shows, and Hollywood movies, Shantyboats and Roustabouts puts flesh on the bones and offers a fresh perspective on the social and cultural history of the Mississippi River from the bottom up. From the book, we gain a more richly detailed, multidimensional understanding of the diverse waterfront culture that influenced popular music and the writings of Mark Twain.Readers will enjoy the seamless, strikingly original narrative written in storytelling fashion as they meet a colorful cast of waterways characters. From fortunetellers, industrial and itinerant day laborers, stevedores, and formerly enslaved roustabouts to shell diggers, showboat actors, preachers, pearl hunters, peddlers, gamblers, grifters, and healers, individual characters often come to the fore with their compelling stories and then step aside for the next engaging character to take center stage. For those who toiled and lived on or near the shore, the river put the moans and anguished cries of back-breaking labor and hard living to a musical rhythm and rhyme. A fountain of blues, ragtime, fiddle stomps, riverboat jazz, Irish jigs, and Appalachian folk ballads bubbled up from the cobblestones, sand, and mud of the St. Louis wharf. As members of a casual, transient labor force, roustabouts and shantyboat wayfarers on the waterways created, cross-fertilized, and transmitted music from port to port in the Mississippi Basin. By focusing on St. Louis's squatter settlements on the water's edge, my book further contributes to our understanding of the complex conflicts over waterfront evictions, riparian rights, and the application of frontier squatters' rights to an urban industrial riverfront.
JF: Why and when did you become an Am​erican historian?
GA: I received my Ph.D. in American History in 1988 to pursue a career in teaching, research, and writing with a focus on the role of class in shaping America's past. I was heavily influenced by the "New Labor History's" cultural interpretation of class.
JF: What is your next project?
GA: I have three projects in the hopper. First, I am writing a history of the St. Louis Workhouse in the Gilded Age. In addition, I have begun a Mississippi River novel that is set in the early twentieth century. Finally, I am working on a new recording project of original songs for what will be my fourth album, "River Roots Reflections," with my band, Doctor G & the Mudcats.
JF: Thanks, Gregory!