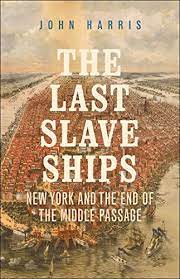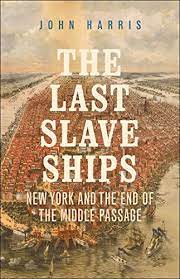 John Harris is McDonald-Boswell Assistant Professor of History at Erskine College. This interview is based on his new book, The Last Slave Ships: New York and the End of the Middle Passage (Yale University Press, 2020).
JF: What led you to ​write The Last Slave Ships?
JH: Historians have written very good books about the Wanderer and the Clotilda, two illegal U.S. slave ships that crossed the Atlantic Ocean in the 1850s and 1860s, but my initial research indicated there were many other vessels in operation at that time. (I would end up finding almost 500.) To my surprise, most of these ships were sailing out of New York City and bringing captives from Africa to Cuba. I wanted to know how this huge illegal traffic worked and was experienced, what enabled it to thrive, and what eventually brought it down.
JF: ​In 2 sentences, what is the argument of The Last Slave Ships?
JH: Anti-slave trade laws didn't have much teeth in many parts of the U.S, Africa, and Cuba, where political and law enforcement priorities were focused on other issues, commerce was king, and influential people openly supported or were sympathetic to slavery. This changed in the U.S. with the rise of Abraham Lincoln's anti-slavery Republican Party, which led the federal government to turn robustly against the trade and ultimately caused the overall transatlantic traffic to splutter to a halt.
JF: Why do we need to read The Last Slave Ships?
JH: Readers will see in a new way how entrenched slavery was in the U.S. during the Civil War era and the enormous struggle it took to wipe it out. The book illustrates how the fight over slavery centered not just the more familiar issue of plantation slavery, but on the Atlantic slave trade, and that the battlegrounds were not just in the South, but also in the North. Readers will also learn how American involvement in the slave trade empowered, and was empowered by, slavery in other parts of the Atlantic world. They worked together. This is not a story about the inevitable demise of slavery, but antislavery's hard fought victory over it.
JF: Why and when did you become an American historian?
JH: I was born and raised in Northern Ireland and was a history major at Queen's University in Belfast. I studied in the U.S. during my junior year in college and it really opened a new historical world to me. As Irish history might seem completely fresh and interesting to an American undergrad, American history felt that way to me. And as a newcomer to the country, I had basic questions about why the U.S. is the place it is. How we got here. I soon figured out that part of that story originates in slavery and the slave trade.
JF: What is your next project?
JH: I'm considering writing a book about Sherman's March to the Sea from the perspective of enslaved people in Georgia and the Carolinas. Stay tuned!
JF: Thanks, John!