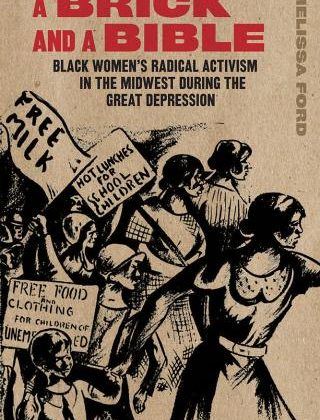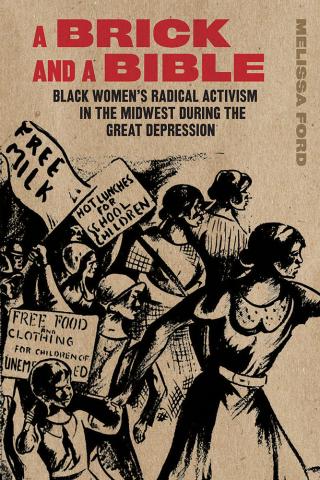 Melissa Ford is Assistant Professor of History at Slippery Rock University. This interview is based on her new book, A Brick and a Bible: Black Women's Radical Activism in the Midwest during the Great Depression (Southern Illinois University Press, 2022).
JF: What led you to ​write A Brick and a Bible?
MF: As a native St. Louisan, I always thought my city's history reflected the common stereotype of the Midwest: conservative, boring, "flyover," quiet, etc. The big historical events we learned of in school were the Lewis and Clark Expedition and the 1904 World's Fair. However, in graduate school at Saint Louis University, I was afforded the opportunity to delve into local history and quickly discovered the city's radical past. One notable, but often overlooked event, was in 1933, when African American women workers joined forces with local communists to stage a successful strike in downtown factories. This led me to ask, quite simply, "what is going on?" I began to look at other Midwestern cities, Chicago, Detroit, and Cleveland, and began to unravel the rich, complex history of Black radicalism in the Midwest.
JF: In 2 sentences, what is the argument of A Brick and a Bible?
MF: A Brick and a Bible argues that there is a tradition of Midwestern Black radicalism that contends that interlocking systems of oppression directly relate to the distinct racial, political, geographic, economic, and gendered characteristics that make up the American heartland. Particularly during the Great Depression, African American working-class women in St. Louis, Detroit, Chicago, and Cleveland used their position to shape a unique form of social activism, participating in hunger marches, organizing strikes, supporting, and sometimes joining the Communist Party, and being some of the most ardent voices for a more just future.
JF: Why do we need to read A Brick and a Bible?
MF: I began this project shortly before the Ferguson Uprising of 2014. During this important moment of unrest, I noticed how national news media continually asked, "How could this happen in the American heartland?" The misconceptions that the American Midwest is conservative and quiet was actively harming Americans' understanding of current events. The same can be said of Minneapolis in 2020. A lack of historical knowledge stymies our ability to make sense of critical moments in our own time and this is particularly devastating when it revolves around marginalized communities. As a historian, I did not see Ferguson or Black Lives Matter in only the twenty-first century, but what it truly was: a long, building tradition of Black radicalism that had its roots in the Midwest much earlier. I won't pretend I have all the answers for our modern-day struggles, but I knew I had to offer a deep dive into a similar moment of Black Radicalism. I hope putting contemporary Black radicalism in conversation with those activists of the past helps us to more thoughtfully and deliberately fight for justice today.
JF: Why and when did you become an Am​erican historian?
MF: My PhD is actually in American Studies, so I didn't really identify as a historian until I taught a history class! But my love for history goes back to reading presidential biographies during my summer vacation as a pre-teen, and because of that passion, historical methodologies have always shaped my academic pursuits. Change over time, the distance between theory and practice, and the details and lives of individuals grounded all my work and led me to a point where I wanted to make it my career. I now find great joy in reconstructing elements of nation's history to help educate and inspire us today.
JF: What is your next project?
MF: I really became enamored with doing research in my own backyard, so I am returning to local history. I live in Pittsburgh, so I am currently exploring Black radicalism in Pittsburgh prior to the Civil Rights movement. Pittsburgh has a reputation as a "blue collar" city, but that narrative often centers around white industrial laborers. From my research on cities like Cleveland, I know that Black workers were instrumental in community activism, organizing unions, and bringing awareness to issues like hunger, unemployment, and homelessness. I look forward to amplifying those stories.
JF: Thanks, Melissa!