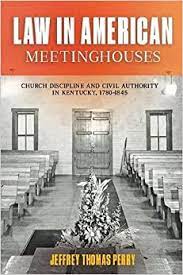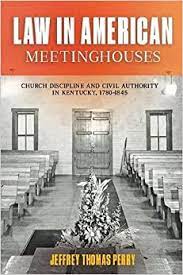 Jeffrey Perry is Assistant Professor of History at Tusculum University. This interview is based on his new book, Law in American Meetinghouses: Church Discipline and Civil Authority in Kentucky, 1780-1845 (Johns Hopkins University Press, 2022).
JF: What led you to write Law in American Meetinghouses?
JP: As a junior graduate student, I had a vague interest in religious and legal history, especially of the American backcountry. But I entered my Ph.D. program intent on focusing on gender and economic history. After I read Laura Edwards, The People and Their Peace (2009), I became interested in her conception of the "peace" and localized law. I began looking into dispute resolution outside of formal legalities in frontier settings, which, during an early research trip to the Filson Historical Society, led me to church record books. These records are filled with ordinary Americans, Black and white, enslaved and free, bringing their moral quandaries and personal disputes to their congregations for resolution. The expected moral failings such as drunkenness and infidelity dominated disciplinary hearings, but disputes over property, enslaved persons, theft, slander, and debt also routinely appeared. Existing scholarship had been too quick to compartmentalize law as that which occurred in formal state-back institutions, looking past the robust "jurisprudence" developing in church meetinghouses. Even religious historians, who have long used church disciplinary records as windows through which to view early America's gender, racial, and social relations, failed to seriously consider churches as legal venues. Nor had they adequately accounted for the reasons that discipline, a key part of church ritual, dwindled during the early-nineteenth century.
Overtime, I realized that this was not only a story about church discipline as "law," but one about religion and authority in the United States. I read Mark McGarvie's One Nation Under Law (2004) at the perfect time. It helped me situate the book within a broader conversation about the process of separating church and state—of repositioning religious institutions as private, voluntary institutions in the early republic. In the end, as my book has chapters focused on gender and race, economic transformation and law, as well as religious controversy and church property disputes, I unmeaningly circled back to touch on the various aspects I was interested in early on as a graduate student.
JF: In 2 sentences, what is the argument of Law in American Meetinghouses?
JP: This book argues that Baptist churches, through their ritual practice of discipline, served as vital sites for the production of local law in the post-Revolutionary period. Positing Kentucky's Bluegrass Region as a microcosm through which to uncover broader transformations in the young republic, Law in American Meetinghouses contends that changes in disciplinary focus and that practice's slow decline resulted from the hardening of gender and racial hierarchies, the expansion of an integrated market economy, and the rise of a competitive religious marketplace which necessitated church-goers turn to civil authority for arbitration and to secure control over their meetinghouses.
JF: Why do we need to read Law in American Meetinghouses?
JP: You should read this book because it uncovers a world in which churches participated in a vibrant marketplace of authority. It looks to the ways that the separation of church and state played out on the ground, through myriad decisions by everyday Americans as they sought resolution for their personal disputes. While the book posits churches as important law-producing sites during the post-Revolutionary period, it shows how church ritual was altered by "secular" developments in law and society. It also demonstrates that churches needed the state for their own legitimacy. They need state recognition to secure access to their meetinghouses amidst a contested religious landscape marked by competition and schism. Few Americans today would bring their personal disputes or moral failings to their friends and neighbors for mediation, yet we all do grapple, in some way, with the role of churches or religious authority alongside that of the state. This book tells an oft-forgotten story about the refining of religious and civil authority in the early United States.
JF: Why and when did you become an American historian?
JP: I've enjoyed reading about American history for as long as I can remember. I did not hesitate to declare history as my major when I began as an undergraduate. I had no real career path in mind until about a year into the M.A. program in History at the University of South Florida. I decided then that I wanted to research, write, and teach history. By the time I began my Ph.D. studies at Purdue University, I knew I wanted to focus on American history specifically, and once there my interest turned to the religious and legal history of the early republic—thanks, in different ways, to mentoring by Yvonne Pitts, John Larson, and Darren Dochuk.
JF: What is your next project?
JP: Despite what I said above about my interest in legal and religious history, my current book project is on President Andrew Johnson and American memory. I teach at Tusculum University, a private liberal arts institution located in Greeneville, Tennessee. Andrew Johnson moved to Greeneville as a young man, set up a tailor shop, and began climbing the political ladder. Looking back more than 150 years to Johnson's contentious administration, scholars today can perhaps easily relegate him to the bottom of the presidential heap. But doing so in annual lists fails to rectify that by the 1920s Johnson was a celebrated American, declared by scholars at the time to be "one of the four or five greatest presidents." Since Johnson was the key obstructionist of Reconstruction's potential to secure equality before the law for all citizens, uncovering how Americans have interpreted him (whether as plebian patriot, defender of states' rights, or a national disgrace) is vital to better understand how the nation remembers the crucible of the Civil War Era. Though half of the book will be a biography of the former president, its crux is how Americans have perceived him since he left office. This examination will combine several strands—historiography, public commemoration, and popular culture—and will rely largely on materials donated to Tusculum by Johnson's descendants.
JF: Thanks, Jeffrey!