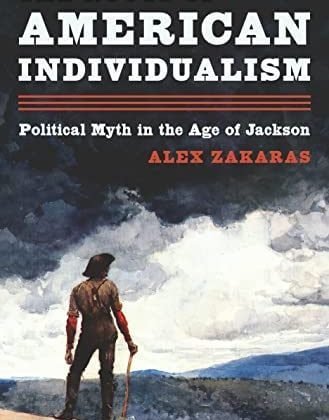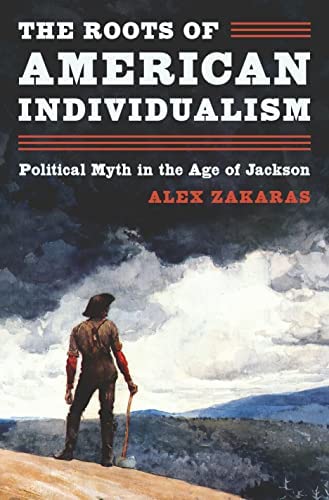 Alex Zakaras is Associate Professor of Political Science at the University of Vermont. This interview is based on his new book, The Roots of American Individualism: Political Myth in the Age of Jackson (Princeton University Press, 2022).
JF: What led you to write The Roots of American Individualism?
AZ: I've been fascinated by American individualism for a long time. I grew up overseas (mostly in Belgium) and then moved to Los Angeles as a teenager. I was struck powerfully by the differences between these two societies, and in particular by our continual celebration of individual rights and freedoms in the United States. I wanted to explore the historical roots of this tendency and to understand its political implications more clearly.
JF: In 2 sentences, what is the argument of The Roots of American Individualism?
AZ: The book argues that American individualism rose to dominance in the Jacksonian Era (1820-1850), and that it was popularized through three powerful myths that explained what America is and who Americans are: the myth of the independent proprietor, the myth of the rights-bearer, and the myth of the self-made man. It explores how each of these myths shaped popular political rhetoric in the Jacksonian Era, and how all three have influenced our politics and culture ever since. 
JF: Why do we need to read The Roots of American Individualism?​​​
AZ: The political manifestations of American individualism are all around us. We see them in Americans' visceral resistance to vaccine mandates, in their aversion of welfare dependency, in their longstanding fascination with the enterprising self-starter who rises from poverty to wealth. We see them, also, in our widespread embrace of free market ideas and in the American habit of framing political arguments in the language of individual rights. This book helps us understand where these tendencies came from and how they achieved such prominence in our political culture. My hope is that it allows us, ultimately, to see ourselves more clearly.
JF: Why and when did you become an Am​erican historian?
AZ: I'm not a historian, actually: my training is in political theory, and I teach in a political science department. Of course, one of the important points of emphasis, for many political theorists, is the history of political thought. I started writing about American political ideas in graduate school—my dissertation was largely about Ralph Waldo Emerson, and I've since written about Thoreau too. That said, this book is deeply informed by the work of American historians. It gave me the opportunity to immerse myself, over the last decade, in the historical literatures about Jacksonian America. I learned a great deal.
JF: What is your next project?
AZ: My next book will take me in a different direction: I'm writing a short defense of liberalism intended for a wider audience. Liberal institutions and ideals are under assault today from many different sources, on both the Left and the Right. In my view, recent defenses of liberalism have taken the wrong approach. Rather than present liberalism as a recipe for ambitious political and economic reform, they have described it as a moderate, conciliatory antidote to the excesses of the authoritarian Right. I plan to argue instead that the only version of liberalism worth saving is one that emphasizes the close connections between freedom and equality and advocates a broad slate of egalitarian reforms. I will also argue that the particular version of corporate capitalism that defines our economic life today represents a profound betrayal of liberal ideals.
JF: Thanks, Alex!