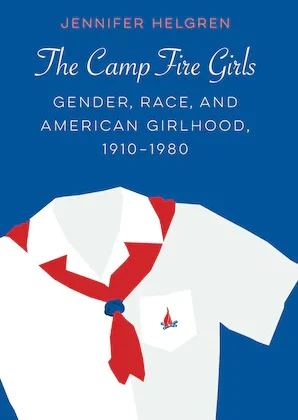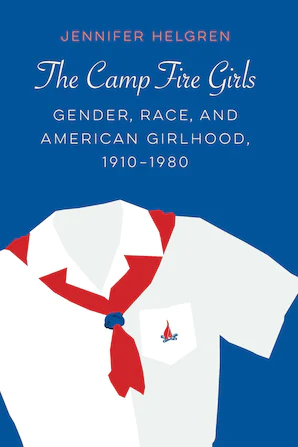 Jennifer Helgren is Professor of History and Chair of the History Department at University of the Pacific. This interview is based on her new book, The Camp Fire Girls: Gender, Race, and American Girlhood, 1910–1980 (University of Nebraska Press, 2022).
JF: What led you to write The Camp Fire Girls?
JH: Having been a Camp Fire Girl in the 1970s and early 1980s, I was curious about the organization's history. As a child, I had little knowledge of the racial and gendered context of Camp Fire. I only knew that I made good friends, loved camp, and enjoyed running meetings (maybe that's why I am chair). As a graduate student in U.S. women's history, I realized that founder Charlotte Gulick fit patterns that I was learning were typical among progressive era women, and I settled on the Camp Fire Girls as my dissertation topic. I ended up focusing on how this national girls' organization framed girls' citizen responsibilities.
JF: In 2 sentences, what is the argument of The Camp Fire Girls?
JH: I argue that Camp Fire's history shows us how the responsibilities and privileges of citizenship differed for girls based on age, gender, race, ability, and class. Although the Camp Fire Girls was remarkably inclusive and gender transformative given its historical beginnings in 1910, its membership patterns reveal the fissures and tensions in mainstream democratic American culture in the twentieth century.
JF: Why do we need to read The Camp Fire Girls?
JH: 1. The Camp Fire Girls historicizes one of the U.S.'s major youth organizations. Camp Fire's popularity and significance paralleled that of the Girl Scouts and Boy Scouts of America into the 1970s. According to a Girl Scout alumnae impact study, the two organizations for girls likely reached over half of American women. To understand girls' experiences in the 20th century, we need to take youth organizations seriously.
2. The book unpacks how civic nationalism–an inclusive trend in American society–has existed alongside racialized notions of belonging. Camp Fire's 1914 papers of incorporation announce that the agency is open to all girls. This was remarkable at a time when anti-immigration and eugenic campaigns were gathering steam, and President Wilson's administration was strengthening the color line and resisting antilynching legislation. Camp Fire would provide separate and sometimes integrated groups for diverse girls.
At the same time, the Camp Fire Girls adopted racialized imagery, asking girls to reveal their supposedly biological natures via appropriative American Indian imagery. Framed as symbols of respect, Camp Fire's predominantly white middle-class membership, nonetheless, engaged in activities that romanticized and obscured the costs of conquest to native peoples. The girls from native societies who joined Camp Fire did so through assimilative institutions such as boarding schools. Although they developed their own understandings of Camp Fire's imagery, they also saw their identities and activities caricatured in Camp Fire's national magazine. The book discusses the experiences of other groups of girls within the Camp Fire Girls as well.
3. While there has been some excellent scholarship on the Camp Fire Girls in the early twentieth century, especially by scholars who examine the use of Indian imagery, The Camp Fire Girls takes the reader through World War II, the Cold War, and into the transformative 1960s and 1970s. Youth organizations faced unprecedented challenges during these years, and U.S. understandings of inclusion and race also shifted. By the 1960s, Camp Fire had adopted outreach programs, especially its Metropolitan Critical Areas Project, to reach girls in so-called inner cities. Its successes in doing so, along with its failures, showcase the tensions and difficulties of overcoming white-centric institutions even for those educators and youth workers who were keen on challenging traditional forms of racism.
JF: Why and when did you become an American historian?
JH: I loved history and storytelling even as a child. By high school, my U.S. history class with Mr. James Castle was my favorite course. Fueled at first by youthful patriotism, I enrolled as a History major at UCLA. As an undergraduate, in courses taught by Joyce Appleby, Ruth Bloch, and Ellen DuBois, I grew more interested in the fissures and tensions in U.S. history. My studies turned toward feminism, gender studies, and social justice. As a doctoral student at Claremont Graduate University, I deepened my studies under the mentorship of Janet Brodie and Hal Barron.
JF: What is your next project?
JH: I am currently working to deepen my digital humanities practice and am studying methodologies for framing traditional history questions in new ways. My current project examines the University of the Pacific's Japanese American students during World War II. (See "Kizuna: Bonds Beyond Incarceration," an app built by the 2022 UOP Library Fellows for more.) There were over fifty students in 1942 when Franklin D. Roosevelt declared Executive Order 9066. Digital tools can help scholars understand what the forced migration of these students meant to their life plans. Digital mapping and data analysis may show that age and gender made a difference in these students' life trajectories. I hope to compare the college students with younger ones to see what the disruption in their educations meant for their life trajectories. The work will illuminate universities' responses to crises as well as the difference age and gender make in life experience.
JF: Thanks, Jennifer!