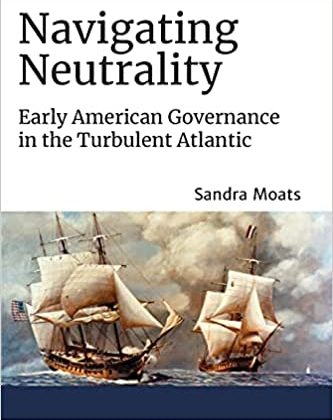 Sandra Moats is Professor of History at University of Wisconsin-Parkside. This interview is based on her new book, Navigating Neutrality: Early American Governance in the Turbulent Atlantic (University of Virginia Press, 2021).
JF: What led you to write Navigating Neutrality?
SM: As I was revising my first book, I came across numerous letters George Washington exchanged with the French officers (such as Rochambeau and Lafayette) who had served with him in the Continental Army. These letters were written after the American Revolution and continued into the French Revolution. The correspondence began in friendship, but assumed increasing importance as Washington and these French officers became leaders in their nation's politics. Understanding the significance of these letters and their influence on Washington led me to the concept of American neutrality.
JF: In two sentences, what is the argument of Navigating Neutrality?
SM: George Washington wanted to shield the United States from the warfare occurring in Europe, particularly between our two main allies, France and Britain. This approach required both a proclamation of American neutrality as well as a U.S. government capable of enforcing its provisions at home and abroad.
JF: Why do we need to read Navigating Neutrality?
SM: Neutrality was the driving concept behind American foreign policy throughout the 19th century, informing such events as the Jay Treaty, the War of 1812, and the Monroe Doctrine. Most histories, however, have focused on these events individually rather than looking at the overriding ideas that informed them. My book corrects this oversight by offering the first comprehensive examination of this seminal policy from its intellectual roots, through its formulation, and ultimately to the governing challenges each branch faced in enforcing it.
JF: When and why did you become a historian?
SM: My passion has always been politics. I studied American politics as an undergraduate and worked for the U.S. government after graduating college. This experience made me realize that I was more interested in how the United States evolved into the nation that it became rather than the nuts and bolts of American governing institutions and public policy. I earned my doctorate in history from UCLA in 2001, where I wrote my dissertation on James Monroe's presidential tours.
JF: What is your next project?
SM: I am working on a third book, tentatively entitled: "Following the Founders: Presidential Campaigning during the Second American Party System." I am interested in the political culture that was created in the aftermath of the inconclusive 1824 presidential election. How did a younger generation of politicians demonstrate their worthiness and their stature to follow the founding fathers into the presidency? This project would focus on the presidential contestants and campaigns from 1828 to 1861.
JF: Thanks, Sandra!