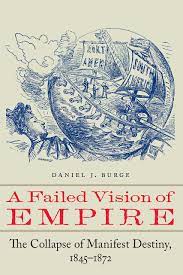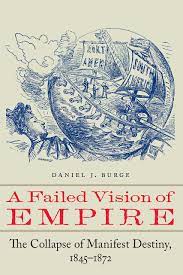 Daniel Burge is Associate Editor of the Register of the Kentucky Historical Society and Coordinator of the KHS Research Fellowship Program at the Kentucky Historical Society. This interview is based on his new book, A Failed Vision of Empire: The Collapse of Manifest Destiny, 1845–1872 (University of Nebraska Press, 2022).
JF: What led you to write A Failed Vision of Empire?
DB: While working on a master's degree at University of Maryland, Baltimore County, I was fishing for a thesis topic and came across a number of speeches during the U.S.-Mexican War that openly made fun of manifest destiny. I originally planned to write a study of the 1840s and early 1850s that explored how individuals mobilized to oppose what I assumed was a widely popular ideology (as seemed to be the prevailing interpretation). As time passed the project grew into a dissertation and then a book that went far beyond the decades my early work had focused on.
JF: In 2 sentences, what is the argument of A Failed Vision of Empire?
DB: Manifest destiny was the ideology that held that the United States would eventually cover the contiguous portions of the continent of North America (along with Cuba). U.S. expansionists in the middle of the nineteenth century failed to acquire Canada, Cuba, and all of Mexico for the United States and thus manifest destiny should be seen as a failed imperial project, a testament to the limits of the United States and its inability to determine the fate of North America.
JF: Why do we need to read A Failed Vision of Empire?
DB: Most of us, and I certainly include myself here, have been taught the familiar narrative of manifest destiny, what I term the Myth of Manifest Destiny. The myth of manifest destiny is that Manifest Destiny (typically capitalized) was the widely-held belief that the United States was destined by providence to span from Atlantic to Pacific. What my book shows is that this myth was invented by historians in the early twentieth century to explain—and justify—U.S. expansion. It had little to do with what believers in manifest destiny—like John L O'Sullivan— actually wanted. Because most historians of manifest destiny see the phrase as a synonym for western expansion, they have focused on "filling out the map," explaining how the U.S. acquired Florida, Texas, California, etc. By returning to the original definition of manifest destiny, A Failed Vision of Empire broadens our view of U.S. empire and reminds us that U.S. expansionists (such as Polk, Pierce, Buchanan, Seward, and Grant) were often unsuccessful. I hope readers will see that U.S. history is far more interesting when we move away from generalizations (the "era of manifest destiny") that flatten the past. Of equal importance, I hope that readers realize how truly ambitious proponents of manifest destiny were, as they sincerely believed that the future map of North America would be a map of the United States.
JF: Why and when did you become an American historian?
DB: That's a tough question. I always loved to read, but it was not until I had a terrific professor at Prince George's Community College in Maryland that I began to take up an interest in history. I knew I wanted to teach, but I was torn between English and history. As time passed, I came to realize that while I enjoyed reading fiction, I was a historian at heart. That being said, I try my best to incorporate literature into my research and A Failed Vision of Empire discusses Mark Twain, Seba Smith, David Ross Locke, and several others. The cover is from Seba Smith's enjoyable My Thirty Years out of the Senate, which is cited throughout the book.
JF: What is your next project?
DB: My next project is an examination of U.S. empire through the lens of the Washington Doctrine. Most of us are familiar with the Monroe Doctrine but the name I came across the most frequently in my research (both by proponents of expansion and by opponents) was Washington. Opponents of manifest destiny used Washington's Farewell Address to argue that Washington (still revered as the nation's greatest president) was opposed to entering aggressive wars such as the U.S.-Mexican. Polk, by contrast, used the power granted to him as president (a direct legacy of Washington) to aggressively pursue a war. Although still in its early stages, I plan on writing a history of U.S. empire that traces the Washington Doctrine from the War of 1812 through the conflicts of 1898-1900. As you can tell, I'm still fascinated by how individuals reacted to empire and I am curious how the Washington Doctrine played out in conflicts other than the U.S.-Mexican (which is the only one I explore in A Failed Vision of Empire).
JF: Thanks, Daniel!