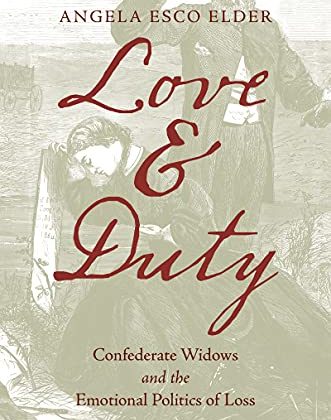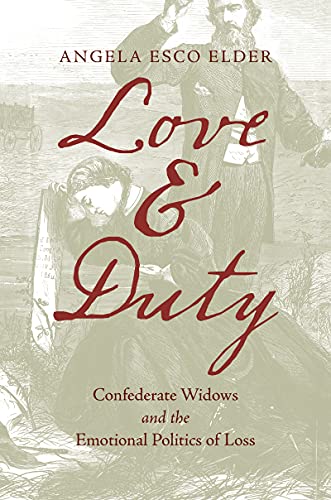 Angela Esco Elder is Associate Professor of History at Converse University. This interview is based on her new book, Love and Duty: Confederate Widows and the Emotional Politics of Loss (The University of North Carolina Press, 2022).
JF: What led you to write Love and Duty?
AE: When I was a graduate student at the University of Georgia, I spent hours in the archives pouring over letters from the American Civil War, trying to figure out a topic for a seminar paper. One afternoon, I stumbled into Will and Rosa Delony's files. They had three young children, she was pregnant with their fourth, and Will was fighting for the Confederacy. He was due to return home, for the birth of his child. All of a sudden, after a pile of letters of roughly the same shape and size, I flipped to a much smaller slip of paper, a telegraph. Will had been wounded and would die as a prisoner of war. I remember just sitting there, shocked that I was allowed to hold this paper. And then, I remember being surprised that there was so much more in the folder. Rosa's story, this family's story, it didn't end with this death. I kept reading.
Rosa gave birth to that fourth child about a month later, a girl. Then, she devoted herself to getting Will's body home, to bury in the local cemetery. In 1866, that youngest daughter passed away from whooping cough. And then, a month or so later, Rosa was successful in reinterring Will in the Oconee Hill Cemetery in Athens, Georgia, next to the baby girl he never met. Long story short, I became fascinated by this idea of widowhood, and especially Confederate widowhood. Union widows lost husbands, yes, but their sacrifice had value, in Union victory. A Confederate widow lost a husband, then lost a war. My questions about that experience drove this project forward.
JF: In 2 sentences, what is the argument of Love and Duty?
AE: Love and Duty argues that the emotional expressions of widows carried new political meaning amid the crisis of war and the battle to establish the Confederacy's legitimacy. In other words, if a widow recommitted herself to the Confederacy and poured her emotional resources into the war, that was a powerful endorsement…but if she withdrew her emotional resources, or worse, used her new standing to criticize the war, that was a powerful indictment.
JF: Why do we need to read Love and Duty?
AE:Tens of thousands of widows. As a historian of death, emotions, and the American Civil War, that's a phrase I have written more times than I can count. The war produced approximately 750,000 bodies, and tens of thousands of widows, over the course of four years. It was a mass death event that produced massive amounts of mourning. Today, the United States is two years into the Covid-19 pandemic, and we find ourselves, again, with tens of thousands of widows. Approximately 996,000 new graves, according to the CDC. Articles and social media bombarded us with stories of loved ones dying alone, in rooms surrounded by strangers, in overcrowded hospitals. These modern stories echo the diaries and letters I have devoted years of my academic career to reading. Soldiers feared dying alone. The idea that a loved one could be lost on a battlefield, or in a field hospital, terrified families. Who would hold their hand? Who would hear their final words? These questions haunted nineteenth century Americans. Similarly, the pandemic stripped us of many of our communal mourning rituals and comforts. Our celebrations of life were downsized and depended on good weather, for outdoor services. Our reunions were delayed. The physicality of comfort was lost. But the deaths, then and now, were both political. Grief and mourning were, and are, political. There are many reasons that I think we can find value in Love and Duty, but this echo in themes is one of them.
JF: Why and when did you become an American historian?
AE: I'm not sure I can answer the when. In college? In graduate school? The first time I visited a Civil War battlefield on a family vacation? The why is easier. For me, the stories are what brought me into this career. I love reading about life experiences, about emotion, about victories and failures and all the pieces that make up our human experience. Sitting in an archive, holding in my hand the slips of paper that share a life, especially one that few people have ever heard of, and having the opportunity to share that life with others — it is priceless.
JF: What is your next project?
AE: I am in the early research stages of a project focused on 19th century Key West and the Dry Tortugas. Emotions, gender, race, and environment will be a huge part of this project, but right now, I'm just gathering the stories and thinking about how they might fit together. Currently, U.S. Captain John Wilder is on my mind, who wondered of Key West during the Civil War, "Is this indeed Paradise or is it Hell?"
JF: Thanks, Angela!