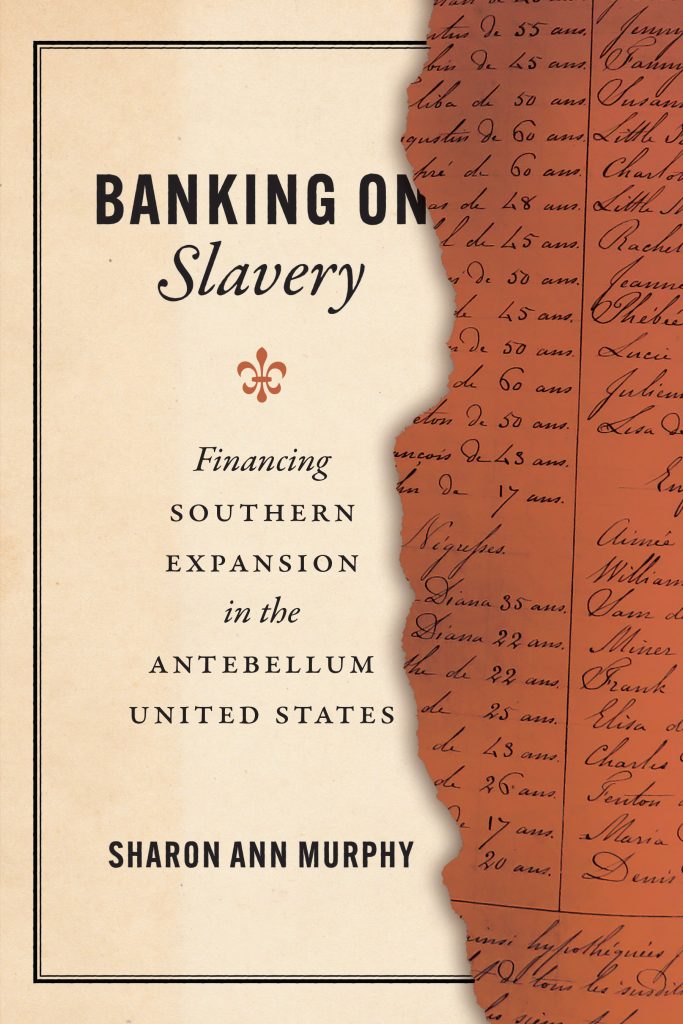 Sharon Ann Murphy is Professor of History and Chair of the Department of History and Classics at Providence College. This interview is based on her new book, Banking on Slavery: Financing Southern Expansion in the Antebellum United States (University of Chicago Press, 2023).
JF: What led you to ​write Banking on Slavery?
SM: This was not the book I intended to write. After the publication of my first book, on antebellum life insurance, I began working on a project involving the public perception of banking in and around the Panic of 1819. As I tried to pull that project together, I published Other People's Money: How Banking Worked in the Early American Republic (2017). Based mainly on secondary sources, this "useful book" (as I like to think of it) explains the nuts and bolts of how money and banking worked from the Revolution to the Civil War. Yet my intended section on banking and slavery ended up being a mere two anemic paragraphs. Was that it? Was there really no larger story behind the financing of slavery? By 2015, before Other People's Money had even made it into page proofs, I had already pushed the topic of banking during the Panic of 1819 onto the back burner and had started digging into banking and slavery. Like a wizard selecting a wand in Mr. Ollivander's shop, I didn't choose the topic; the topic chose me.
JF: In 2 sentences, what is the argument of Banking on Slavery?
SM: As the commercial-banking industry rapidly developed during the nineteenth century, slaveholders pouring into the frontier South pushed for the financialization of human property; enslaved lives were transformed from physical bodies into abstract capital assets that could be used as collateral in sophisticated loan contracts. Rather than awkwardly fitting slavery into traditional banking practices, by the 1830s several frontier state legislatures were restructuring commercial banks to fit the needs of the slave system more efficiently, with this new banking infrastructure proving critical to meeting the specific needs of the slave system during its rapid expansion in the 1820s and 1830s.
JF: Why do we need to read Banking on Slavery?
SM: First, understanding the economics behind how the system of slavery accomplished a massive migration of people to the frontier South, creating the foundations of the modern American economy by mid-century, is essential to our understanding of the slave system.​​​ To fully understand slavery we must examine the institutions—including financial institutions—that protected, promoted, and transformed the system. However, contrary to how some historians of slavery and capitalism have presented this relationship, this story demonstrates that it was not inevitable for financial institutions to support slavery. Since financializing enslaved people ran counter to the logic of commercial banking, it required the concerted effort of slaveholders to coopt southern banking infrastructure to meet the unique needs of slavery. Financialization was a choice by people who had alternative options.
JF: Why and when did you become an Am​erican historian?
SM: I like to say that I was born a historian. Some of my earliest memories are asking my grandmother to tell me stories about her childhood and about the family history. Or maybe it is because I was born right before the nation's bicentennial. It was an extremely patriotic moment that manifested itself in strange ways. For example, both my parents and grandparents had Colonial Revival couches—one was covered with images of rustic barns and wagon wheels, while the other had Betsy Ross flags and Mayflowers. And, of course, I watched every episode of Little House on the Prairie.
JF: What is your next project?
SM: Good question! While I (eventually) intend to return to my project on banking during the Panic of 1819, several other questions arose during the course of writing Banking on Slavery that may take precedence. In particular, I'm interested in examining the development of southern finance outside of the commercial banking industry during the 1840s and 1850s. By this point, most states of the frontier South were actively rejecting commercial banks, but they still needed a financial infrastructure to support their economy. Southern finance at mid-century was neither an exact replica of the North, nor its backwards stepsister. Rather, southerners were developing interesting, sophisticated financial options to provide targeted support to the slave economy. If we want to understand both the financing of the slave economy at its peak, as well as how that economy might have developed without the intervention of emancipation, we need more in-depth studies of these unique financial relationships.
JF: Thanks, Sharon!