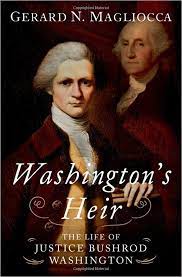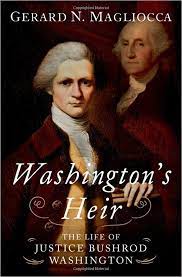 Gerard Magliocca is Samuel R. Rosen Professor of Law at Indiana University McKinney School of Law. This interview is based on his new book, Washington's Heir: The Life of Justice Bushrod Washington (Oxford University Press, 2022).
JF: What led you to write Washington's Heir?
GM: Nobody had ever published a book about Bushrod Washington. He was a pivotal member of the Supreme Court under Chief Justice John Marshall and his story is fascinating.
JF: In 2 sentences, what is the argument of Washington's Heir?
GM: This is a biography of Justice Washington, but one important theme is that he shared George Washington's beliefs and sound judgment. These traits were crucial in establishing the Supreme Court's authority and were the foundation of Justice Washington's close working relationship with John Marshall.
JF: Why do we need to read Washington's Heir?
GM: The book sheds new light on George Washington, John Marshall, and the history of enslaved people at Mount Vernon.
JF: Why and when did you become an American historian?
GM: I have loved history ever since I was a child. Once I became a law professor, I was able to combine my love for history with my legal work.
JF: What is your next project?
GM: My next project is about Justice Robert H. Jackson's concurring opinion in The Steel Seizure Case, which is the most famous discussion of the constitutional boundaries between presidential and congressional power.
JF: Thanks, Gerard!