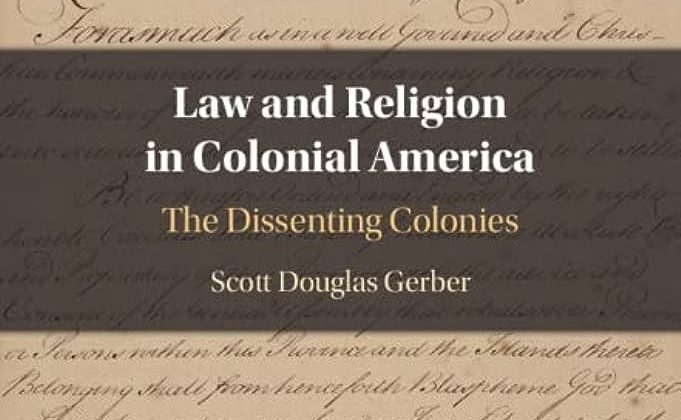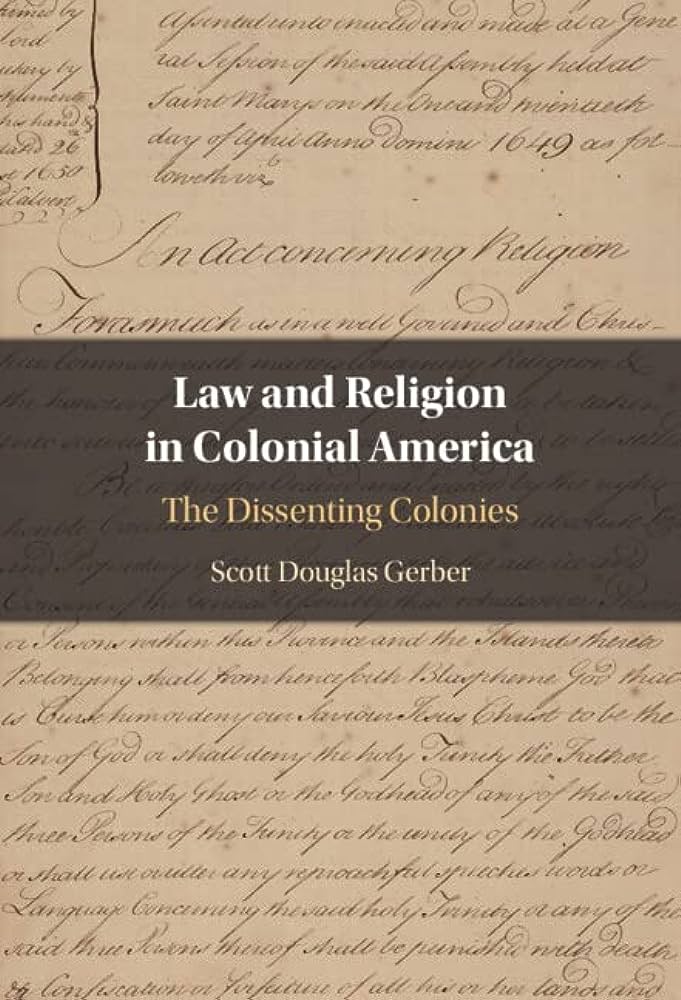 Scott Douglas Gerber is Professor of Law at Ohio Northern University and Associated Scholar at Brown University's Political Theory Project. This interview is based on his new book, Law and Religion in Colonial America: The Dissenting Colonies (Cambridge University Press, 2023).
JF: What led you to write Law and Religion in Colonial America?
SG: The book's beginnings trace to a lunch I shared a decade or so ago with Pulitzer Prize-winning historian Gordon S. Wood shortly after my previous academic book had been published. That previous book, A Distinct Judicial Power: The Origins of an Independent Judiciary, 1606–1787 (2011), endeavored to identify the origins of Article III of the Constitution of the United States by chronicling how the original thirteen states and their colonial antecedents allocated their respective judicial powers. Gordon had graciously provided a "blurb" for that book's dust jacket, and I mentioned to him during lunch that for my next book I was contemplating a thirteen-chapter volume about the animating principles of early American law that would explore why each of the original thirteen English American colonies was founded and how a particular colony's laws effectuated and/or inhibited that particular colony's animating principle. Montesquieu, I noted, had argued that each form of government has an animating principle – a set of "human passions that set it inmotion" – and that each form can be corrupted if its animating principle is undermined. Of course, I knew there were not thirteen different animating principles. But there were more than one. Gordon said the project was a great idea. He also said it would take twenty years to complete. He recommended that I try a piece of it to see if the project was doable and if I wanted to be the one to do it. I accepted Gordon's sage advice. I decided to start with the colonies that had religion as an animating principle, whether it be toleration of religion such as in Rhode Island, or the founding of a colony to advance a specific religious perspective such as in Connecticut.
JF: In 2 sentences, what is the argument of Law and Religion in Colonial America?
SG: Law – charters, statutes, judicial decisions, and traditions – mattered in colonial America, and laws about religion mattered a lot. By focusing on law, my book offers new insights about each of the five English American colonies founded for religious reasons – Maryland, Rhode Island, Pennsylvania, Connecticut, and Massachusetts – and challenges the conventional view that colonial America had a unified religious history.
JF: Why do we need to read Law and Religion in Colonial America?
SG: Historians who deviate from the prevailing historical methodology of their particular day meet resistance. Perry Miller, the most celebrated intellectual historian of his time, anticipated that criticism in a foreword to a reissue of his first book, Orthodoxy in Massachusetts, 1630–1650 (1933):
"Upon the verge of publication I am fully conscious that in the work to be offered I have treated in a somewhat cavalier fashion certain of the most cherished conventions of current historiography. I have attempted to tell of a great folk movement with an utter disregard of the economic and social factors. I lay myself open to the charge of being so very naive as to believe that the way men think has some influence upon their actions, of not remembering that these ways of thinking have been officially decided by modern psychologists to be generally just so many rationalizations constructed by the subconscious to disguise the pursuit of more tangible ends. In part I might take refuge behind the contention that a specialized study is, after all, specialized, that other aspects of the story can easily be found in other works. The field of intellectual or religious history may, I presume, be considered as legitimate a field for research and speculation as that of economic and political."
The same holds true for the "specialized study" of legal history. My book explores how the people of colonial America viewed the relationship between law and religion, and it offers new insights into their story by concentrating on law.
JF: Why and when did you become an American historian?
SG: My father was a cultural Anthropologist at Clark University in Worcester, Massachusetts. Our neighbor was a renowned colonial historian at Clark, George Athan Billias. I became interested in history by talking to him and by growing up in New England.
JF: What is your next project?
SG: My next book will be about the English American colonies that were founded for non-religious reasons (e.g., to make money). I am probably best known for writing the first book about Clarence Thomas's jurisprudence. I would like to update that book. I also write novels and I am about 2/3s of the way through my fifth novel.
JF: Thanks, Scott!