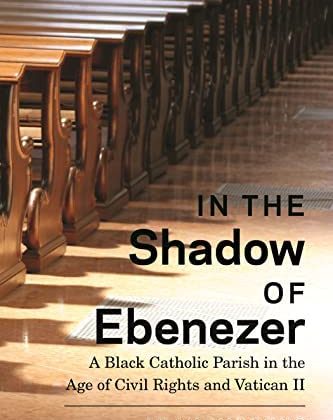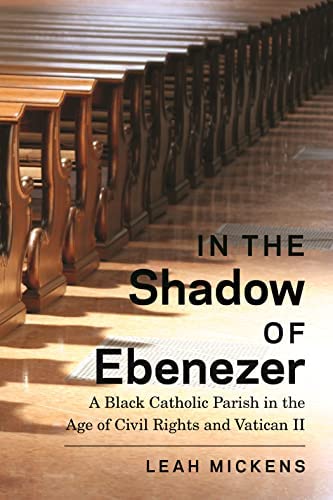 Leah Mickens is August Wilson Project Archivist at the University of Pittsburgh. This interview is based on her new book, In the Shadow of Ebenezer: A Black Catholic Parish in the Age of Civil Rights and Vatican II (NYU Press, 2022).
JF: What led you to write In the Shadow of Ebenezer?
LM: This book began as my doctoral dissertation at Boston University's Department of Religious Studies. The inspiration for the topic came from a book I read for an independent study class on the Second Vatican II Council entitled, The Spirit of Vatican II: A History of Catholic Reform in America by Colleen McDannell. The author uses her own family history to illustrate how Catholicism, both as an institution and as a set of lived practices, evolved throughout the twentieth century. While I thought this genealogical approach was an interesting framing device, I felt that it reinforced the widespread view that the Catholic Church in the United States is fundamentally an "Immigrant Church," a view that obscures the institution's role in the maintenance of slavery and institutional racism. Perhaps most importantly, there was no room in this kind of narrative for Black Catholics. I fundamentally wanted to write an account of American Catholicism where Black Catholics could tell their own stories.
JF: In 2 sentences, what is the argument of In the Shadow of Ebenezer?
LM: This book argues that liturgical change can influence political change, and vice versa. It also shows how region, race, ethnicity, and politics affect how particular congregations embody and understand their religious practices.
JF: Why do we need to read In the Shadow of Ebenezer?
LM: The default notion for what a Catholic looks like in the United States is a "white ethnic" who lives in the industrial North or the Midwest. Although the growing number of Hispanic Catholics is noted, the presence of other ethnic groups in the Catholic Church tends to be ignored. Black Catholics have been part of the Catholic Church in the United States from its inception, but they are seldom mentioned. I think part of this is due to the erroneous assumption that all Black people are members of a seemingly monolithic "Black Church," a view that discounts the religious diversity that actually exists in the Black community. I want the reader to reconsider what it means to be a Catholic in the United States.
JF: Why and when did you become an American historian?
LM: This book is my first professional foray into American history, so I guess one could say that I became an American historian in 2021, which is when I finished my dissertation and received my PhD. I consider myself to be in the early stages of my career as a historian, and I feel that it would be premature to say where this path will take me.
JF: What is your next project?
LM: My current job is as the August Wilson Processing Archivist, so I envision that most of my work will be about Wilson for the foreseeable future. However, at some point, I want to write an article about Atlanta's Catholic Colored Clinic, an institution that began as an outgrowth of the Our Lady of Lourdes Mission (now Our Lady of Lourdes Catholic Church, the parish that my book examines), then became Holy Family Hospital, and then finally became a secular institution called Southwest Hospital.
JF: Thanks, Leah!