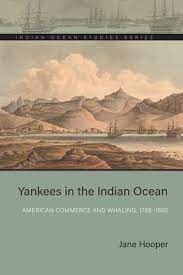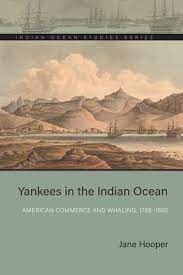 Jane Hooper is Associate Professor of History and Director of Undergraduate History Programs at George Mason University. This interview is based on her new book, Yankees in the Indian Ocean: American Commerce and Whaling, 1786–1860 (Ohio University Press, 2022).
JF: What led you to write Yankees in the Indian Ocean?
JH: While I was conducting research for my first book (Feeding Globalization: Madagascar and the Provisioning Trade, 1600-1800), I discovered – much to my surprise – that Americans monopolized trade from Mahajanga, a port in northwestern Madagascar, for several decades. Feeding Globalization was focused on European commerce in and around Madagascar, but learning of the sudden arrival of Americans during the nineteenth century piqued my interest. How and why did they become so influential in Madagascar? I had known about the American presence in Zanzibar, but I discovered that Americans had played a major role in shaping other economic, social, and environmental landscapes throughout the Indian Ocean.
The archival sources I examined in New England were incredibly rich in detail. Americans told stories of conflicts with coastal groups, of sexual relationships forged with non-Western women, and about hunting on isolated and uninhabited islands. As a historian who previously examined seventeenth- and eighteenth-century Madagascar, I read these American sources for insights into developments in the lands bordering the Indian Ocean. US sources offered new perspectives on the growth of coastal exchanges with merchants from India and Arabia, as well as those from Europe and the US. They also recounted the dramatic growth of slave trading in Madagascar and from East Africa. These were perspectives I had not encountered in such detail before, and they inspired the writing of Yankees in the Indian Ocean.
JF: In 2 sentences, what is the argument of Yankees in the Indian Ocean?
JH: The book argues that Americans were drawn to the Indian Ocean in search of new economic opportunities shortly after the American Revolution, but they found their activities curtailed by political and economic rivals operating in the ocean. Despite their inability to transform temporary encounters into formal imperial relationships, Americans would shape the development of commercial connections throughout the ocean, support illegal slave trading, and contribute to environmental degradation on the smallest islands of the ocean.
JF: Why do we need to read Yankees in the Indian Ocean?
JH: The history of American involvement in the Indian Ocean world remains largely unwritten. While recent publications have focused on Americans in the world, these books have primarily examined American activities in Asia and the Pacific. Some do mention the Indian Ocean, but they tend to explore the experience of American sailors, rather than providing close analysis of regional dynamics. My book instead investigates how non-Western actors influenced American goals and impulses in the ocean.
Not only do we lack an understanding of the scale of American commerce in the Indian Ocean, but this omission also contributes to a focus on European commercial strength at the exclusion of other maritime networks in the ocean. This oversight has meant that a complete picture of commercial and social connections in the western Indian Ocean, including women's roles in mediating cross-cultural commerce, has been elusive.
JF: Why and when did you become an American historian?
JH: As my responses to earlier questions suggest, I do not consider myself an American historian. I was trained as an Africanist, with a focus on Madagascar and the Indian Ocean, and I am particularly interested in issues of cross-cultural interaction and the slave trade. Through these interests, I began to investigate how and why Americans influenced major developments throughout the Indian Ocean.
JF: What is your next project?
JH: I am currently pursuing two projects, both related to the history of slavery in the ocean. The first concerns forced labor plantations on tiny islands of the Indian Ocean, including the islands of the Seychelles, Diego Garcia, and Peros Banhos. I hope to learn more about how laborers arrived on these islands, their experiences before and after emancipation, and how they resisted the abuses they daily faced. Given the connections that existed between the US government and the forced expulsion of people from Diego Garcia in the twentieth century, this new research topic is distantly related to American history, although my focus remains on the nineteenth-century island communities.
My second project more directly involves American actors as slave traders in the Indian Ocean. I am collaborating with a group of scholars to add a database of slaving voyages within the Indian Ocean and Asia to SlaveVoyages (slavevoyages.org). We are planning to bring together our diverse datasets in a searchable format, accompanied by maps and images. This database will be freely available to the public and to other scholars.
JF: Thanks, Jane!