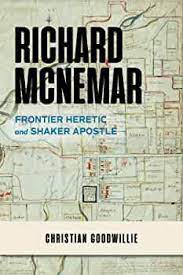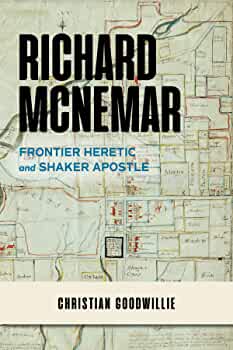 Christian Goodwillie is Director and Curator of Special Collections at Hamilton College, Burke Library and Associate Editor of the Richard W. Couper Press. This interview is based on his new book, Richard McNemar: Frontier Heretic and Shaker Apostle (Indiana University Press, 2023).
JF: What led you to write Richard McNemar?
CG: Beginning in 2001, I became fascinated with this relatively unknown, but extremely important, figure in early American religious history. McNemar's enormous manuscript record was a biographer's dream. He was a pivotal figure in the Kentucky Revival, as well as the expansion of Shakerism west of the Appalachians. His talents as a preacher, missionary, hymn writer, musician, and political and legislative actor, deserved a substantial biography to facilitate a wider telling of his remarkable story. Sadly, the Shakers used him and ultimately destroyed him when he was no longer of use. His own ego also factored into his tragic end at the hands of a young Irish spirit medium who channeled Shaker founder Mother Ann Lee.
JF: In 2 sentences, what is the argument of Richard McNemar?
CG: Richard McNemar was the key figure in the Kentucky Revival, but his conversion to Shakerism has obscured that fact to most historians. After Shaker leadership used him as their "minuteman" to expand Shakerism west of the Appalachians he was cruelly set aside and destroyed by his own brethren and sisters.
JF: Why do we need to read Richard McNemar?
CG: Richard McNemar takes in the full sweep of the colorful pageant of religion on the American frontier. The first half of the book follows McNemar's early life, education, conversion, and key role in embracing Arminian, or Free Will, tenets early in the Kentucky Revival. Following his conversion to Shakerism in 1805, McNemar facilitated the sect's expansion through tireless missionary efforts and publications in prose and verse. He interacted with many other sects, including the Shawnee prophet Tenskwatawa (the Open Door), the Harmony Society, the Halcyon movement, the Pilgrims, the Mormons (he wrote the first known review of the Book of Mormon in his journal), Robert Owen's New Harmony, the Farnumites, and others. McNemar's peregrinations brought him to legislatures and courts in Indiana, Ohio, and Kentucky, and he knew famous politicians of the day like Henry Clay and Robert Wickliffe. McNemar's tragic downfall after devoting thirty-five years of tireless effort to bolster Shakerism is a terrible example of religion gone wrong. The advent of an internal spiritual revival among the Shakers wrested control from the hands of the Ministry and Elders in Shaker villages and relocated power with young spirit mediums. These mediums exacted spiritual vendettas against many people during the late 1830s and 1840s. Richard McNemar was their most prominent victim. He was cast out of his community, from the very land which he had consecrated to the faith, and literally humiliated to death.
JF: Why and when did you become an American historian?
CG: I have always loved American history since I was a child. I studied history as an undergraduate and historic preservation in graduate school. My approach to history has been holistic, taking manuscript and printed sources, material culture, the built environment, and oral traditions into account to tell the most complete story possible. Writing books and articles on the topics I love is, for me, a way to immerse myself in times, places, and lives that are otherwise unavailable. It's a transcendent experience.
JF: What is your next project?
CG: I am editing a volume called Ephemeral Edens that comprises histories of the approximately thirty Fourierist communities that briefly flourished in the United States during the 1840s and 1850s. I have an excellent team of seven scholars working with me. Each of us will write chapters (sometimes multiple) on the communities, providing interested readers with a one-stop sourcebook for the history of America's greatest communal craze.
JF: Thanks, Christian!