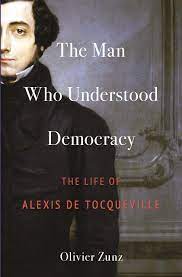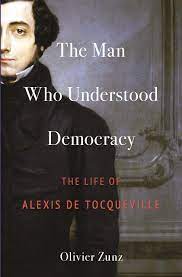 Olivier Zunz is James Madison Professor Emeritus of History at the University of Virginia. This interview is based on his new book, The Man Who Understood Democracy: The Life of Alexis de Tocqueville (Princeton University Press, 2022).
JF: What led you to write The Man Who Understood Democracy?
OZ: I had been tempted for a long time to write a biography, a genre of history I had never attempted before. I chose as my subject an author I not only deeply admired but one who produced great books, with equal brilliance, on both my country of adoption, the United States, with Democracy in America and the country of my youth, France, with The Ancien Regime and the Revolution. I am glad I did.
JF: In 2 sentences, what is the argument of The Man Who Understood Democracy?
OZ: 25-year-old Tocqueville spent only 9- and 1/2-months touring America in 1831-32. He saw much, he missed much, but he emerged from this trip with a powerful new understanding of modern history as a vital struggle between liberty and equality, and he produced a body of work that has helped Americans and others around the world think of themselves and their society anew. What Tocqueville found in America, to his surprise, was a society where equality of status at birth (for the white population—Tocqueville, a committed abolitionist, was always clear about that) could generate liberty for ordinary citizens to realize their potential and achieve their lives.
JF: Why do we need to read The Man Who Understood Democracy?
OZ: Great thinkers do not always have a life worthy of detailed telling. We often understand them better in conversation with other great minds across the ages rather than with their contemporaries. In this respect, however, Alexis de Tocqueville stands apart. His early life was shaped by the aftermath of the Revolutionary Terror in France, and he died two years before the start of the American Civil War. He was witness to a profound transformation of society and was as passionate about participating in politics to promote the right blend of equality and liberty as he was about studying the subject.
JF: Why and when did you become an American historian?
OZ: I was 23 years old in summer 1969, and a graduate student in French history, when I first visited the US from France. I spent three months touring the country on Greyhound (the price was $99 for 99 days). I saw enough of the country in the late sixties, with inner cities destroyed by dramatic race riots, to switch field and spent years studying American social history. My first book was on Detroit, The Changing Face of Inequality.
JF: What is your next project?
OZ: I am seriously thinking about preparing a new edition of my book Philanthropy in America: A History. It was published in 2011 but the global and local situations have so dramatically changed since that I need to rethink the last chapter on the Global Civil Society.
JF: Thanks, Olivier!