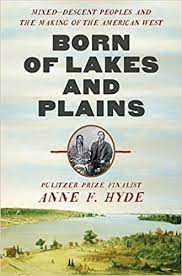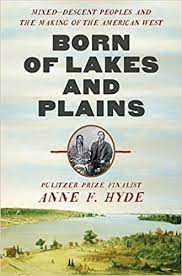 Anne F. Hyde is Professor of History and Editor of the Western Historical Quarterly at the University of Oklahoma. This interview is based on her new book, Born of Lakes and Plains: Mixed-Descent Peoples and the Making of the American West (W. W. Norton & Company, 2022).
JF: What led you to write Born of Lakes and Plains?
AH: Understanding how race works in U.S. culture seems to be the itch I can't stop scratching. Focusing on indigenous people and Europeans who blended families and kin over four centuries and on different frontiers reframes our view of both marriage and race. The history of the fur trade seemed a good place to start. The largest set of business records in nineteenth-century North America details the fur trade and exposes the daily decisions that married European and Indigenous practices. Re-reading those records allowed me to explore Indigenous and European communities as they made families and used kin to thrive on different river systems that linked the fur trade and North America.
JF: In 2 sentences, what is the argument of Born of Lakes and Plains?
AH: Intermarriage and kin-making was a vital Native strategy that used sex, diplomacy, and captivity to create a successful world of mixed-descent people who pioneered the American West. That very success, however, challenged American ideas about who deserved frontier opportunities and Indian country's mixed-descent families and their Native kin soon faced a sharply racist white America determined to end intermarriage.
JF: Why do we need to read Born of Lakes and Plains?
AH: These battles have continued into the present. Bitter divisions over tribal membership, blood quantum, and Native people's rights to define who they are roil Indian communities today. Now intermarriage could destroy Indigenous nations because it can reduce "blood quantum," that measure invented by racist scientists to eliminate Native people and to root out their mixed blood kin. My book exposes the heart of vital family strategies that enabled indigenous people to survive warfare, removal, and land loss. Using five specific families who built the fur trade in the North and who ended up in Indian Country as the twentieth century arrived, the book is personal and painful, but delineates a useful past and a hopeful future.
JF: Why and when did you become an American historian?
AH: In 7th grade, in Reno, Nevada, we had required Nevada history taught by the basketball coach, a huge local history buff. We read first-hand accounts about the infamous 1846 Donner Party, the group trapped by winter storms in the Sierra Nevada who became cannibals. Every survivor claimed they hadn't eaten anyone ever and had survived eating bark and leather. Letters and diaries left by people who had not survived and later accounts produced by the rescuers told very different stories about who ate who and when. I was hooked by the idea a single event could have such varied reports and that they all had a piece of truth. The notion that no single account could ever be fully true made me an annoying adolescent critic of U.S. history and still wakes me up at night!
JF: What is your next project?
AH: While looking at the long North American record of peaceful family-making that sustained life in colonial circumstances, the heart of this last book, I noticed and mourned the violence traveling alongside. Maybe it is the 2021 mood, but I'm writing a "definitive" history of American frontiers to highlight the cultural thread that created and then celebrated an evolution of successively violent frontiers. What became the U.S. West grew out of a tangle of history and memory: hating Indigenous North Americans and venerating settlers.
JF: Thanks, Anne!