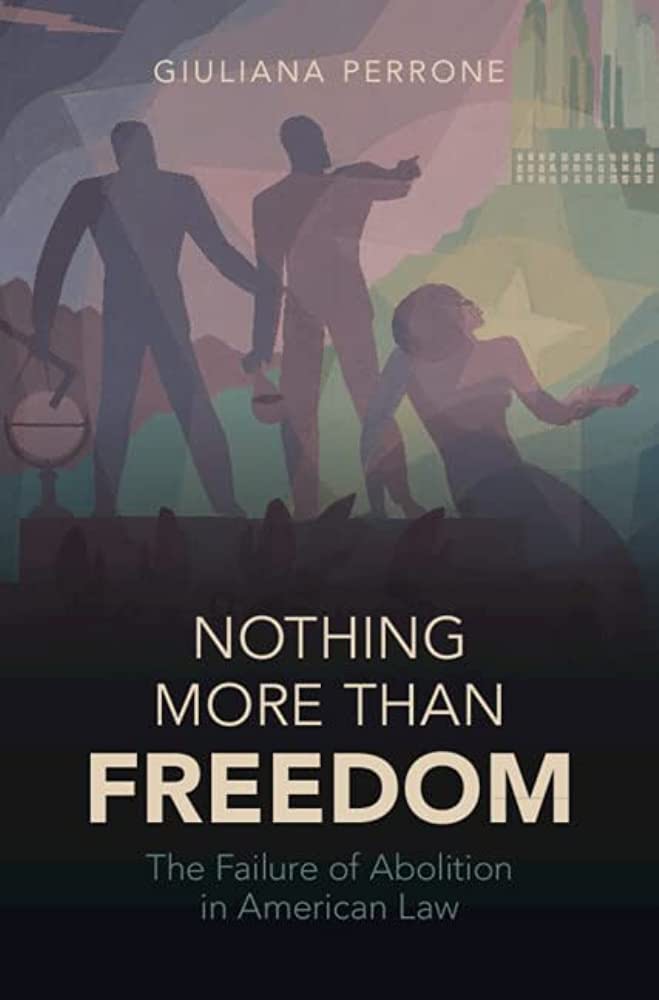 Giuliana Perrone is Assistant Professor of History at the University of California, Santa Barbara. This interview is based on her new book, Nothing More than Freedom: The Failure of Abolition in American Law (Cambridge University Press, 2023).
JF: What led you to ​write Nothing More than Freedom?
GP: Nothing More than Freedom started as my dissertation. It began – as so many projects do – with an unexpected and unexplainable archival find. I discovered that many cases related to slavery were decided after the ratification of the 13th Amendment. I wondered why there were cases about slavery that were decided after slavery was supposedly over. When I asked my advisor, she suggested I come up with the answer. I didn't expect it to become the basis of my first book, but here we are.
JF: In 2 sentences, what is the argument of Nothing More than Freedom?
GP: The book argues that remnants of slavery remain embedded in private law – the type of law related to agreements between individuals – not just in criminal law. That outcome was not preordained; some Reconstruction-era judges correctly understood that abolition would remain incomplete without a fuller eradication of slavery, but a slim majority of jurists remained committed to upholding antebellum law as much as possible.
JF: Why do we need to read Nothing More than Freedom?​​​
GP: My hope is that people who read the book will come to see how slavery survived emancipation from a new perspective. My goal was to show how institutional remnants continued to lurk in the everyday, quotidian facets of American law that don't necessarily appear to have any connection to slavery at all. Ultimately, I want them to think about abolition's failure and concrete remedies for the problem. For example, how might we address not only the direct historical ties banks and financial institutions have to the slave trade, but also the link between slavery and the laws that regulate their practice?
JF: Why and when did you become an Am​erican historian?
GP: I earned my Ph.D. in 2015, but my fascination with American history began much earlier. My father was in a history graduate program when he was drafted for the Vietnam War, and though he was unable to finish his degree, he kept the books. I grew up looking at them and eventually used them for school projects. I was rather precocious, and naively believed I could properly understand them well enough to use them. My dad corrected that assumption, but at the same time, began introducing me to historical methods.
More broadly though, the more history I learned in school, and then as an undergraduate in college, the more questions I had – particularly about the development of racial ideologies, and outright racism, in the United States. I suppose even from a young age – first or second grade, even – I wanted to understand racial inequality. I remember observing it and asking questions, including about neighborhood segregation in the Los Angeles area where I grew up. I felt intuitively uncomfortable. Now I understand why.
JF: What is your next project?
GP: I've just begun working on a project about reparations. I had some archival material left over from the book that I knew was promising, but it took time to realize how best to explain it. It includes a collection of lawsuits in which freedpeople sued the estates of their former enslavers for bequests made to them in the enslavers' wills. Eventually, while doing reading for something else, I realized that they were really a sort of reparations suit. Each will acknowledged that they owed manumission and something of value to enslaved people. I'm revising an article about it now, and I hope to begin wider research soon. I think there are thousands of wills out there that promised items of value to enslaved people, but prior to emancipation, the bequests were often not honored. The suits initiated by freedpeople during the Reconstruction era alerted me to this possibility, and now I want to find out just how much enslavers believed bondspeople should have inherited throughout slavery's existence.
JF: Thanks, Giuliana!