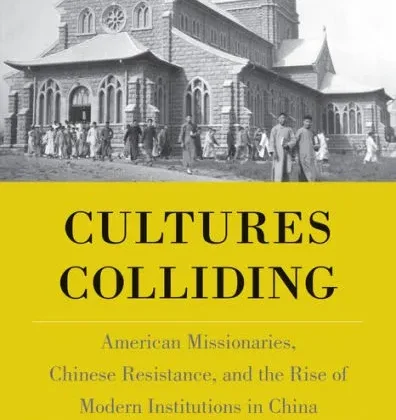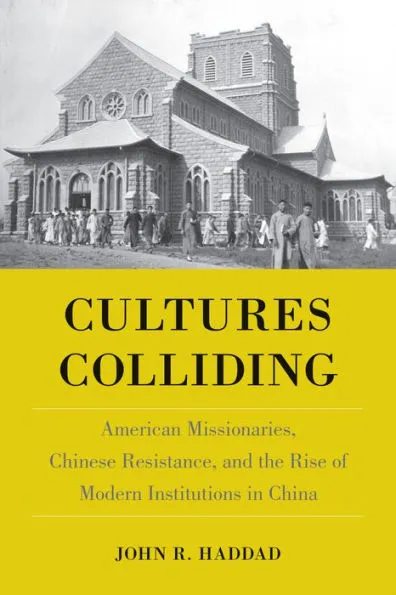 John Rogers Haddad is Professor of American Studies at Penn State–Harrisburg. This interview is based on his new book, Cultures Colliding: American Missionaries, Chinese Resistance, and the Rise of Modern Institutions in China (Temple University Press, 2023).
JF: What led you to write Cultures Colliding?
JH: Like many historians, I like to start a project with a question and then see if, through research, I can find the answer. With this book, it was my past experience teaching in Chinese colleges that prompted the question. When I lived in China, I was struck by how many of the elite Chinese universities and medical schools had been founded by American missionaries just after 1900. Examples include Beijing University, Qinghua University, and the Peking Union Medical College, which are all notoriously hard to get into. While these institutions fascinated me, they also perplexed me because my past research had suggested that missionaries before 1875 focused exclusively on saving souls. They believed (quite emphatically!) that they should devote their energy toward delivering street sermons, starting churches, securing converts, and training Chinese ministers. None of them had any intention of, say, founding a college, teaching chemistry, and coaching basketball like so many missionaries after 1900. So there is the research question: how did the missionary movement, in the short space of 25 years (from 1875 to 1900), completely transform itself? How did it go from being a purely evangelical movement to one that built institutions of higher learning? How do we go from point A to point B?
JF: In 2 sentences, what is the argument of Cultures Colliding?
JH: The book argues that American institution building in China in the late 1800s (schools, colleges, hospitals, YMCA chapters) was not the inevitable result of a strong missionary movement successfully imposing its will on the Chinese. Instead, missionaries erected institutions only after fierce Chinese resistance (Chinese literally pelted missionaries with rocks!) forced them to experiment with new methods and to allow Chinese agency to shape their larger project.
JF: Why do we need to read Cultures Colliding?
JH: I will offer two reasons. First, anyone who visits China today is struck by how modern the country is, especially the eastern cities. The architecture is stunning, the people all use high-tech devices, and one can travel on high-speed trains. Where did China's embrace of modern science, medicine, and engineering come from? Well, it came from many sources; China's modernization is quite a complicated story. That said, one key force was the American institutions. They shaped many of the most influential Chinese of the 20th century – the intellectuals, leaders, educators, and business people. China today would look a lot different without these institutions and their impactful graduates. In sum, a development that happened 125 years ago continues to reverberate into the present.
Second, you should read Cultures Colliding if you like a riveting story. I know, I know: many people today do not exactly associate nineteenth-century missionaries with a lively reading experience. Missionaries appear to us across time as rather rigid and austere characters. However, you will have to trust me: these missionaries are fascinating and so are the Chinese who either joined them or fought them tooth and nail. I'll give you an example. When missionaries attempted to plant Christianity in the Chinese countryside, they confronted deeply-rooted vernacular religions that utterly baffled them – belief systems based on gods, ghosts, and demons. As I was reading missionary accounts, one topic kept coming up: demon possessions. I eventually decided to devote a whole chapter to this topic. That chapter takes readers into remote rural villages where they witness Jesus vying with demons for the hearts and minds of the people. Some Chinese converts, to prove the superiority of their new faith, did something quite bold and without the sanction of missionaries – they conducted exorcisms. I read accounts from remote villages where Chinese Christians were shouting lines at the supposedly possessed that might have come straight out of the 1973 horror classic The Exorcist! My point is that when Eastern and Western cultures collided in China in the late 1800s, the friction generated a lot of surprising stories that, I think, make the book fun to read.
JF: Why and when did you become an American historian?
JH: History was not even on my mind when I started college. I was an English major. However, partway into a Master's program (also English), I began to shift away from the theoretical side of English and gravitate towards scholarship that interpreted literature by placing it in its historical context. I enjoyed studying how poets and novelists interacted with the cultural, social, and intellectual currents of their times. Hoping to continue in this vein, I chose an American Studies program, not English, for my PhD. In my first semester, however, I took a course on American Romanticism where we studied the art, literature, religion, social movements, and science of the period before the Civil War. We also read travel literature and popular accounts of exploration. For my final research project, I knew I wanted to do something on China because I had recently lived there. I also wanted to write about an old text that other scholars had overlooked. So instead of consulting secondary sources, I did something that students today cannot do: I went to the card catalogue in the library (this was the mid-1990s when card catalogues still existed). I looked at every card with "China" as its heading that represented a book published in the Romantic Era. It was sort of a fishing expedition. I was hoping to make serendipity happen.
It did. I came across an intriguing card for a book from 1838 called "The Chinese Museum." The book had to be ordered from a remote facility because it was old and crumbling. When it arrived, it blew me away. It was a catalogue from a museum in Philadelphia, which was America's intellectual capital back then. A merchant had purchased 10,000 artifacts in China, shipped them home, and opened a museum that promised to transport visitors to a virtual China. The museum caused a sensation. People trained in from New York and Washington to visit it. Of course, having the catalogue was not enough to tell the story for my paper. So I immersed myself in old newspapers and contacted Philadelphia archives to see if they could photocopy documents from their collections and mail them to me (there was not much digitizing back then). As the various sources streamed in, I tried to reconstruct the past as best I could. While doing so, I realized how much fun I was having. I was sold on history!
JF: What is your next project?
JH: I'll invoke Monty Python and say "and now for something completely different." You can probably tell that the main thrust of my research focuses on the history of U.S.-China cultural contact. However, a few years ago, when my children were very little and needed constant attention, I found it difficult to leave home for weeks at a time to visit faraway archives. I could have gone on these research junkets, but would I still be married when I returned? Doubtful. So I decided to tackle a local project – but what? Since I regularly taught a course on popular culture, a colleague suggested that I conduct research on Hersheypark. So that is what I am working on now. I am writing a cultural history of Hersheypark.
JF: Thanks, John!