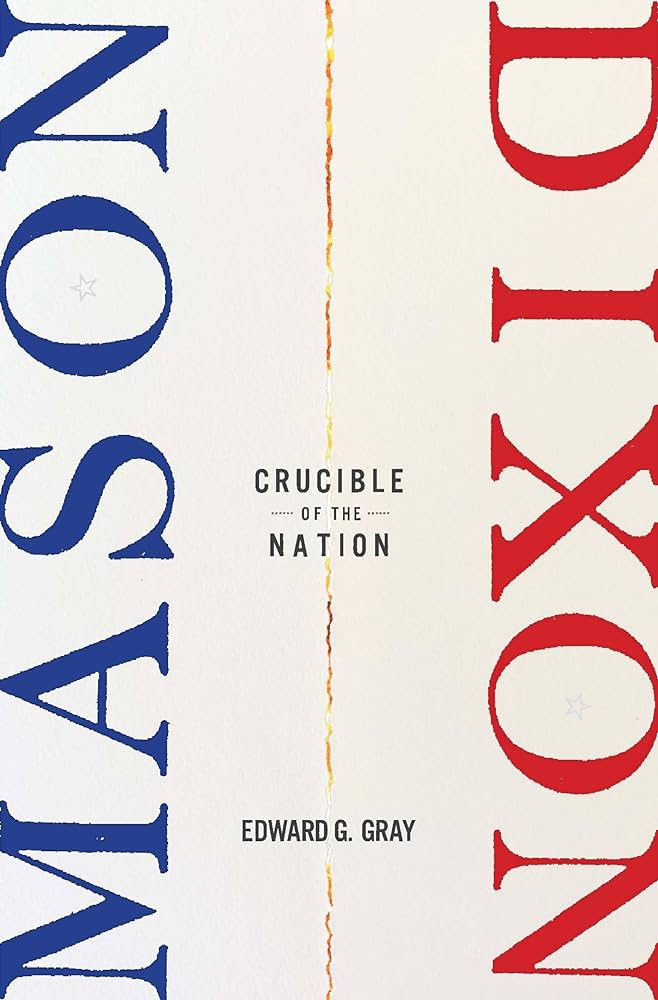 Edward Gray is Professor of History at Florida State University. This interview is based on his new book, Mason-Dixon: Crucible of the Nation (Harvard University Press, 2023).
JF: What led you to write Mason-Dixon?
EG: After writing two short biographical studies, intended to illuminate broader themes, I wanted to try my hand at the kind of longue duree narrative history that originally drew me to the discipline. The history of the original Mason-Dixon Line seemed ideally suited for that kind of writing.
How I alighted on the subject itself is a little less clear to me. I wrote a book a few years ago about the political radical Thomas Paine. He was preoccupied, I discovered, with geographic division in his adopted home province of Pennsylvania and, at the height of his powers as political pamphleteer, he abandoned politics for bridge architecture. Paine thought iron-arch bridges, thrown across the rivers of Pennsylvania, would ease the movement of goods, in turn, easing the movement of republican ideas and bringing unity to the republic of Pennsylvania.
At some point, I began to wonder how slavery shaped the divisions that so preoccupied Paine. Shortly before Paine began contemplating his particular technological solution to Pennsylvania's political problems, the state enacted the world's first statutory act to abolish slavery. Surely so radical an act had some impact on the intra-state sectionalism Paine identified.
At some point, while thinking about these issues, it occurred to me that Pennsylvania's gradual abolition act transformed the boundary between Pennsylvania and three states—Delaware, Maryland, and Virginia—into a boundary between a free and slave states. As I began exploring this development, I was reminded that the boundary between Pennsylvania and its slave-state neighbors corresponded exactly with the boundary line surveyed between 1763 and 1768 by the English astronomers, Charles Mason and Jeremiah Dixon.
There would be no explaining slavery's place in the regional divisions of the mid-Atlantic without explaining the Mason-Dixon Line's origins. That meant explaining the seventeenth-century origins of the geo-political entities—the colonies—that abutted the original Mason-Dixon Line.
So it was that I found myself crafting the kind of sweeping narrative I aspired to write, beginning with the 1632 founding of Maryland and ending in the era of the American Civil War.
JF: In 2 sentences, what is the argument of Mason-Dixon?
EG: The English astronomers Charles Mason and Jeremiah Dixon were employed to end colonial border wars. Their efforts prepared the way for new border wars, not between the subjects of colonial proprietors but between partisans in the battle over America's great shame, chattel slavery.
JF: Why do we need to read Mason-Dixon?
EG: As battles over our southern border roil American politics, as cross-border warfare erupts in the Middle-East, and as war rages once again over Europe's borders, I think Americans should know that our's is not an exceptional history. Border conflict, and its many reverberations in policy and politics, have been part of the American story from its very beginning.
JF: Why and when did you become an Am​erican historian?
EG: It depends what you mean by American historian. There's the college story which centers on my deficits: bad at math, abandoned, in no particular order, engineering, physics, and economics. Then there's the graduate student story. Also, truth be told, a tale of deficits: I finished college around the time of the French Revolution Bicentennial. My French history professor, Francois Furet, suggested I go to grad school in another field. Everybody was doing French history. I started reading books about a subject nobody knew anything about, the American Revolution. Needless to say, I discovered people knew an awful lot about the American Revolution and I found what they knew enthralling.
Then there's the post-grad-school part of the story: by some convergence of divine intervention, blind fortune, and the fact that the first-choice candidate (whom I'm pleased to note, is now an exceptional and justly celebrated practitioner of the craft), chose to take another university's offer, I wound up with a tenure-track job at Florida State University.
The rest is history.
JF: What is your next project?
EG: The working title of my current book project is Benjamin Franklin and the Financial Revolution Before the American Revolution. Somehow, despite all the books written about Franklin, and despite the long-cherished Franklin as arch-capitalist chestnut, there is no single volume on Franklin's relationship with money. Given that money was something Franklin came to possess in abundance; given that he manufactured money as a printer; and given that much of his public life centered on currency and monetary policy, Franklin and money seems like a story that needs to be told.
JF: Thanks, Edward!