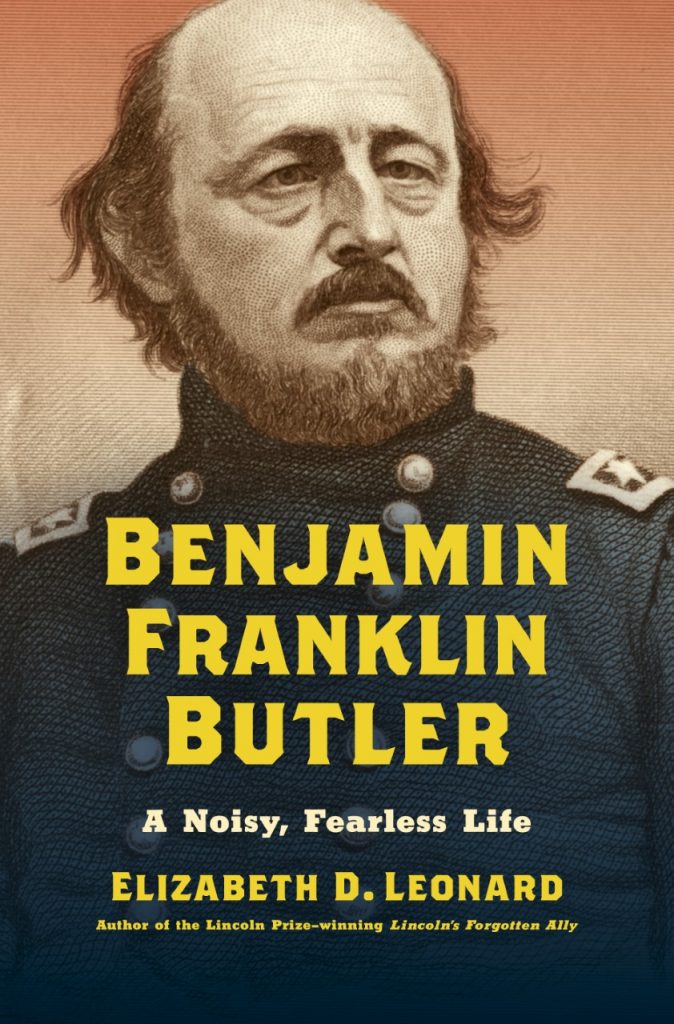 Elizabeth Leonard is Gibson Professor of History, Emerita at Colby College. This interview is based on her new book, Benjamin Franklin Butler: A Noisy, Fearless Life (The University of North Carolina Press, 2022).
JF: What led you to write Benjamin Franklin Butler?
EL: Anyone who studies the American Civil War in any depth–as I have been doing since I was in graduate school–encounters Benjamin Butler at one point or another, so I've been familiar with him for a long time. In addition, Butler attended Colby College–originally known as Waterville College–which is where I spent nearly thirty years teaching here in Maine, so we had that connection, too. (He graduated in the class of 1838.) Then, about a decade ago and before I started digging deeper into Butler's story, the great Civil War historian Gary Gallager and I were chatting about him and I confessed to feeling somewhat envious that Colby-rival Bowdoin College could always (and did) make so much of their connection to the dashing and illustrious Joshua Chamberlain of Little Round Top fame. Gary gently but wisely chided me for not being prouder of Butler and encouraged me to learn more about him. I followed his (and others') advice, and this is the result!
JF: In 2 sentences, what is the argument of Benjamin Franklin Butler?
EL: I guess the simplest way to describe the argument or theme running through the book is that much (though certainly not all) of the criticism that Butler suffered during his life and at the hands of historians after his death needs to be reconsidered in light of all of the forgotten (and/or subsequently repressed) adulation and praise he received from the many, many people who admired, loved, and were immensely grateful to him. The book also strives to decipher who hated and mocked him, and who loved and appreciated him, as well as why different individuals and groups of people felt the way they did about him, and what we can learn from this rather stunning discrepancy.
JF: Why do we need to read Benjamin Franklin Butler?
EL: I have been told by many people that the image of Butler on the book's cover is both immediately recognizable and also completely unfamiliar. My response to this comment is that what the cover is doing is exactly what the book aims to do: to demonstrate to readers that while you think you know Butler, you actually don't know him as well as you thought you did. This a key reason why folks need to read the book! Also, in our troubled times, where we are continuing to deal with some of the very same problems that Butler struggled to deal with in his day–as a lawyer, general, congressman, governor, and, simply, as a human being–his story has great relevance and also some lessons to teach us.
JF: Why and when did you become an American historian?
EL: I began my graduate work in American history in 1986 and graduated from the University of California, Riverside, in 1992. Before I went to UCR, I had been considering becoming a member of the clergy (my father is a retired Unitarian Universalist minister). But I came to realize that my deepest interest lay in confronting the real life problems of the world we live in, and that understanding those problems required understanding their roots in the past. So I turned away from theology to history, and have never regretted the decision.
JF: What is your next project?
EL: I recently retired from teaching at Colby (I am now Colby's Gibson Professor of History, Emerita), and I do not have a next research project in mind at the moment. For now, my focus is two-fold: on doing whatever I can to guarantee that this book gets the circulation and readership it deserves, and on engaging in political activism at every level to help realize Butler's vision of a world where the playing field is truly level for all people.
JF: Thanks, Elizabeth!