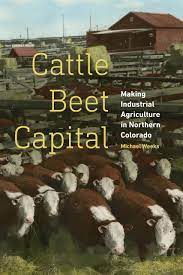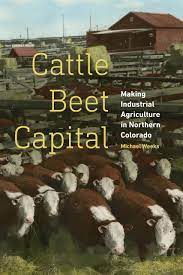 Michael Weeks is Lecturer of History at Utah Valley University. This interview is based on his new book, Cattle Beet Capital: Making Industrial Agriculture in Northern Colorado (University of Nebraska Press, 2022).
JF: What led you to write Cattle Beet Capital?
MW: One of the most important questions any society should ask is how it feeds itself. What we eat and how we cultivate it reveals so much about our relationships with each other, as well as the kind of care we exercise with the non-human world around us. Not long after moving to Boulder in 2010 for graduate school, I noticed a putrid smell coming from the northeast that peaked my curiosity. After a few conversations and a little research I learned that the odor came from an extensive collection of commercial feedlots that fattened cattle for slaughter. Locals sneeringly called it "the smell of Greeley." In 1970, Greeley fattened, packed, and shipped more beef to market than any other location in the world. I also discovered that, 100 years earlier, Greeley began as a planned, cooperative agricultural venture focused around intensively farmed small plots of irrigated land. In that century between Anglo settlement and industrial feeding operations I knew there was a great story that would explain the historical processes that formed our modern food system.
JF: In 2 sentences, what is the argument of Cattle Beet Capital?
MW: Cattle Beet Capital examines the uneven processes by which Greeley, Colorado grew from a planned, irrigated agricultural settlement to a global center of commercial cattle feeding, exploring the people, institutions, technology, and agroecology that shaped the transformation. I argue that a satisfying understanding of our modern agricultural systems demands that we pay close attention to the histories of local and regional food production landscapes that made them.
JF: Why do we need to read Cattle Beet Capital?
MW: I consider myself to be a historian of the present. Cattle Beet Capital reflects this. I began the project steeped in the works of writers such as Wendell Berry, Barbara Kingsolver, and Michael Pollan who argued collectively that our food systems fail to promote human and soil health, reducing food to a mere bodily input. To paraphrase historian Donald Worster, the agriculture that makes our food has failed at its three core missions: making people healthier, promoting justice, and preserving the earth and its network of life. When I began working on Cattle Beet Capital, I envisioned a research project that mapped onto my own sensibilities.
The narrative edifice I constructed crumbled under the weight of the economic, environmental, and relational forces I encountered. I found that, contrary to my suspicions, concentrated capital could not so easily bend agriculture to its will and organisms—human or otherwise—often blunted market forces seeking to rationalize them. I discovered that the lines we construct to separate the private and public institutions that make modern agriculture possible have become increasingly blurry.
Cattle Beet Capital should be read by anyone who wants to understand the complexities that underlie our modern food systems.
JF: Why and when did you become an American historian?
MW: My journey to becoming a historian was born while teaching in high school classrooms where I re-learned and then taught so much of what had eluded me during my formal education. Then, in 2003, I was asked to teach an Advanced Placement course in U.S. History. I felt simultaneously overwhelmed by all that I did not know and responsible to a group of students who expected a competent guide to the American past. That feeling was eventually replaced with questions about U.S. history that I could only answer in fragments in the classroom. So, I enrolled in an undergraduate seminar in U.S. History at Sacramento State that opened doors to graduate studies. After completing an MA at Northern Arizona in 2007, I returned to the high school classroom for three additional years. However, I could not shake my desire to find answers to the questions in America's past that continued to elude me. So, in 2010, I entered a PhD program at the University of Colorado with the intention of becoming a historian of American history. So many questions still remain…
JF: What is your next project?
MW: I am currently working on an article that examines stream pollution in rural areas during the first half of the twentieth century. While working on Cattle Beet Capital, I found a report in Great Western Sugar's archives that detailed massive fish kills resulting from company effluents. The study was written by a prominent fish ecologist in 1918 and marked 'confidential.' After further archival research, I learned that the company had done little to change its waste disposal practices for the next three decades. I wanted to know why. The resulting journey revealed that, though historians have produced some excellent scholarship on urban water pollution, there are few analogues in rural areas where wastes from factories and mills were often dumped with impunity. Tentatively called Sweetness and Pollution, the article is an attempt to fill that gap and also explain why a company would seek out evidence of its environmental harm only to bury what it found.
JF: Thanks, Michael!