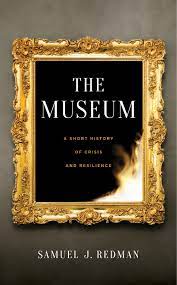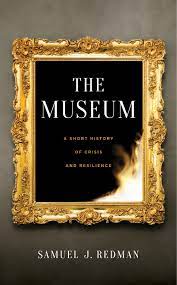 Sam Redman is Associate Professor of History and Director of the Public History Program at the University of Massachusetts Amherst. This interview is based on his new book, The Museum: A Short History of Crisis and Resilience (NYU Press, 2022).
JF: What led you to write The Museum?
SR: In early January 2020, a publisher approached me about a possible book on the state of museums today and their potential futures. I was still mulling the project over when it felt like the entire world suddenly changed. The coronavirus pandemic swept around the world with force. George Floyd's murder in Minneapolis led to widespread protest. I couldn't help but think about how museums had dealt with crisis moments in the past. Once I started reading museum reports from 1918 to 1920 when concerns about social unrest, pandemics, and racial strife were also prevelant, the book almost began writing itself.
JF: In 2 sentences, what is the argument of The Museum?
SR: This book argues that museums and those who care about them should take a wider view of their history in order to better prepare for the unpredictable future. As institutions, museums in the United States have proven to be surprisingly resilient, but this resilience only goes so far, so museum leaders need to lean into challenges and draw inspiration from the past in order to thrive in a more hopeful future.
JF: Why do we need to read The Musuem?
SR: The Museum demonstrates that crisis moments force leaders to action, making acute and concrete the many choices that may have seemed more abstract in earlier eras. What are our main priorities? Whom do we serve? This short book is also about some of the most important and controversial institutions in the nation, studying them over time reveals important truths about the United States and how we got to where we are today.
JF: Why and when did you become an American historian?
SR: None of my family members were professional historians exactly, but they were all curious about history and committed museum-goers. Growing up, my Dad had a library filled with history books. Later, I spent time working at museums like the Field Museum in Chicago and Colorado History in Denver. While I loved working in museums, I missed being in the classroom and became nearly obsessed with how these institutions came to be what they are. This led me back to grad school and the chance to write what became my first book Bone Rooms: From Scientific Racism to Human Prehistory in Museums (Harvard University Press 2016).
JF: What is your next project?
SR: Having just completed two major book projects; Prophets and Ghosts: The Story of Salvage Anthropology (Harvard University Press 2021) and The Museum: A Short History of Crisis and Resilience (NYU 2022), I'm switching gears to focus on teaching and the amazing opportunity to lead the UMass Amherst Public History Program as Director.
JF: Thanks, Sam!