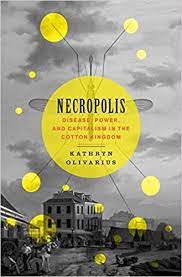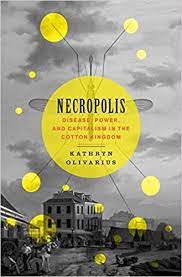 Kathryn Olivarius is Assistant Professor of History at Stanford University. This interview is based on her new book, Necropolis: Disease, Power, and Capitalism in the Cotton Kingdom (Belknap Press of Harvard University, 2022).
JF: What led you to write Necropolis?
KO: My family jokes that I've always been a "historical hypochondriac." But in truth I didn't know much about yellow fever until I started researching for my PhD about ten years ago. Yellow fever, an acute viral infection, became epidemic in antebellum New Orleans every second or third summer, killing thousands. In the nineteenth century, there was no cure, no vaccination, no conclusive evidence of disease transmission, and no explanation for why it killed some while leaving others healthy. And it was a horrible way to die, with victims writhing in pain and finally vomiting up black congealed blood. Yellow fever comes up in just about every source from the Deep South—tax rolls, travelogues, diaries, letters, insurance filings. But I knew I was onto something when I discovered accounts of young men who actively sought yellow fever in pursuit of immunity. Cotton clerks would eat or inject the black vomit of their recently expired friends, or roll around in their bosses' blood-soaked bed sheets. This was incredibly risky—half of all people died in the "acclimating" process. But people gambled their lives because immunity afforded immense privilege in this society. "Acclimated citizens" held better and more lucrative jobs than "unacclimated strangers," lived in better neighborhoods, and had access to new lines of credit. I had never read a book about how epidemiology impacted social hierarchies, and was excited to see where the evidence would take me.
JF: In 2 sentences, what is the argument of Necropolis?
KO: Necropolis is the story of why so many people—at least 150,000—died from yellow fever in nineteenth-century New Orleans, and how their collective deaths exacerbated inequality in an already violent and unequal slave society. In this system of immunocapitalism, yellow fever provided ideological legitimation for vast inequality, with white elites mobilizing the disease to divide and exploit the population.
JF: Why do we need to read Necropolis?
KO: I'm a social historian who believes we should seek to understand how real people understood their lives on their own terms. Yellow fever mattered to them—it wasn't just background noise. It was more akin to dark matter, pulling everything into its orbit. It impacted class and racial dynamics, controlled the pace and schedule of the cotton industry, delineated the size and scope of government, informed the notion of citizenship, infused the notion of value in the slave market, and underwrote a person's sense of self-worth. In short, we can't properly understand New Orleans—and thus the development of the slave and cotton kingdoms—without taking this disease into account. More broadly, Necropolis invites readers to think about the question of health—who has it and who does not and why—and how this question has always been political. This was as true two centuries ago as it is today.
JF: Why and when did you become an American historian?
KO: As an undergrad. I grew up in the UK where we didn't do much American history in school—I recall learning of palace intrigue in Henry VIII's court and the Battle of Britain. But I moved to the States for college and I took just about every American history course on offer, finding the questions and themes stimulating. David Blight—with his gripping lectures and spellbinding voice—drew me to the Civil War era and those most important questions of slavery, citizenship, and freedom.
JF: What is your next project?
KO: I have a couple projects in the pipeline. I am working on a database that maps real and rumored slave revolts across the US South and I'm finishing off an article on life insurance premiums and risk during Reconstruction. I'm most excited, however, about syphilis and shame in the Gilded Age. I promised myself that I would take a break from disease for a while—art has imitated life too much these last two pandemic years—but the source material on venereal disease is gripping.
JF: Thanks, Kathryn!