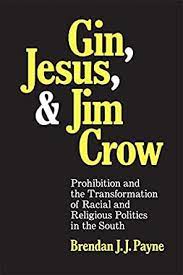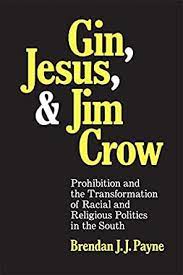 Brendan J. J. Payne is Assistant Professor of History and Chair of the Department of History at North Greenville University. This interview is based on his new book, Gin, Jesus, and Jim Crow: Prohibition and the Transformation of Racial and Religious Politics in the South (LSU Press, 2022).
JF: What led you to ​write Gin, Jesus, and Jim Crow?
BP: One of my seminary professors, Garth Rosell, sparked my interest in how Christians took a variety of stances on alcohol prohibition. Then my Ph.D. work at Baylor University drew my attention to the importance of race for prohibition in the South. Michael Parrish, one of my professors at Baylor, pushed me to pitch my book idea to academic publishers, and LSU Press picked it up. After a few years more of researching, editing, and re-writing, the book is finally out!
JF: In 2 sentences, what is the argument of Gin, Jesus, and Jim Crow?
BP: The culture war over alcohol prohibition transformed religious politics and racial politics in the U.S. South from the 1880s to 1930s. Prohibitionists changed churches' doctrines, practices, and political activism to create what we now call the Bible Belt, and prohibition was an integral part of both Jim Crow's suppression of African American votes and the political rise of Southern white women.
JF: Why do we need to read Gin, Jesus, and Jim Crow?​​​
BP: This book gives us insight into how religion, race, and gender interacted with an American culture war a century ago and how they might impact our culture wars today.
This book explains how both sides in that culture war appealed to Christian beliefs and practices, even though prohibitionists claimed to speak for all Christians. While anti-prohibitionist "wets" defended millennia of Christian tradition of moderate drinking, prohibitionist "drys" radically reshaped Christian theology and practice, church-state relations, anti-Catholic activism, and government power. Then as now, it is worthwhile asking how "traditional" one side or another really is in the culture wars.
Regarding race and gender, Black lives matter in the past as well as the present, and this book recovers how African Americans play a major role in local and statewide prohibition battles in the 1900s and 1910s, defying Jim Crow restrictions to cast decisive votes. The book also explains how southern white drys claimed that prohibition would help protect white women from Black men and advanced their cause by disfranchising racial minorities. Finally, the book explores how prohibition contributed to white women's political empowerment at the expense of Black men. Issues of gender and race were live in culture wars a century ago, just as they are today.
JF: Why and when did you become an American historian?
BP: My interest in American history started with an A.P. U.S. history class, which taught me that history was not merely about memorizing facts and dates but more vitally about creating order and stories from sources. Then in seminary, when my professor Garth Rosell urged me to become a historian, I listened. I entered Baylor University's history Ph.D. program in 2012, graduated in 2017, taught there for a year, and then took a full-time teaching job at North Greenville University in 2018. For me, teaching history is primarily about showing students how to interpret sources critically, which is increasingly important in our age of polarization and misinformation spreading like weeds.
JF: What is your next project?
BP: I am interested in a popular history of election fraud and voter suppression since Reconstruction. With all the talk of elections today, many know little of the broader context of elections history and would benefit from a synthesis of the data in an accessible narrative.
JF: Thanks, Brendan!