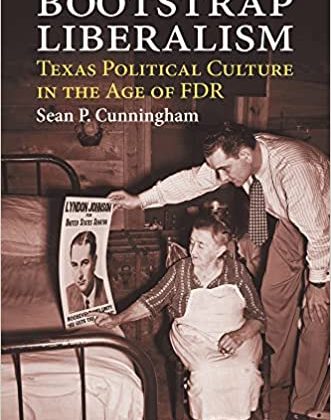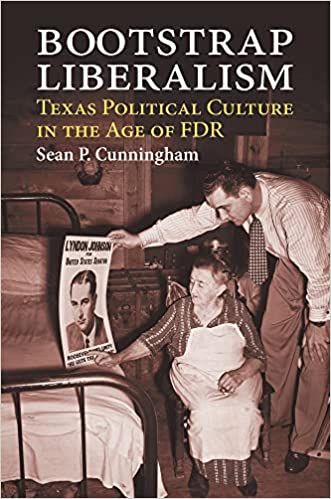 Sean P. Cunningham is Associate Professor of History at Texas Tech University. This interview is based on his new book, Bootstrap Liberalism: Texas Political Culture in the Age of FDR (University Press of Kansas, 2022).
JF: What led you to write Bootstrap Liberalism?
SC: My first book (Cowboy Conservatism: Texas and the Rise of the Modern Right) was an exploration of the ways in which national politics, and specifically the culture wars of the 1960s and 1970s, redefined concepts of "conservatism" and "liberalism" at the state and local levels, and how a nascent Texas Republican Party capitalized on those changes to grow from a largely non-existent afterthought to what it is today, a rather dominating force across much of the state. That book prioritized, for instance, Ronald Reagan's personification of a new "conservatism" at the national level, and how his individual popularity drew converts to the Texas GOP.
Bootstrap Liberalism is, in some ways, a prequel to that story, with FDR playing a similar role to Reagan. Having worked in the 1960s and 1970s for my entire career, I wanted to take a step back and explore the ways in which campaign politics worked at the state and local levels in the decades prior to the so-called Republican Ascendancy of the late-twentieth century. I wanted to learn more about how campaigns (and political culture more broadly) changed, but I also to see what hasn't changed, such as the power of iconic personality to shape grassroots political behavior. I also wanted to learn more about what the average Texas voter was interested in hearing from elected officials during the most severe economic crisis in American history.
JF: In 2 sentences, what is the argument of Bootstrap Liberalism?
SC: This book argues that both FDR and his New Deal were far more popular in Texas than most historical narratives have acknowledged. It seeks to explain Roosevelt's success in Texas not simply as a reflection of longstanding, powerful partisan loyalties, but as a somewhat surprising marker of genuine, widespread support for New Deal programs and goals, and of sincere appreciation for Franklin Roosevelt as a champion for ordinary Texans and their traditional values as commonly defined at the time.
JF: Why do we need to read Bootstrap Liberalism?
SC: Two decades into the twenty-first century, it is hard to imagine a world in which Texas was a solidly "blue" state. Yes, the Texas Democratic Party of the 1930s and 1940s was still powerfully conservative, and yes, many of those conservative Democrats (or their descendants) eventually switched parties. But Roosevelt was genuinely popular with ordinary voters in Texas, many of whom fully understood that they were voting for big government and greater economic regulations from Washington. Like most eras, the Age of FDR was hotly contested, in Texas and elsewhere. But liberal Democrats more than held their own in the Lone Star State, a fact that is often muddled within the existing historiography or ignored altogether.
JF: Why and when did you become an American historian?
SC: I fell in love with history when I was in elementary school, more specifically in November 1988, when network television broadcast several documentaries commemorating the 25th anniversary of the assassination of John F. Kennedy. I was born in Dallas in 1977, but apart from the exploits of J.R. Ewing and Tom Landry, I didn't know much about that city. So, learning about the Kennedy assassination was fascinating, both as a "murder mystery" of sorts, but also as a moment in time after which everything changed. At the same time, the Bush-Dukakis presidential race that fall was the first campaign I remember following, so having a newfound interest in politics through JFK assassination, while at the same time listening to Texas Senator Lloyd Bentsen insult Dan Quayle's ability to ever measure up to "Jack Kennedy" … it all just drew me into the world of modern American political history. I've been fascinated ever since.
JF: What is your next project?
SC: That's a great question! Bootstrap Liberalism is my third book in twelve years, so part of me wants to step back and see where life takes me before committing to anything specific. In terms of smaller projects, I just launched a new book series with Texas Tech University Press on the "Politics of the Modern Southwest," so I'm hoping to work with young authors who want to publish in that field. I'm also still working with several organizations, Humanities Texas most notably, that committed to helping teachers navigate the rapidly changing world of public education. And as a Department Chair, the administrative world of higher education keeps me plenty busy. We'll see what happens next!
JF: Thanks, Sean!