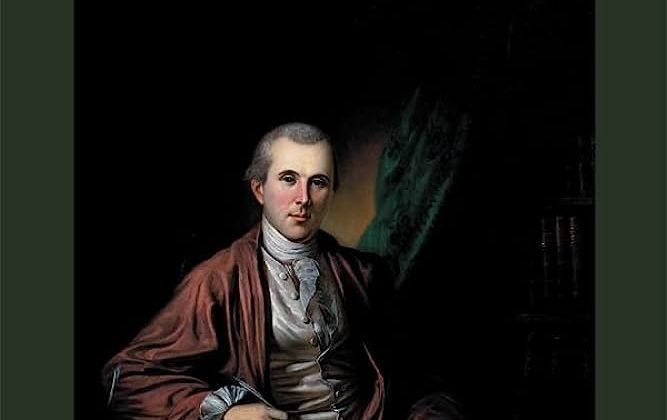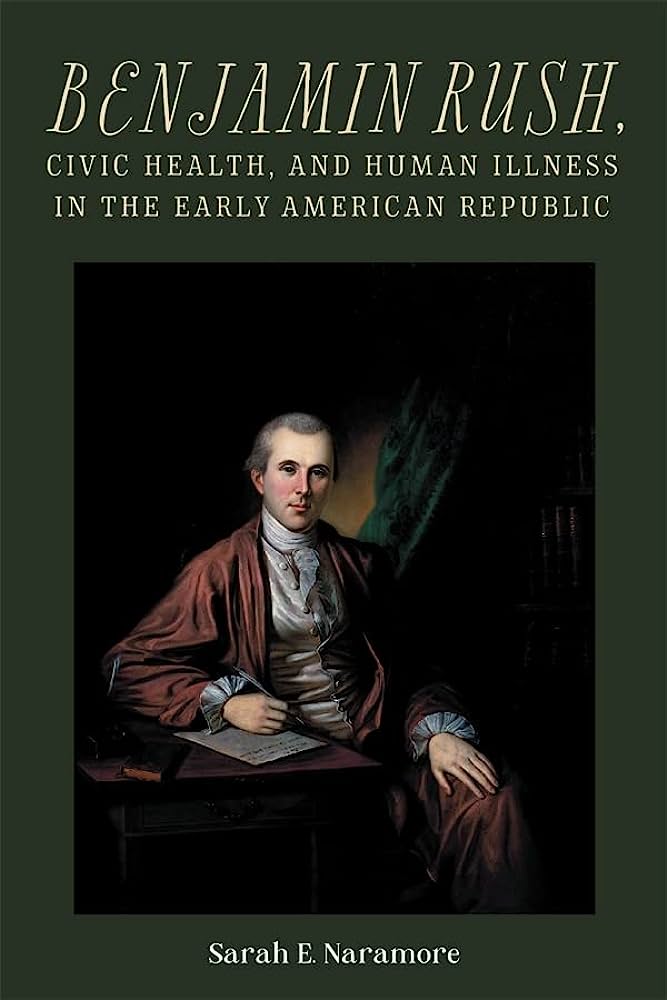 Sarah Naramore is Assistant Professor of History at Northwest Missouri State University. This interview is based on her new book, Benjamin Rush, Civic Health, and Human Illness in the Early American Republic (University of Rochester Press, 2023).
JF: What led you to write Benjamin Rush, Civic Health, and Human Illness in the Early American Republic?
SN: Philadelphia physician Benjamin Rush is one of those historical figures who seemingly pops up everywhere. He fostered relationships with key figures of the founding generation, wrote on multiple topics, taught thousands of students, and was a practicing physician.
That's how I first encountered Rush, as a figure whose work was constantly cited by other historians as an example of what Americans were thinking or feeling about a variety of topics. I wanted to see what that last part, being a doctor meant to the rest and what Rush meant to his contemporaries. Meanwhile in the history of medicine his ideas were often described as dangerous (fair based on modern knowledge) and without long-term effects. This didn't seem to fit with his historical longevity or nineteenth-century accounts from former students so I decided to try and uncover what Benjamin Rush meant to people in his own time.
JF: In 2 sentences, what is the argument of Benjamin Rush, Civic Health, and Human Illness in the Early American Republic?
SN: Benjamin Rush wanted to create an American system of medicine that would craft healthy and productive republicans for the new nation. That blending of social and scientific concern was not unheard of in the eighteenth century but took of special urgency after the Revolutionary War for Rush, his students, and those in his world.
JF: Why do we need to read Benjamin Rush, Civic Health, and Human Illness in the Early American Republic?
SN: The history of medicine often gets left out of the broader historical narrative. I think this is a mistake. So much of our experience as humans is embodied in the way we identify sickness, experience health or distress, and how and when we have a social and moral obligation to care for the public's health; these are key issues that shed light on any community. The early United States is no different. I hope that my book can show how these conversations speak to other concerns about how society functions and the way Americans tried to create a country in the wake of revolution.
JF: Why and when did you become an American historian?
SN: I started thinking about history seriously as a college student, but my path wasn't straightforward. At first, I thought I was going to be a veterinarian and double majored in biology and history, taking classes in both subjects and being introduced to the history of science and medicine which really sparked my interest. I settled in American history later when I started my senior thesis using the records of a late eighteenth-century physician in upstate New York as my main primary source. I encountered Rush in the secondary literature and started working on what became my book in graduate school.
JF: What is your next project?
SN: My next project is going to look at the history of endemic goiter (caused by iodine deficiency) in the United States from 1800 to about 1940. In some respects, it's a big change, but for me the driving questions are still about how health and disease interact with American society and national identity. For almost 150 years this disorder worried physicians and lay people alike and marked whole geographies as potentially dangerous and was considered especially threatening to young women. Furthermore, American goiter appeared in different kinds of spaces than European goiters leading to a strong push for local knowledge and research. Despite so much interest by historical characters historians of medicine have written very little about endemic goiter in the United States and I think this project has the potential to tell us a lot about disease research, ideas about geography and illness, and gender and health over the course of the nineteenth century in an American context.
JF: Thanks, Sarah!