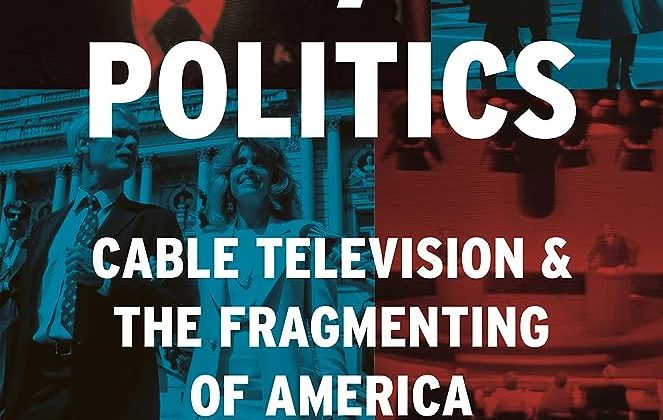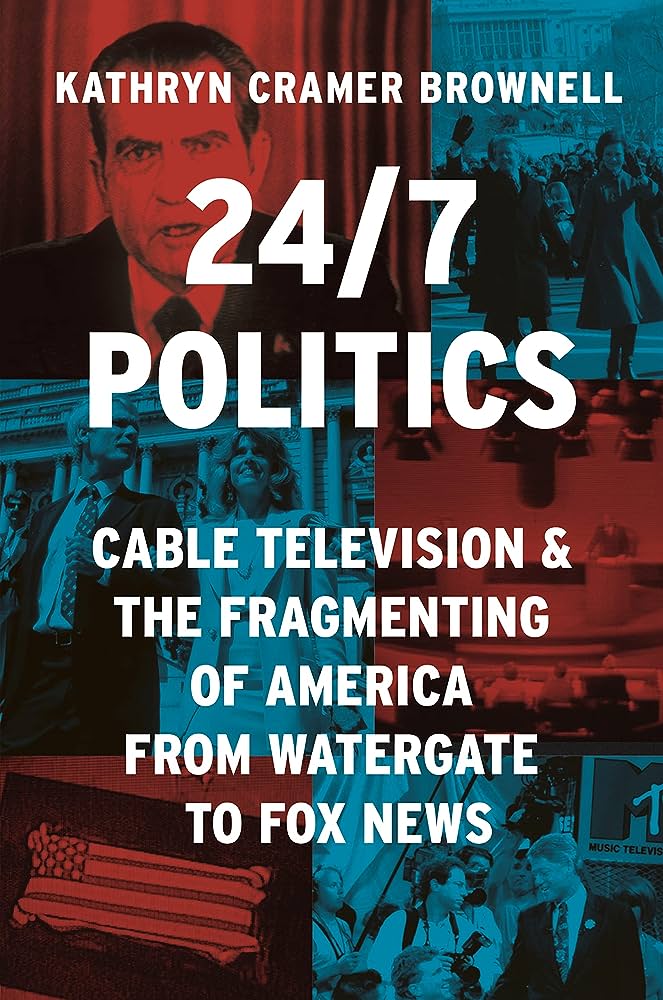 Kathryn Cramer Brownell is Associate Professor of History at Purdue University. This interview is based on her new book, 24/7 Politics: Cable Television and the Fragmenting of America from Watergate to Fox News (Princeton University Press, 2023).
JF: What led you to write 24/7 Politics?
KB: I began this project asking questions about the connections between cable television's dramatic expansion in the 1980s and the political arena. I wanted to understand both how the expanding medium shaped political communication strategies but also the policies facilitating its growth. Most historians reference the "cable mania" as a product of the Reagan years and the Great Communicator's deregulatory agenda, but when I went digging, I found out that political debates around cable had much deeper roots and that it was a surprising person, Richard Nixon, who played a much more influential role in its development. Having just finished a book that ended with Richard Nixon's obsession with the media and his belief that the right television image could be a path to political power, I became curious about whether his media obsession may have shaped his strategy of governance, and I found out that it did in ways I never anticipated. I soon discovered how deeply linked regulatory policy and political communications strategies are, a dynamic that appeared time and time again in my research for the book.
JF: In 2 sentences, what is the argument of 24/7 Politics?
KB: My book explores how cable television knocked down the gatekeeping of network broadcast television monopoly by convincing political leaders to take a more market-driven approach to television, both in how they used cable to communicate and how they wrote the rules that structured the industry's operations. I argue that our current divided media and political landscape is a triumph of a bipartisan belief, decades in the making, in the political and economic power of deregulation and the belief that consumer choice on the cable dial could fuel democracy.
JF: Why do we need to read 24/7 Politics?
KB: I think the book helps to explain how and why our media and politics have become so polarized and sensationalized. I hope readers will come away with a better understanding of how the modern media landscape and our political institutions work, making them better media consumers and more informed citizens. Indeed, I firmly believe that media literacy is essential to citizenship today so that individuals can better navigate political media designed to distract and divide with misinformation all in the name of profits and power.
JF: Why and when did you become an American historian?
KB: I fell in love with history during my freshman year of college at the University of Michigan. My professor, Matt Lassiter, showed how dynamic, exciting, and relevant history could be, and I quickly saw how learning about the past was essential to understanding and navigating the present. This belief continues to animate my research, teaching, and my commitment to public engagement.
JF: What is your next project?
KB: My next project will explore the scandal politics of the 1990s. I am particularly interested in how the cable news environment then facilitates the expansion of other industries, like political crisis management firms. It also rewards more aggressive political tactics as people like Newt Gingrich used the media allure of scandal to wage a "politics of personal destruction." I plan to explore how and why the pursuit of scandal became a media and political priority, and the changes in political parties and newsroom operations that emerged as a result.
JF: Thanks, Kathryn!