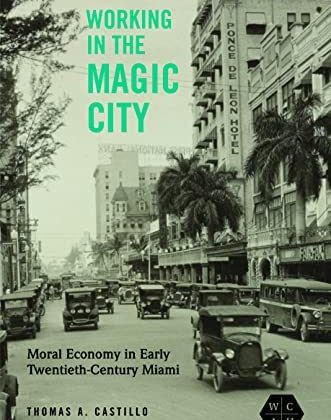 Thomas A. Castillo is Associate Professor of History at Coastal Carolina University. This interview is based on his book, Working in the Magic City: Moral Economy in Early Twentieth-Century Miami (University of Illinois Press, 2022).
JF: What led you to write Working in the Magic City?
TC: My interest in writing Working in the Magic City began in graduate school at Florida International University and continued in my PhD studies at the University of Maryland, College Park. It's not an uncommon experience among historians that research in a graduate course lead to a larger project. However, the deeper story is that I grew up in Miami, Florida and my curiosity about power and political economy stemmed from experience as a son of an immigrant working-class father and mother as well as in holding various jobs in construction, food, retail, and education in South Florida. The peculiar power dynamic of work in Miami—an ethic of tourism hospitality and class harmony that defined so much of the cultural landscape—begged for a history. As important, was my interest in learning the roots of the protest from the Black community in the early and late 1980s. The history of the fight for social justice intrigued me. I therefore sort of gravitated to the study of class and race. My research in this history often felt like an archaeological excavation of sites never uncovered and evaluated. I discovered a history of worker agency, class struggle, and fight for social justice that helps, I believe, reframe the way we think about class in US history.
JF: In 2 sentences, what is the argument of Working in the Magic City?
TC: I argue that Miami's tourist economics cultivated a localism that centered leisure, recreation, and play as dominate ways of understanding class and race relations and that this helped foster a class harmony discourse, a language that subsumed and articulated class struggle. That this class harmony discourse offered a way to engage in class struggle, efforts that tenuously navigated the shoals of alleged anti-American radicalism, and that this revealed how workers fought to create a moral economy, living lives with dignity, while working hard to keep at bay the worst exploitative aspects of capitalism in a service sector-based economy.
JF: Why do we need to read Working in the Magic City?
TC: To learn a dynamic history of labor and capitalism that extends beyond the factory and the agricultural field. By focusing on a tourist centered economy, my book engages the history of class in a setting less studied in the historiography. It closely evaluates the variables that divided and united workers and how they faced persistent resistance from employer interest. Working in the Magic City studies how American Exceptionalism, as framed by the American Dream's promise of economic mobility, proved a challenge to uphold in a low-income economy bolstered and sustained by middle class and wealthy tourists. How class and race were understood and experienced in such a setting offers a fuller picture of capitalism and class struggle in America. It's a history of a city built in the New South spirit but torn by employers' desire to maintain a harsh racial hierarchy, a docile working class, and haven for the rich and famous. Working in the Magic City tells the story of how workers battled inequity and inequality in a place that may seem an unlikely location for class struggle.
JF: Why and when did you become an American historian?
TC: I became a historian because I am passionate about understanding the human condition. As a first-generation student of immigrant parents, I was curious about our past, deeply affected by our struggle to make it in this country, and inspired by the history of social justice in this country and elsewhere. I am not sure when to date when I became a historian—I like to tell my students (majors and nonmajors) that they all have a historian within them. Or even more hopefully, that we are all historians since humans are endowed with memory, the ability to think critically and analytically, and are shaped directly and indirectly by the dynamics of power. I suppose more formally, you may date my emergence as an American historian to the 1990s/2000s and my higher education degrees: I earned a BA and MA in history in the 1990s and a history PhD in 2011.
JF: What is your next project?
TC: I have several in mind, however the most significant one I believe is my second book project on the longer history of the right to work, tentatively titled "Freedom of Work: The Contested History of the Right to Work."
JF: Thanks, Thomas!