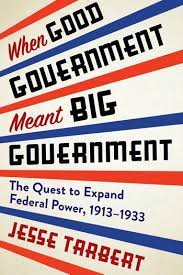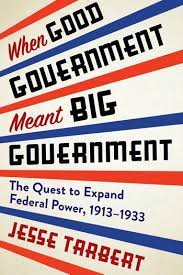 Jesse Tarbert is an independent historian. This interview is based on his new book, When Good Government Meant Big Government: The Quest to Expand Federal Power, 1913–1933 (Columbia University Press, 2022).
JF: What led you to write When Good Government Meant Big Government?
JT: I have always been interested in understanding the evolving role of government in American life. Why do we have the government that we have? Why can the government do some things and not others? As I read more and more about the history of American political development, it became clear to me that the period between the Progressive Era and the New Deal had been relatively unexplored. When I started my research, I expected to find a story about conservative Republican presidential administrations opposed to federal power. However, I ended up finding something quite different.
JF: In 2 sentences, what is the argument of When Good Government Meant Big Government?
JT: During the first third of the twentieth century, the movement to expand federal power was led by moderate and conservative advocates of "good government" who were motivated in part by their experience in business. However, most of their efforts were opposed by a coalition led by southern Democrats, who feared that federal power would undermine white supremacy.
JF: Why do we need to read When Good Government Meant Big Government?
JT: Even though most of the events in the book took place a century ago, I think the story helps to explain our current political moment. It shows the origins of the modern conflict over "big government," and it provides a way to understand the persistence of racist and antigovernment forces in American life.
JF: Why and when did you become an American historian?
JT: In my youth, I spent a lot of time with my great-grandmother, who would tell me stories about her own parents and grandparents, who were born in the nineteenth century. So, early on, I had a strong sense that the past shapes the present. Later, I spent a short time working as a journalist, and editors were always cutting the historical background that I tried to include in my stories. Eventually, I decided to pursue a Ph.D. in history.
JF: What is your next project?
JT: My next book will carry forward some loose threads from my current book, examining the rise and fall of the bipartisan foreign policy establishment—the advocacy coalition that dominated American foreign-policymaking for much of the past century. However, this will not be a history of foreign policy, but rather a history of how foreign policy debates have influenced domestic politics. It will explore how political institutions and norms have been warped by the efforts of policy elites to accommodate and appease antidemocratic and antigovernment forces in American life.
JF: Thanks, Jesse!