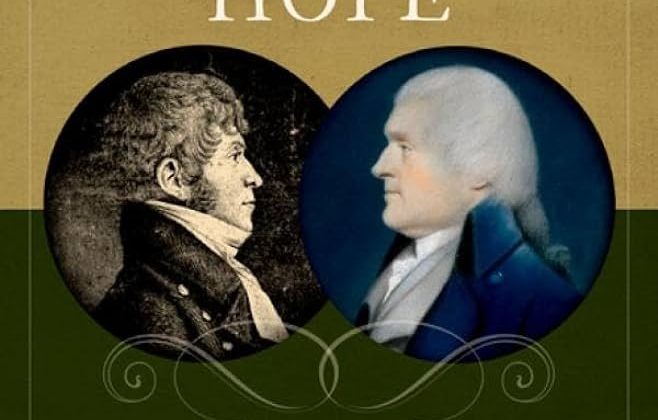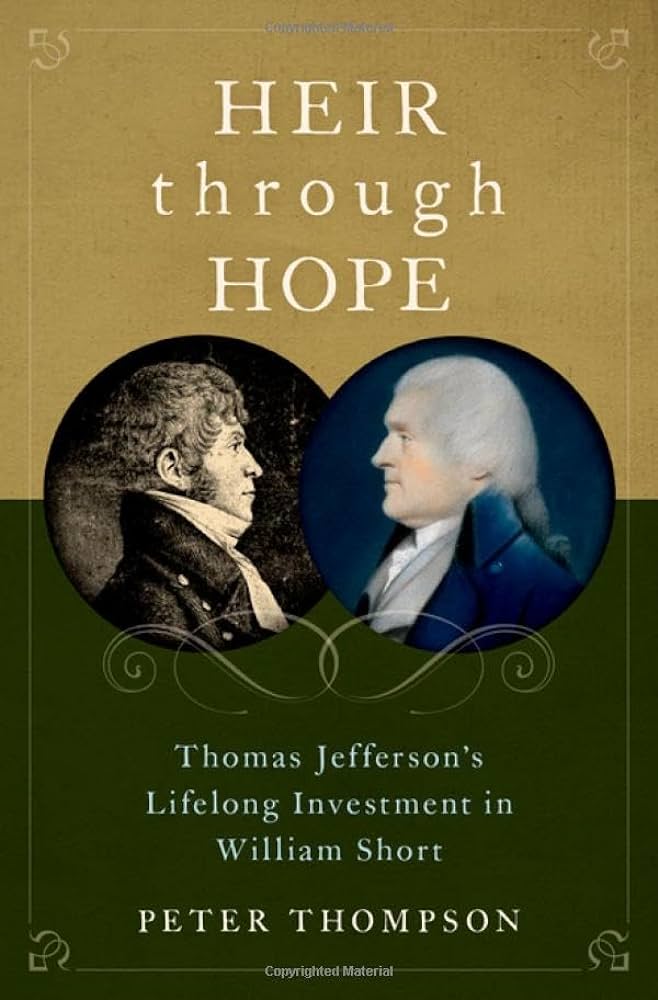 Peter Thompson is Sydney L Mayer Associate Professor of American History at the University of Oxford. This interview is based on his new book, Heir through Hope: Thomas Jefferson's Lifelong Investment in William Short (Oxford University Press, 2023).
JF: What led you to write Heir through Hope?
PT: I came to William Short as the recipient of the notorious "Adam and Eve" letter (Jan. 3, 1793) in which Jefferson defended, even celebrated, the French Revolution's Terror. Jefferson described Short, and only Short, as his "adoptive son". As I set out to discover "who was William Short?" I realized that Jefferson's phrase was no metaphor but a route into a complex emotional and financial relationship unique in the experience of both men.
JF: What is the argument of Heir through Hope?
PT: The book argues that in France Jefferson and Short forged a deep and conflicted relationship that continued, following their respective returns, because of their shared though divergent experience of adjusting to life in the early republic. The Jefferson-Short relationship, with its disagreements over republican morality, slavery, and participatory democracy reveals in microcosm the emotional and political tensions inherent in the politics of intergenerational succession in the United States.
JF: Why do we need to read Heir through Hope?
PT: You will see Jefferson in a new and unfamiliar human light; that of a parent without an acknowledged male heir forgiving, and occasionally betraying, an "adoptive son" who just won't listen. Jefferson was occasionally reckless, sneaky, and vindicative in his dealings with Short. He appropriated Short's money, undermined his diplomatic career, and refused to the end of his days to amend his view that the murder without trial of friends the pair had made in France was necessary and therefore justified. Yet he trusted Short not to damage his reputation.
Short was stubborn, tactless and ultimately cruel in dealings with the man he regarded as a father. He ignored Jefferson's advice by not marrying, raising a family, or standing for elective office. When Jefferson bought him a farm near Monticello, Short refused to settle on it as Jefferson's neighbor. He described Jefferson's politics as "visionary" and disparaged Jefferson's faith in the people; telling the ex-President that democracy left the world "under the management of fools." A millionaire, Short might have eased the crippling indebtedness that blighted Jefferson's final years and led to the forced sale of his beloved Monticello. He did not. Yet he relished his position in the statesman's shadow.
What Short described as Jefferson's "way of thinking" failed to root itself in the younger man. But this was true of many of Jefferson's contemporaries, Short's peers, and members of successor generations. The book contributes to discussion of this phenomenon.
JF: Why and when did you become an American historian?
PT: I was always interested in the Age of Revolutions. Despite my youthful admiration for the work of E. P. Thompson, Britain didn't have a revolution and I had little knowledge of the French language. In addition, the United States was at that time a widely admired and generous country that I had never visited. I enrolled in the University of Pennsylvania's doctoral program, made Philadelphia my "adopted city," and found my life's vocation.
JF: What is my next project?
PT: Provisionally titled Pictures that Spoke, my next project is a study of the conversations that inspired and flowed from three disparate examples of neo-classical painting in revolutionary and Napoleonic France. These conversations were transatlantic in nature, drew in women as well as men, and were not confined to an educated spectatorship that knew its Plutarch. The three works I am analyzing – Drouais' Marius at Minturnae, Girodet's Portrait of Citizen Belley, and Vanderlyn's The Murder of Jane McCrea – offered their creators and viewers a means of addressing fundamental questions of national identity in a revolutionary world. The project examines how these questions were worked out in France, Haiti and the United States respectively.
JF: Thanks, Peter!