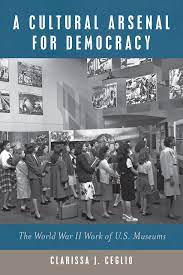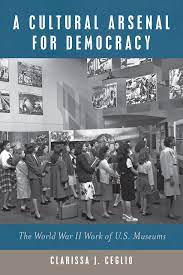 Clarissa J. Ceglio is Associate Director of Research for Greenhouse Studio and Assistant Professor of Digital Humanities at the University of Connecticut. This interview is based on her new book, A Cultural Arsenal for Democracy: The World War II Work of US Museums (University of Massachusetts Press, 2022).
JF: What led you to write A Cultural Arsenal for Democracy?
CC: I came to the topic by accident while trying to determine when the Wadsworth Atheneum Museum of Art, which dates back to 1842, held its first solo exhibitions of women artists. Part of the search involved leafing chronologically through decades' worth of member's bulletins held in their Auerbach Art Library. By the time I reached the 1940s, news of the Atheneum's wartime precautions and activities started popping up. One item, about an exhibition called What The Boys Send Home in April 1945, really piqued my curiosity. The exhibit was, to use current language, a community-sourced effort. In response to a call by the Atheneum, Hartford-area residents loaned some 500 objects from around the globe that service personnel had dispatched back to Connecticut. When I later dug into the secondary literature, I was struck by the fact that while much had been written about how museums memorialize various wars, relatively little attention had been given to the home front work of US museums during times of war.
JF: In 2 sentences, what is the argument of A Cultural Arsenal for Democracy?
CC: The idea that museums should become "social instruments" by using their exhibitions and expertise to foster better informed democratic decision-making on contemporary issues gained new traction in the 1930s but also prompted vigorous debate over where the line between didactic education and indoctrination lay. By tracing these developments and associated experiments in exhibition craft through to the immediate post-war years, I argue that to dismiss museums' wartime activities as mere patriotic propaganda divests contemporary practice of its imperfect but nonetheless instructive past.
JF: Why do we need to read A Cultural Arsenal for Democracy?
CC: Recent years have brought intensified calls for museums to dismantle the inequities that sustain the patriarchal whiteness of their governance, staffing, collections, and cultural power. The idea that museums should become active instruments for social change has resurfaced, too. To grasp and understand this moment for what is new, what is resurgent, and what is perniciously resistant to reform, it is important to understand that the history of the field's experiments with social instrumentality is more complex and sustained than the traditional bracketing of such activities to the Progressive Era and the late 1960s-70s allows.
JF: Why and when did you become an American historian?
CC: As a writer with an undergraduate degree in public communications, I had successive careers in advertising, museum-based public relations, arts journalism, and medical writing. By the late 1990s, however, I wanted to engage on a deeper level with the topics that most interested me: museums, material culture, and identity. Thanks to a flexibly structured master's degree program in American Studies offered by Trinity College in Hartford, I was able to continue working full-time while taking one or two courses a semester in the evenings. After writing my thesis about the Wadsworth Atheneum during World War II, I still wanted to dig deeper into this period of museum history. As a woman who was then in her late forties and didn't know anyone who was an academic other than my professors, it mattered greatly that my mentors at Trinity—Paul Lauter, Bettina Carbonell, and Gene Leach—looked not at my age but at what I could still achieve. The opportunities and encouragement they offered gave me permission, if you will, to even entertain the idea of applying to doctoral programs. Ageism and sexism were real concerns, particularly when I looked to the track records of the fields in which I had previously worked. So, I give equal credit to Brown University's American Studies program, especially Susan Smulyan and Steve Lubar, for opening the doors to the career that I now have.
JF: What is your next project?
CC: I needed to throttle back on two collaborative projects while finishing the book. So, I am now digging into them with renewed energy. One is Museums and Civic Discourse, an online edited volume. We seek to provide a critical accounting of how museums came to see stimulating public discussion and action as being part of their mission—and to connect this history to practitioners' visions of new paths that museum work in these areas might take. My own contribution focuses on historicizing Duncan F. Cameron's often referenced 1971 article "The Museum, a Temple or Forum," as a means to consider how citation practices have created problematic blind spots. The second project is a headset-based virtual reality (VR) experience that sends participants back through time and across various historic locations to collect, analyze, and piece together information from a curated set of artifacts related to the Holocaust. Here, the challenge is to construct engaging, ethical contextualizing narratives and interactions that prompt participants to ask questions of documents, maps, photographs, and other primary sources so that they can link together evidence that unlocks a related eyewitness story.
JF: Thanks, Clarissa!