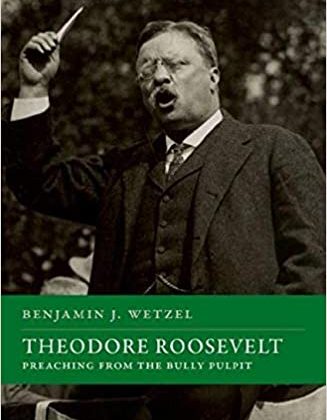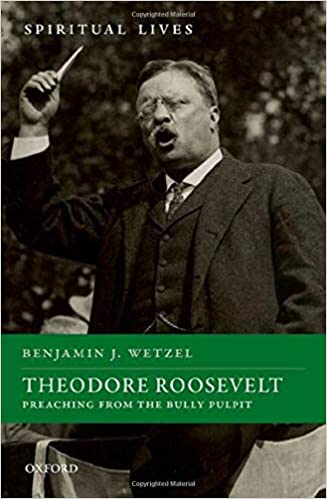 Benjamin Wetzel is Assistant Professor of History at Taylor University. This interview is based on his new book, Theodore Roosevelt: Preaching from the Bully Pulpit (Oxford University Press, 2021).
JF: What led you to write Theodore Roosevelt?
BW: In the fall of 2016 I had just finished my dissertation at Notre Dame and was beginning to think about a second research project. My doctoral advisor, Mark Noll, suggested that a religious biography of Theodore Roosevelt might be right for Oxford's "Spiritual Lives" series. He kindly put me in touch with series editor Tim Larsen, who was enthusiastic about the topic. It was a natural fit for me since my specialties are in American Religious History and the Gilded Age & Progressive Era.
JF: In 2 sentences, what is the argument of Theodore Roosevelt?
BW: The argument is that there are four specific characteristics to Roosevelt's religious life: 1) he was a spiritual pilgrim who moved from youthful faith to a more detached, but still sincere set of beliefs as an adult; 2) he was a bully pulpit preacher who used the language of the King James Bible incessantly to stir up people to what he thought of as good works; 3) he was a religious ecumenist who promoted tolerance of most varieties of Christianity; and 4) he was a strong defender of the separation of church and state.
JF: Why do we need to read Theodore Roosevelt?
BW: Since Theodore Roosevelt's death in 1919 there have been a myriad of views from observers and historians about how religious he was. My book aims to shed further light on these debates. It also seeks to contextualize Roosevelt in the shifting American religious landscape of the Gilded Age & Progressive Era. I was able to draw on a lot of archival material in addition to TR's public speeches.
JF: Why and when did you become an American historian?
BW: I had a wonderful undergraduate experience at Grove City College, where I was fortunate to take excellent courses in both American and world history. My professors there, particularly Paul Kemeny, Gary Scott Smith, Gillis J. Harp, and Mark Graham, encouraged me to pursue graduate work. I ended up doing an MA in history at Baylor University, where I had another excellent set of mentors in Barry Hankins, Thomas Kidd, and David Bebbington. From there I felt a calling to more graduate work and ended up doing my Ph.D. with Mark Noll at Notre Dame. I can't say enough good things about all three institutions; at each one I learned more and more about the field of American history and how my work might contribute to it.
JF: What is your next project?
BW: Somewhat paradoxically, my next project is actually my "first": my aforementioned dissertation. I wrote the Theodore Roosevelt book while I was revising the dissertation and going through a pretty extensive (and very helpful) peer review process at Cornell University Press. That project, American Crusade: Christianity, Warfare, and National Identity, 1860-1920, examines how Christian communities debated the Civil War, Spanish-American War, and World War I. It will appear in the summer of 2022.
JF: Thanks, Benjamin!