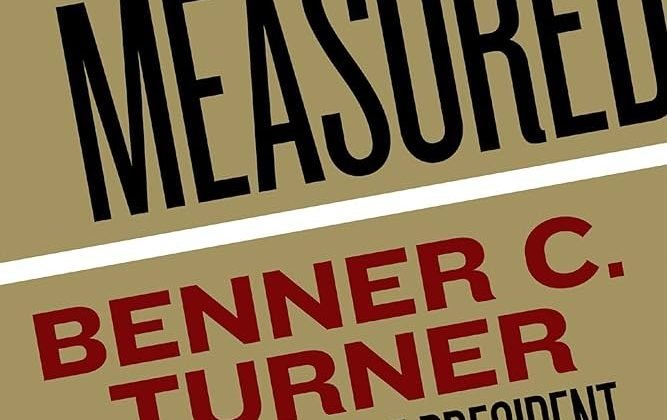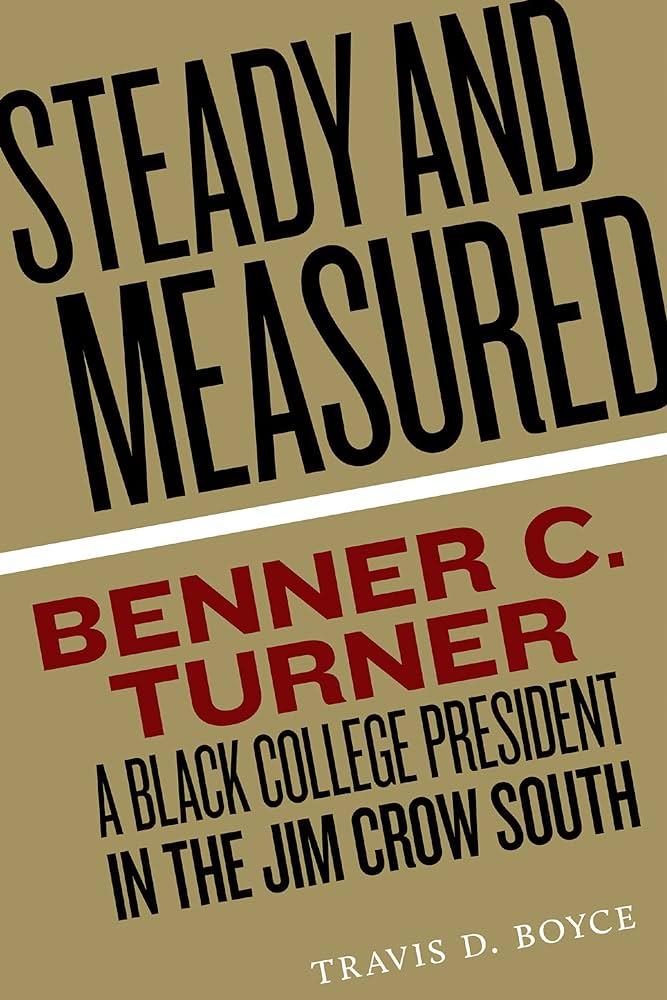 Travis D. Boyce is Associate Professor and Chair of the Department of African American Studies at San José State University. This interview is based on his new book, Steady and Measured: Benner C. Turner, A Black College President in the Jim Crow South (University of South Carolina Press, 2023).
JF: What led you to write Steady and Measured?
TB: Steady and Measured chronicles the life, and reassesses the career, of Benner C. Turner, an African American collegiate president at South Carolina State College, a historically black college in Orangeburg, South Carolina. Three main motivations led to my writing this book, and I'll try to describe them as succinctly as I can.
One motivation was the sheer anomalousness of Turner as a president of South Carolina State College from 1950 to 1967. My research interests in the history of Black education in South Carolina led me to learn about him in graduate school, and I was fascinated. He did not seem to fit easily into a single box. He came from an upper middle class Black family and had a Harvard education, but he oversaw a college that served students from mostly working-class families. His father was a racial justice activist and after law school Turner worked in the firm of a famous racial justice lawyer, yet he was a conservative, skeptical about federal civil rights law, and ran his college in an authoritarian manner that made some of the students at SC State call him an "Uncle Tom."
The second motivation was my interest in the role of historically Black colleges and universities (HBCUs) in education. We are living through a resurgence of attraction to this kind of institution: between 2018 and 2021, applications to Black schools increased nearly 30 percent, and since 2016 enrollment in HBCUs has quadrupled. (See, e.g., Erica L. Green, "Why Students Are Choosing H.B.C.U.s: '4 Years Being Seen as Family'," NYT June 11, 2022.) South Carolina State College was the only public HBCU in the state at that time. The history of SC State during Turner's presidency, I thought, was a piece of a puzzle that would help us understand the status of HBCUs in America today.
The third motivation was personal. As an undergraduate I attended Claflin University, which happens to be the next-door neighbor of South Carolina State College. Claflin is a well-funded private HBCU, with distinguished graduates and highly generous alumni. I saw a stark contrast between Claflin—with its academic resources, select student demographic, and clean-swept campus—and State, with more basic academic offerings, working class students, and sometimes dilapidated buildings. What happened, I wondered, in South Carolina State's history that caused it to suffer such disadvantages in the present? Why didn't the end of segregation over the course of the 1950s and 60s allow State to flourish in the way its private next-door neighbor Claflin did?
JF: In 2 sentences, what is the argument of Steady and Measured?
TB: Previous historians have rightly claimed that as a college president Turner opposed student civil rights activism in the 1950s and 60s, but they have incorrectly concluded from this that Turner endorsed segregation and was not committed to Black education. On the contrary, Turner's steady and measured leadership was an expression of his "pragmatic pessimism" about federal legislation such as Brown vs Board of Education (1954): doubting that white institutions would truly welcome Black students, Turner believed that he could best serve his race by protecting existing resources at HBCUs, especially for those students who were the most economically vulnerable.
JF: Why do we need to read Steady and Measured?
TB: Two reasons come immediately to mind. One is that we are today in some respects living through a period of pessimism about race relations. This is linked to the recent migration of Black students to HBCUs, which I mentioned above. When interviewed, many of these students claim that although they know that white colleges are open to them, they do not feel supported by them in the way they do by Black colleges. This is, in fact, a version of a sentiment that Benner Turner expressed while he was president of South Carolina State. It seems to me that we can better understand pessimism about race relations today if we study the forms it has taken, and the people who have articulated it, in the past.
The other reason has to do with what I think of as the legacy of HBCUs. At the same time that popular media has recognized the inclusive value of HBCUs, some people have made exaggerated accusations about mismanagement and insufficient resources at some of these schools. For instance, earlier this year football coach Ed Reed made a public, profanity-laced rant against Bethune-Cookman, labeling its leaders as corrupt, even criminal, and a contingent of internet trolls echoed his claims on various social media platforms. Although nearly all such accusations are demonstrably false, their persistence reflects the historical underfunding of black institutions, which makes them vulnerable even today to exaggerated charges of poor resources and low-quality management. This double-pronged attitude toward HBCUs in current popular media coverage has its roots in what Benner Turner identified in the 1950s and 60s as the twin primary concerns facing Black colleges: on the one hand, they must be a haven where African American students are welcomed, while on the other hand they must constantly manage the threat of underfunding to avoid a tarnished public image.
JF: Why and when did you become an American historian?
TB: I have long enjoyed studying and learning about American History. I majored in history in college and hold an MA in History and PhD in Cultural Studies. Biographies, in particular, have always attracted me. There is something about the way we understand a historical figure's actions when we put them in the context of a story about their life that I find fascinating. That's why writing a biography of Turner was sort of a natural choice for me. I think history is at its best when we present it through the lens of lives lived by significant people.
JF: What is your next project?
TB: My next book project is a biography profiling A.J. Whittenberg, Sr (1913-2001). Whittenberg was a business owner and prominent civil rights activist in Greenville, SC. His social activism led to the desegregation of public schools in Greenville. As with my book on Turner, this book will have a personal stake for me: Whittenberg was my grandfather.
JF: Thanks, Travis!